Popular smart contract protocol Polkadot (DOT) is on a significant roll this year as it anticipates growth in its core operations. DOT is also climbing the cryptocurrency charts steadily and is now poised to break into the top four cryptocurrencies by market value.
DOT Isn't Here to Play
DOT officially flipped XRP for the first time to be the world's fourth-largest cryptocurrency by market capitalization. Rankings on CoinMarketCap showed that the asset flipped XRP in the early hours of the day, although the latter still managed to regain its spot.
Current data shows that XRP holds a $13.08 billion market cap, while DOT is sitting at $12.43 billion.
With DOT posting a 26 percent gain between Wednesday and Thursday, it got enough juice to jump from $10 billion and flip XRP. All the asset needs to do is replicate its performance over the past week, and it should be clear of XRP soon enough.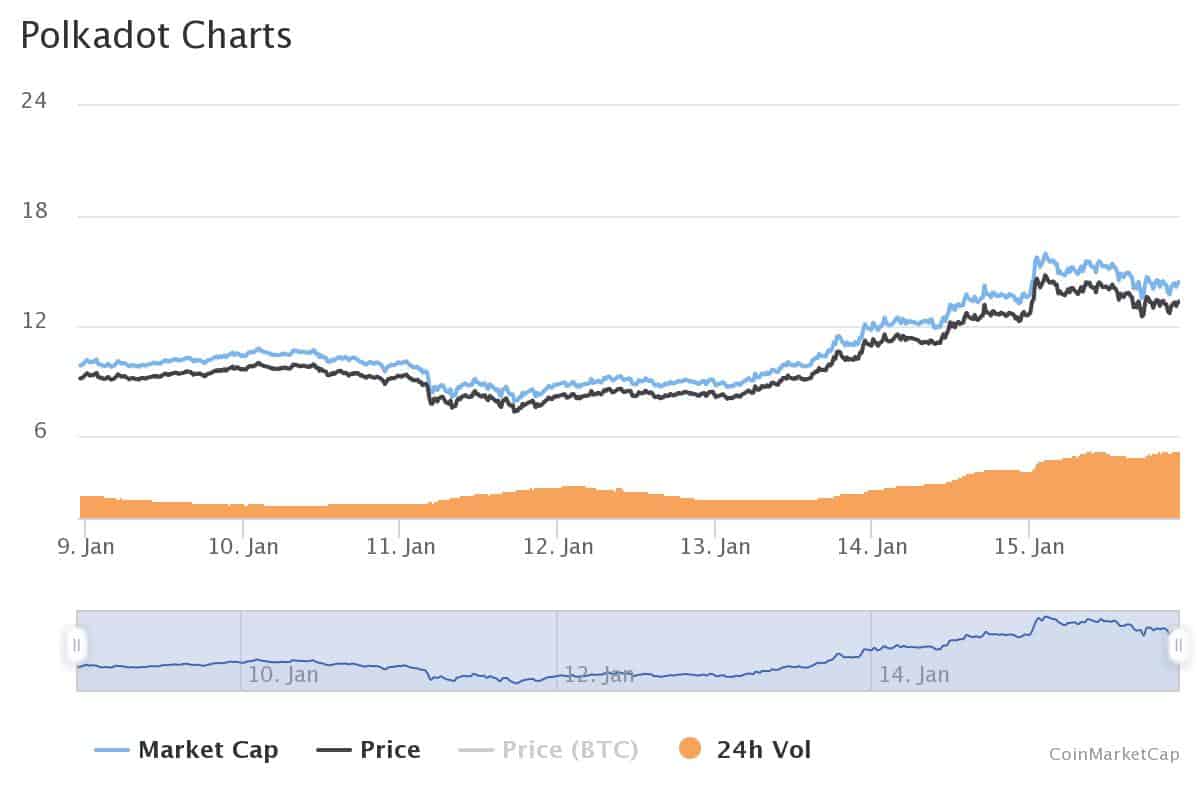 DOT only managed to break into the top five this week, flipping Litecoin in the early hours of Thursday. Thanks to a 28 percent jump from Wednesday, DOT was able to add $2 billion to its market cap, reaching $10.68 billion and eclipsing Litecoin. As CoinMarketCap data shows, Litecoin remains stuck just shy of the $10 billion mark.
The performance underscored what has been an impressive month for DOT. The asset hit a new all-time high of $11 per token last month, and it has continued to ride that momentum since. Still, some believe that the asset still has some way to go. Michael van de Poppe, a Dutch trader who works on the Amsterdam Stok Exchange, explained on Wednesday that he believed DOT would continue to soar in the coming weeks.
As Poppe explained, DOT will most likely dip to the key support area of about $7.5 per token. Following that, the asset will gather enough momentum for a consolidation that could see it cross $20 in the near future.
SEC to Drag XRP Down?
DOT flipping XRP seems like an inevitable outcome. It doesn't help the latter that it is now subject to a lawsuit from the Securities and Exchange Commission (SEC) that could jeopardize it.
The SEC sued Ripple Labs, XRP's operator, last month on claims it violated the Securities Act of 1933 in its Initial Coin Offering (ICO) for the asset. The agency seems to be in a strong position to emerge from the battle as the victor, and success with this suit would see XRP classified as a security.
Many in the crypto space understand the threat and have been taking action. Several top exchanges – including Coinbase, Blockchain.com, and Bittrex, have announced that they would either delist the asset or suspend trading activities for the time being.
At the same time, investments in XRP have been dwindling as several investment firms – including Bitwise Asset Management, Bakkt, and Grayscale Investments, have cut ties with the embattled asset. With XRP's fate in the balance, drops are expected.
The asset already fell by 45 percent since the SEC suit was published. Any more significant losses, and it could slip even lower than DOT.