Dogecoin is a cryptocurrency that has made its mark on the blockchain community as a fun, easy to use digital payment platform that can be transacted around the world in mere seconds. Dogecoin is based on the popular internet meme "dogecoin", an internet joke that is based off of the dog breed Shiba Inu. Dogecoin is often recognized as one of the most renowned internet jokes for its wide technological presence and has generated over billions of dollars in daily trading volume.
The cryptocurrency, represented on markets by the symbol of "DOGE", has become one of the staples for internet transactions. The Dogecoin platform runs decentrally on a peer-to-peer (P2P) network which is rather reliant not on
Quick Search Box
Buying Dogecoin in 5 Steps
Create an account on a Dogecoin supported exchange
Verify and validate your account status
Deposit funds to the exchange
Create a buy/trade order for Dogecoin
On trade execution, check your portfolio or position section for your newly acquired Dogecoin
Compare
You can find out more and compare the brokers and exchanges that offer to Buy or Sell Dogecoin in our list below, or you can skip through directly to our step-by-step guides and tutorials
Compare Exchanges to Buy Dogecoin (DOGE)
4,9/5


Buy Now

4,9/5


Buy Now

4,9/5


Buy Now

4,9/5


Buy Now

Payment Methods

Credit/Debit Card

Bank Wire Transfer
NETELLER

Payment Methods

Credit/Debit Card
Bitcoin

Payment Methods

PayPal
Credit/Debit Card
Wire Transfer
Neteller

Payment Methods

PayPal
Credit/Debit Card
Wire Transfer
Neteller

Minimum Deposit

$500 USD

Minimum Deposit

$10 USD

Minimum Deposit

$100 USD

Minimum Deposit

$100 USD
What is Dogecoin?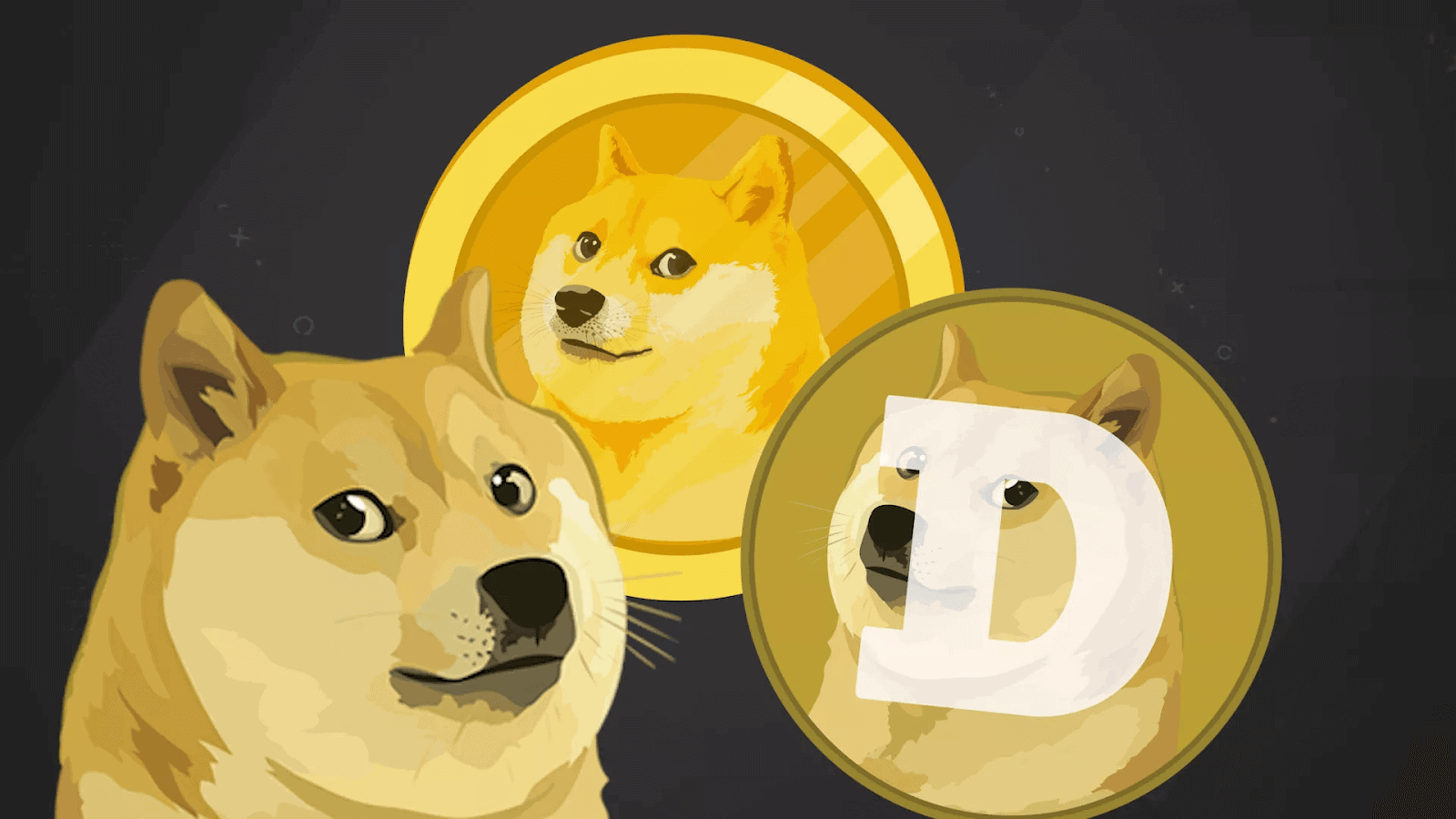 The internet itself, through its retail popularization in the 21st century, has birthed its own community of its own. Within this community, are subsequent "internet jokes", or even "memes", both which are forms of humor inclusive to the internet. One of these memes was "Doge", a Shiba Inu breed dog that became an internet sensation. The Doge meme created an even more refined community, and it, as a result, became symbolic of the inclusive nature of the internet. When Bitcoin was starting to pick up speed, it maintained a very dark aura to it; many were afraid of it, even those on the internet. As a result, Dogecoin was created, detailed as a fun and friendly cryptocurrency.
Dogecoin, despite its humor-based nature, is actually a viable cryptocurrency; it runs decentrally in an ecosystem where users can in realtime send DOGE (Dogecoin) to one another and have the transactions confirmed in mere seconds. Although it only serves a purpose of being sent and received to other parties globally in very quick manners, the idea behind Dogecoin resonated with the community because of its internet inclusive aura. It actually is fairly fun and friendly in comparison to other dark and hidden cryptocurrencies. Subsequently, Dogecoin has grown to reach over a hundred million dollars in market capitilization.
Dogecoin was released by Jackson Palmer and Billy Markus and was originally created strictly as a joke currency in December of 2013 when the atmosphere around cryptocurrency was only just starting to pick up. Dogecoin was released as an open source framework and remains this way to this date; the cryptocurrency runs on the scrypt hash function and maintains a block time of 1 minute, which is less than Bitcoin's, however arguably at a cost.
The founders of Dogecoin have opened up about admittedly releasing the cryptocurrency strictly as a "joke" and publicizing it via Twitter with the intentions of simply bringing to light the opportunity in online cryptocurrencies. Since then, however, Dogecoin has grown to become a staple in the overall blockchain community and has served to many almost as a collector's item because of its humor-related history in cryptocurrency. While Dogecoin was only released as a joke initially, that joke has reached billions of dollars in trading market cap and showed immense price growth in 2017-2018.
How to Create a Dogecoin Wallet
Every Dogecoin user needs a wallet to manage their Dogecoin and other cryptocurrencies. Dogecoin wallets are exclusive to DOGE, and cannot receive any other cryptocurrencies. You can use your Crypto Wallet to:
Send Cryptocurrencies
Receive Cryptocurrencies
Trade Cryptocurrencies
Spend Cryptocurrencies
Withdraw Cryptocurrencies
Dogecoin and most other cryptocurrencies use blockchain or distributed ledger technology to secure and record all transactions that flow through a wallet. You can't use your crypto wallet to:
Send Dogecoin to a non-Dogecoin address
Share your data with 3rd parties (stay private, stay safe)
Withdraw fiat currency from a bank (only Bitcoin ATM)
Best Exchanges to Buy Dogecoin
eToro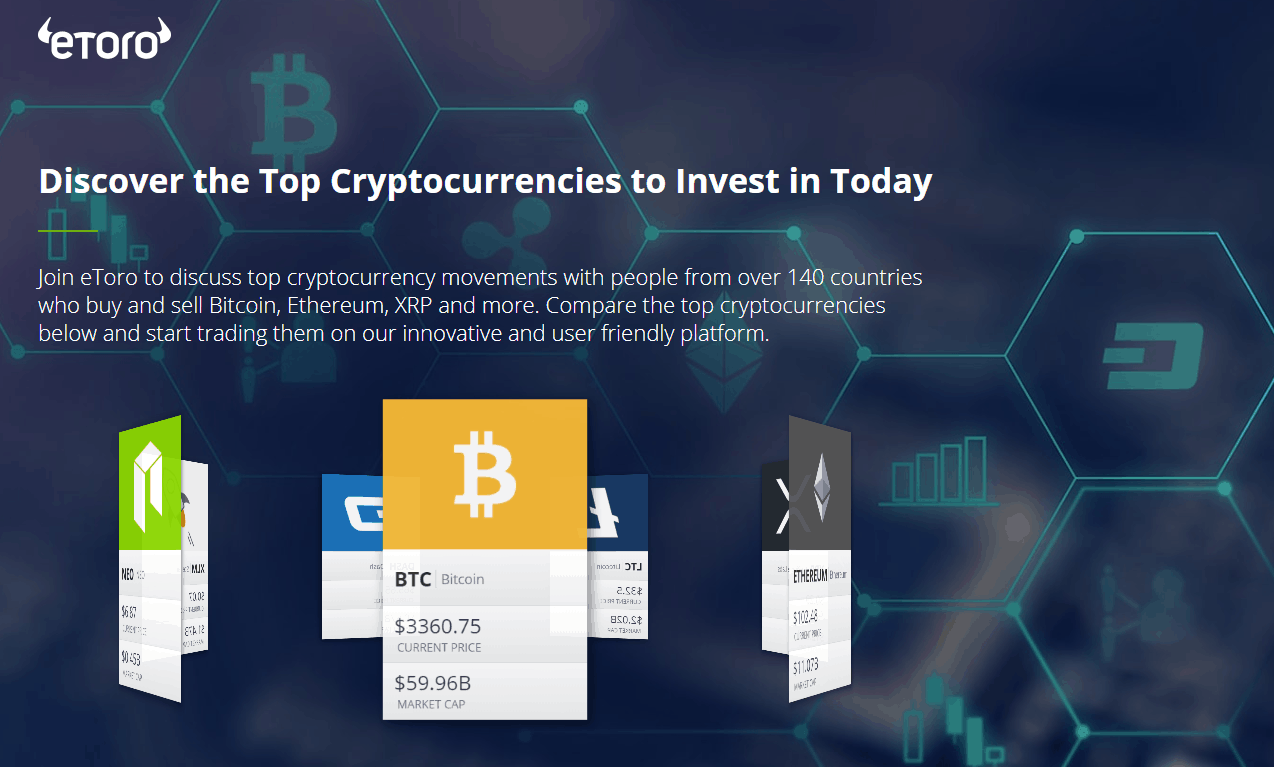 eToro is one of the world's leading trading platforms with support for a plethora of different assets and currencies including a wide range of cryptocurrencies. eToro offers trading of cryptocurrencies through the form of CFDs, which are contracts for difference, financial products that enable direct exposure to a currencies price without actually having to purchase an underlying asset. Unfortunately, at the moment eToro does not support any listings for Dogecoin.
This doesn't mean that eToro will never enable Dogecoin trading, in fact, the possibility is definitely there as the platform has been consistently researching and adding new assets to their platform.
Pros:
Thousands of trading pairs, cryptocurrency, commodities, and more enabled
Financially regulated, overseen, registered (CySEC), and insured
Quick and easy interface
PayPal integration
Binance
Dogecoin is  a setup a Binance account which requires an email, ID verification (If you plan to surpass certain limitations or plan to open a fairly large account), and a 2-factor authorization application/method (Phone number or Google Authenticator).  If you've done so, you can then move on to the next steps. Ensure you've setup as much security as possible, as Binance is one of the most commonly replicated cryptocurrency exchanges out there meaning scammers try to lure users through Binance because of its online and internet-heavy presence in comparison to other more institution-like companies such as Gemini.
Deposit Funds via Cryptocurrency
Binance, at the time of this writing, doesn't enable processing of other types of fiat deposits such as bank accounts, however, that can definitely change within the next year or two. For now, you'll have to deposit funds to Binance via a base cryptocurrency, which is traditionally either Bitcoin or Ethereum. Then, on your Binance account, find the "Deposit" section of each subsequent cryptocurrency, set up a deposit address (This may require verification from your 2FA app), and confirm its addition.
A further Binance deposit tutorial is available on their site, found here. 
Open a Trade for IOTA Based On Your Deposited Cryptocurrency
Dependent on which cryptocurrency you deposited in the previous step, you'll then have to open a trade for IOTA that is based on that deposit. So let's say you deposited Bitcoin to Binance, you'll need to find the IOTA/BTC trading pair, as such: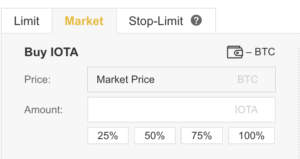 In the above example, we're buying IOTA at the market price, or the best available price that is out there. In the "Amount" section, you'll just indicate how much of IOTA you'd like to purchase in exchange for the market price. Upon purchase, you can then go to the top right of the exchange at "Funds" and navigate to your holdings under "IOTA" to see your newly purchased IOTA. You can then withdraw/sell as you wish.
Pros:
Over 1000 pairs of assets to trade, including more that are legally verified and approved daily
Regulated and overseen exchange recognized in Malta, however, has global exposure
Quick and easy interface
Cons:
Limited margin
Not registered broker/dealer as of current
Plus500
Trading of IOTA is available on Plus500 in the form of tradeable CFDs, or contracts for differences, as well as various other cryptocurrencies. IOTA CFD trading is available on Plus500 under the following requirements in terms of margin, maintenance, and regulation:
As a regulated and legally acknowledged exchange, Plus500 offers trading of IOTA in the form of CFDs in accordance with a level of security that not many other platforms can enable.
Register
In order to start with IOTA trading on Plus500, you'll need to register via your email, name, and provide proper credentials for investor verification as well as bank accounts/methods of funding.
Verify
As a regulated broker and exchange, Plus500 requires verification of investors. As such, you're required to provide some provisional information about yourself as an investor.
Trade and Purchase
Once verified, you're then able to purchase IOTA CFDs on the Plus500 platform in accordance with the broker's rules and regulations.
Pros:
Over 2000 assets to trade
Regulated and overseen exchange and broker/dealer
IOTA Contract for Differences enabled
Margin
Cons:
Global exposure, however, not available in the U.S.
Riskier margin levels
Extended confirmation/settlement times
Buying IOTA in Your Country
UKUS & CanadaAustralia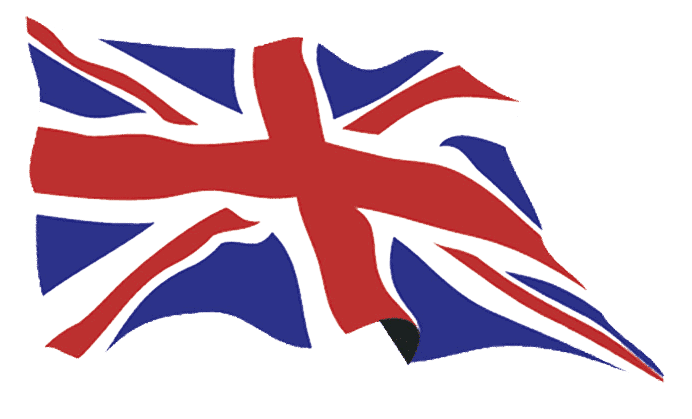 Buying IOTA is extremely easy if you're a resident from the United Kingdom; you can use eToro to purchase MIOTA (IOTA's ticker symbol on eToro) after completing the sign up process and verifying your account on the site. As eToro is a licensed exchange that's regulated by the FCA, you can hold a sense of confidence over the safety of your cryptocurrency that may not be available with other exchanges or websites. IOTA is also available on other third party exchanges that welcome UK traders and customers.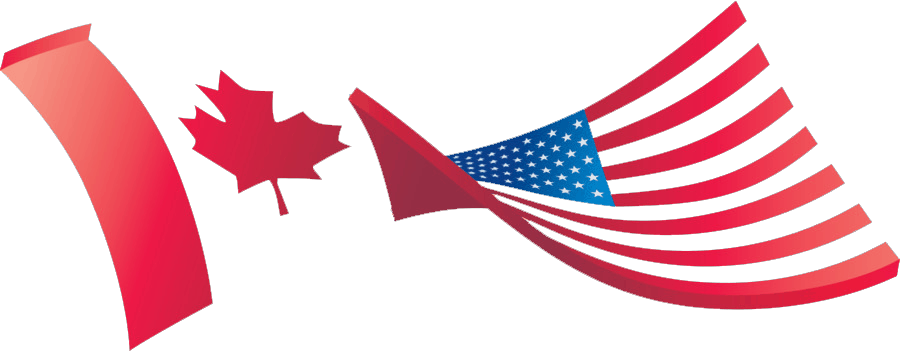 Purchasing IOTA in the U.S. and in Canada is a fairly simple process that can be done quickly through the Binance exchange. Binance currently processes the highest volume and most liquidity for IOTA trading pairs; primarily, the highest level of liquidity for any IOTA trading pair in the United States is IOTA/USDT, meaning IOTA paired with the "Tether" (USDT) stable coin. The pair can be found and traded via 24/7 markets.
IOTA can also be traded on Binance if you're in the U.S. or Canada attached to the multiple other, what Binance calls, "alternative" trading pairs. This includes Bitcoin, Ethereum, Ripple, and a few other stable coins.
IOTA can be purchased in Australia either through eToro or Binance. Both exchanges offer compliance and supported trading in Australia, however, it should likely be noted that eToros is a registered licensed exchange overseen by the FCA, while Binance is registered and overseen in Malta; both countries/jurisdictions have their respective differences, advantages, and disadvantages.
Differences Between Buying and Trading IOTA
Buying
You own the IOTA, you have the right to move it, sell it, and transfer it as you wish.
Traditionally associated with longer-term (Multiple months to years)
Assets can be used just as fiat currencies are; for purchases, or for payments
Somewhat safer than trading directly using margin or with borrowed funds
Trading
MIOTA trades use contracts for difference (CFDs)
You don't actually own Bitcoin, you own a representation of IOTA which is in the form of a contract
Traditionally associated with shorter-term positions or ideologies about IOTA because using margin accrues fees very quickly.
Higher risk is implied because you're buying contracts on margin (Borrowed money from the broker)
How to Trade IOTA
Most, if not all, cryptocurrency robots, will have some sort of editable parameters where you can choose exactly which assets the robot trades, where you're able to specify and enter in which currencies or assets you only want to trade. In this case, you can then enter in an IOTA tradeable pair for algorithmic or automated trading.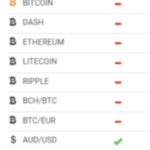 Cryptosoft is a perfect example of this. It enables some altcoins, IOTA specifically, to be enabled solely for trading. This opens the door for the opportunity within automated/algorithmic trading. The red lines indicate blacklisted trading pairs for the bot, the green check indicates approved; so just apply the same towards IOTA/BTC or other IOTA pairs.
These methods are higher risk but can offer higher reward. The most viable option for using an IOTA robot seems to be Cryptosoft.
Alternative Methods to Buy IOTA (MIOTA)
Credit/Debit CardPayPalBitcoin
Purchasing IOTA using a credit card works the same as with other payment methods; preferably used on eToro, a credit card can be immediately linked to the platform which is subsequently used to deposit funds, which are then used to purchase IOTA.
IOTA is currently not directly available for purchase with PayPal; however, if your only option is to use PayPal, you can use direct connections to other crypto exchanges that support PayPal in order to facilitate an exchange to Bitcoin, which is then exchangeable for IOTA. The best and most reliable option is eToro, arguably because it's regulated, overseen, and only requires a quick link to your existing PayPal account to deposit funds that can be exchanged for IOTA.
In order to do this, you'd simply need to deposit funds and add PayPal as a viable deposit method on your existing eToro account, similar to the following: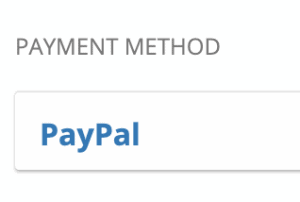 The largest volume trading pairs for IOTA are paired to Bitcoin, which means buying IOTA on virtually any platform requires you to structurally purchase IOTA using Bitcoin prior. This means you'll have to convert your fiat funds to Bitcoin, and then use that Bitcoin to exchange it for IOTA. We'd recommend utilizing Binance for this.
To buy IOTA with Bitcoin, the process would look as follows: Buy Bitcoin –> Use the Bitcoin to exchange for IOTA at relevant pricing –> Execute trade, and monitor new IOTA wallet with funds.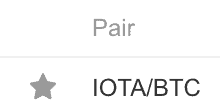 How to Sell IOTA
Selling IOTA is respectively parallel to the process for purchasing it; it requires market liquidity (Widely available in this case; this just means how fast someone else is willing to buy it if you're selling IOTA) since you will have to sell it to a respective asset. Currently, the most liquid trading pair for IOTA is IOTA/USDT (Tether). The highest volume pair is found on Binance for this.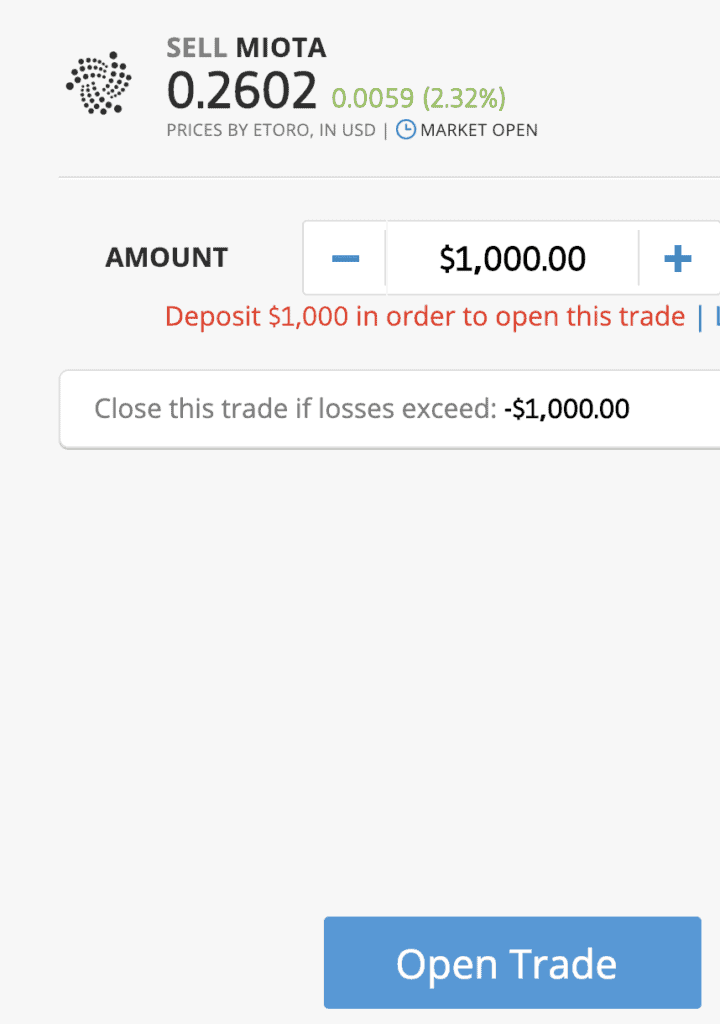 In order to sell IOTA, you'll need IOTA in whichever exchange you plan to sell to's wallet.
Assuming you've done this, we can move forward with the process; eToro maintains a very high level of liquidity and traditionally offers precise entry points for sell orders in case you had particular goals for your orders in mind.
Head over to eToro, and go to the "Trade Markets" tab on the left-hand side under your account preferences and settings. Then, find the "IOTA" markets, and locate the "sell" button this time, instead of the buy.
Enter in the parameters; how much of your IOTA would you like to sell, and would you like an order placed at the next optimal timing, or only at a specific price? eToro enables you to decide.
Once specified, press the "Open Trade" button located towards the bottom and then simply wait for the execution of your funds back into fiat.
IOTA is a revolutionary asset, and can potentially be the gateway for a globally decentralized payment platform for the Internet of Things. The underlying IOTA structure also offers hope for blockchain development, as "The Tangle" shows that blockchain frameworks are not static and can be expanded towards other forms of potentially more efficient technology.
While purchasing cryptocurrency can at first seem sometimes challenging because of the underlying intricacy, eToro, and platforms that offer legacy system streamlining make the process much more feasible. IOTA is an opportunistic and potentially revolutionary technology that, if accessible, should be researched for its unique capabilities.
FAQs
Who created IOTA?
David Sontesbo, Dominik Schiener, Serguei Popov and Sergey Ivancheg created IOTA in 2015.
What does IOTA do?
IOTA is a decentralized cryptocurrency and blockchain payment provider that serves as an additional data layer for the Internet of Things (IoT).
What is the best place to buy IOTA?
Arguably, eToro would be the ideal location/exchange for purchasing IOTA as it is a regulated broker and oveseen for manipulation.
How can I keep my IOTA safe?
Always enable multiple factors of authentication, create additional layers of security for your funds, and ensure all sensitive keys are encrypted.