Last Updated on
Buying cryptocurrencies is getting easier. Nowadays you only have to follow the proper steps and then you can buy the cryptocurrency you want. There are many sites to buy cryptocurrencies and you can choose the one you like the most.
In this article, we will explain step by step how to buy Litecoin and the difference between buying Litecoin and Trade Litecoin in 2019.
Quick Search Box
How to Buy Litecoin in 5 Minutes
Register an account on the official Alvexo website
Verify your account by submitting the required documents
log in to the trading dashboard and fund your account ($250 minimum depsoit)
Select LTC or Litecoin and the amount of coins you want to purchase
Execute the Buying order
Compare
You can find out more and compare the brokers and exchanges that offer to Buy or Sell Ripple  in our list below, or you can skip through directly to our step-by-step guides and tutorials
Compare Platforms to Buy Litecoin (LTC)
4,9/5


Buy Now

4,9/5


Buy Now

4,9/5


Buy Now

4,9/5


Buy Now

Payment Methods

Credit/Debit Card

Bank Wire Transfer
NETELLER

Payment Methods

Credit/Debit Card
Bitcoin

Payment Methods

PayPal
Credit/Debit Card
Wire Transfer
Neteller

Payment Methods

PayPal
Credit/Debit Card
Wire Transfer
Neteller

Minimum Deposit

$500 USD

Minimum Deposit

$10 USD

Minimum Deposit

$100 USD

Minimum Deposit

$100 USD
What is Litecoin (LTC)?
The Litecoin price currently stands at around $112. The currency (LTC) is a Top 10 altcoin and it was created and launched on the cryptocurrency market in 2011 by Charlie Lee, a former member of Microsoft and Google, a graduate of MIT.
Litecoin is an altcoin that day after day is gaining more fame and value in the market. It is quite similar to Bitcoin but has a special feature: the time in transactions is much faster than that of most other cryptocurrencies.
Today you can buy or trade Litecoin on many websites, but it is important that you understand the difference between one thing and the other.
Best Platforms to Buy Litecoin
CryptoRocket is a well reputed CFD broker allowing you to trade a wide variety of cryptocurrencies among other assets, including Litecoin. The exchange offers a very simple registration process as well as an intuitive interface and reduced fees. Here is how to sign up on it.
Step 1: Registration
The first step you have to take before starting to trade Litecoin on CryptoRocket is registration. It takes around 1-2 minutes to complete. You are simply required to go on the official website and click on the sign up button. You then have to type in a few personal details, including your full name, email address and password.
Step 2: Opening Trading Account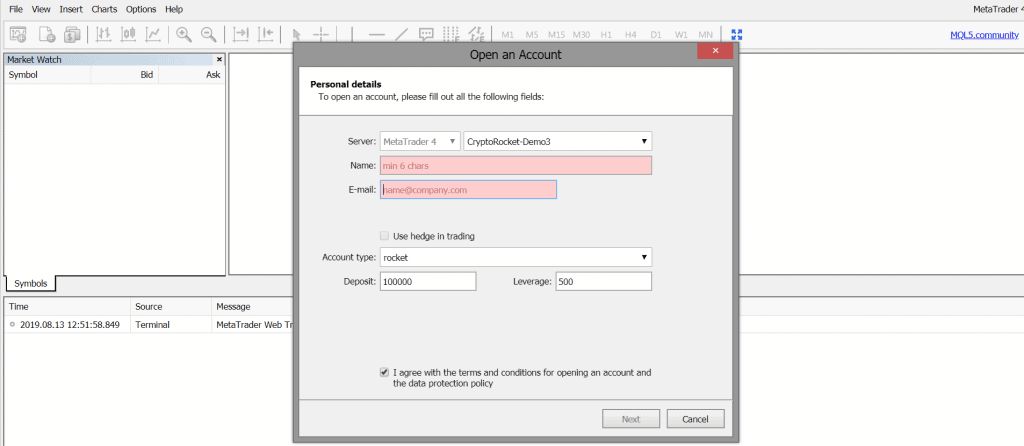 You will now have to open a trading account. After you've signed up, you will be redirected to your trading profile and the exchange will suggest you to open a trading account. Simply follow the instructions. We recommend opening a demo account first to help you get used to how the platform works.
Step 3: Deposit funds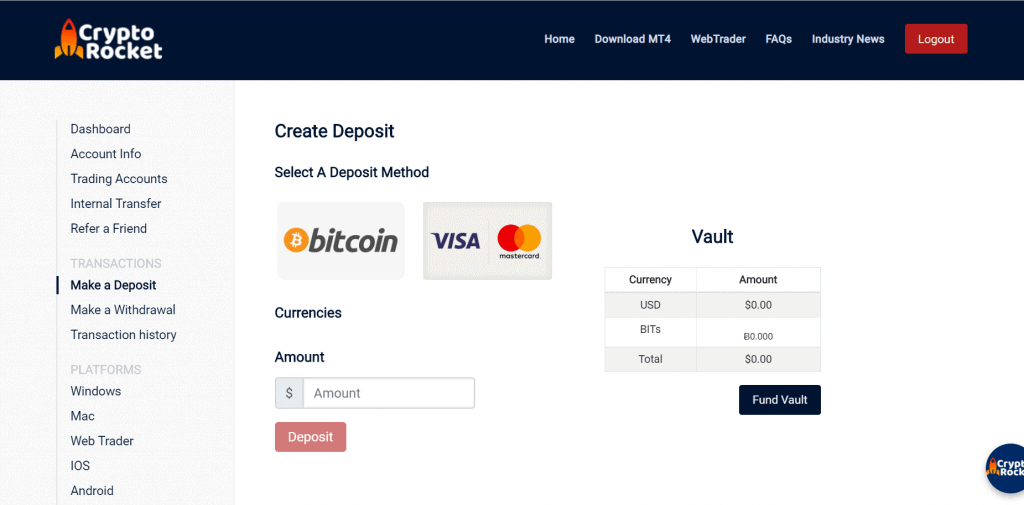 Once you feel ready to start trading Litecoin with real money you can make your deposit. To do that you will have to go back to your trading profile. On the left side of the screen you will see a menu. About half way through it you will see the "deposit" option. If you click on it, you will be able to make your deposit. The minimum amount required to allow you to start trading is $10 and you can pay via credit/debit card or Bitcoin.
Step 4: Buying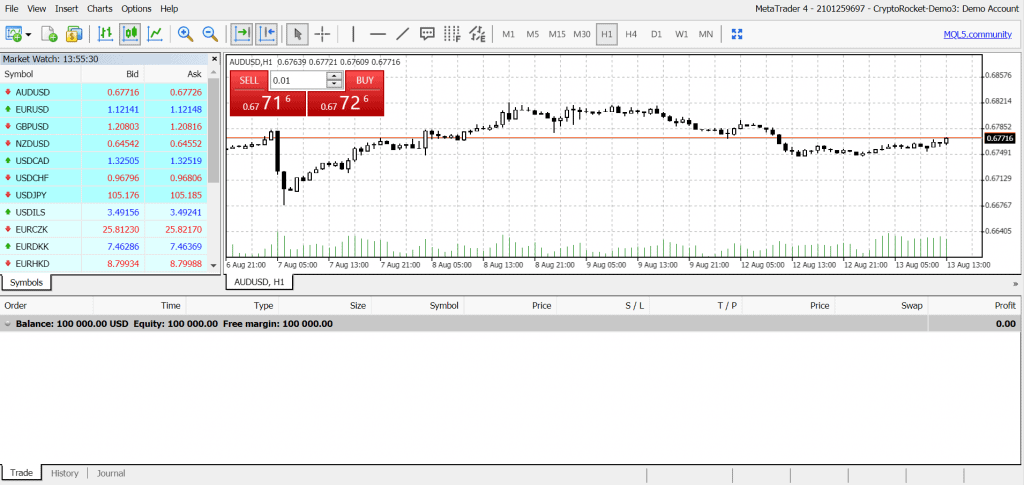 At this point, you will be ready to start trading. All you have to do is access the trading platform and look through the asset list on the left side of the page. Once you find a the asset you are interested inn, Litecoin in this case, click on it and start trading with it.
Binance
Binance is an exchange platform, that is, an internet site to buy and sell Bitcoin and altcoins. One of the altcoins that you can buy in Binance, is precisely Litecoin (LTC).
Until recently, you could not buy any cryptocurrency in Binance, just exchange them through Bitcoin.
If for example you wanted to buy Litecoin, you should first buy BTC in Coinbase, then send those BTC to Binance, and with those BTC you could buy almost any altcoin.
Nowadays you can do it with debit and credit card, or even with PayPal. It is a novelty of Binance that began this 2019, just a few days ago so there is still not much information about it.
However, Buying Litecoin in Binance is very easy, as we will show you next:
Pros:
Numerous coins supported with four base currencies
Fast and easy registration process
No need to verify your account in case you are trading normal amounts of coins
Basic and advanced trading views
Cons:
High Credit Card fees
In case you decide to raise your account limits, verification can be slow
Step 1: Registration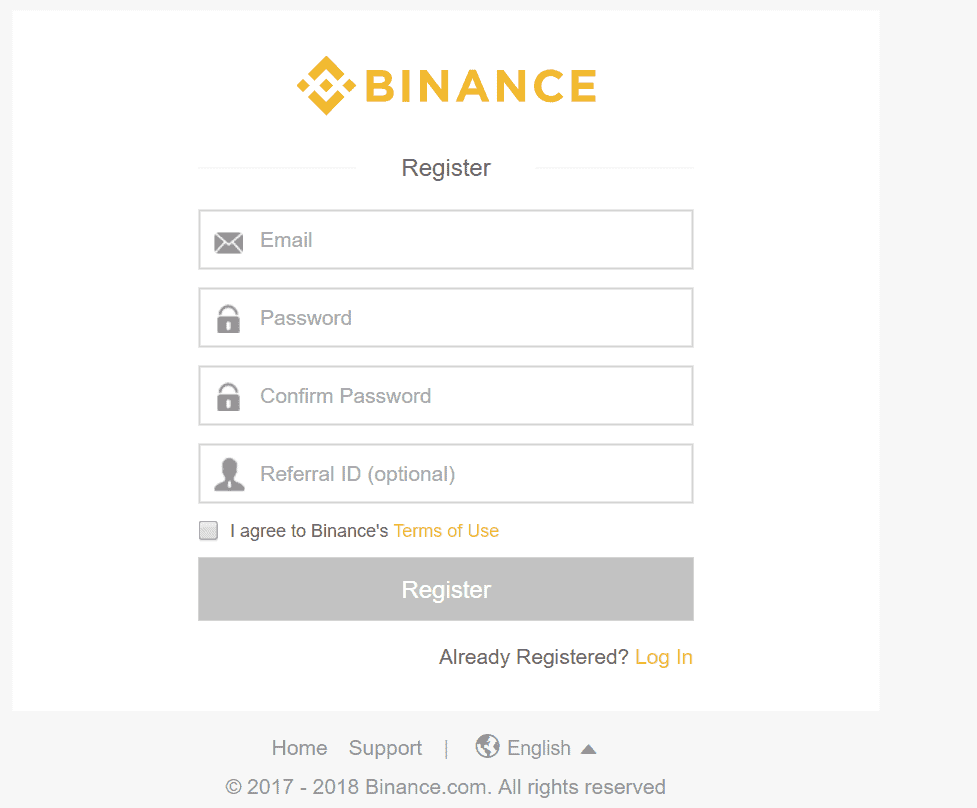 First thing you should know before registering an account in Binance, is that it is a very versatile platform. In Binance, there is something for everyone.
It may be useful if you are a novice, but it also offers many tools for the most expert.
Registering in Binance is very easy, you just have to fill out the form that is in the image that we show you, and click on "register".
Step2: Verify Account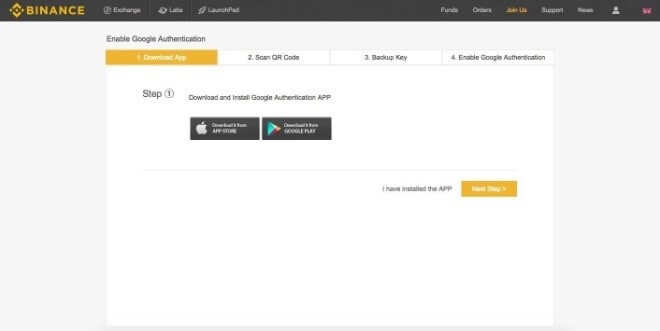 Once you have completed the registration step, you must verify your account.
This verification begins by email but you must also download the Google authenticator app and scan the QR code.
Binance offers two options to set up 2FA. You can do that either by requesting a text message to be sent via Google Authenticator or by receiving an SMS on your phone.
If you choose the SMS option, you will require to enter the code you receive via text message every time you want to access your account.
If you select the other, you'll have to download Google Authenticator to your smartphone, sync it with Binance, and type in the code that is shown in the app during the login process. 
Step 3: Deposit Funds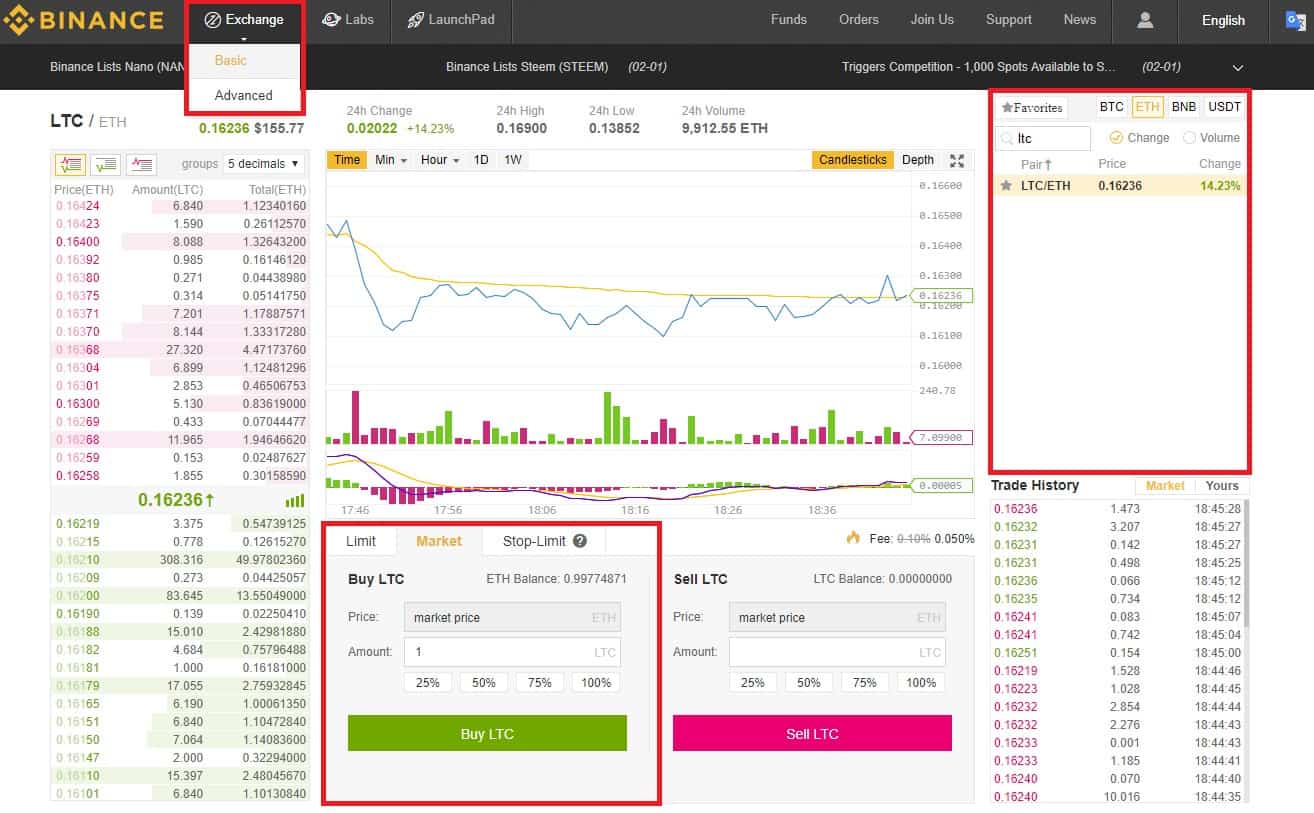 The classic way and that still uses the majority, is to buy LTC with BTC.
In Binance, you enter the "market" once you have your BTC, and choose the "LTC / BTC" purchase option. You choose what percentage of your BTC to use for the purchase. Binance sets the price of the LTC and you just have to choose the amount you want to invest and then click on "buy" And that's it, you already have your LTC bought in Binance.
You can buy Litecoin either by buying BTC first and then trading for LTC, or you can buy directly with credit card inside the platform.
Binance is one of the most popular exchange platforms, so far it has been reliable, safe, and with many options for experts in the world of cryptocurrencies because it offers many tools that are also very varied.
The only bad issue with Binance is its popularity. Believe it or not, sometimes the platform can become saturated with the amount of transactions and a process that should not take more than a few minutes, could take hours.
Coinbase
Buying Litecoin is very simple. It is the most usual platform to buy Bitcoin, but it also offers other alternatives. Here we indicate the steps to follow to buy Litecoin in Coinbase
1) Register in the Coinbase platform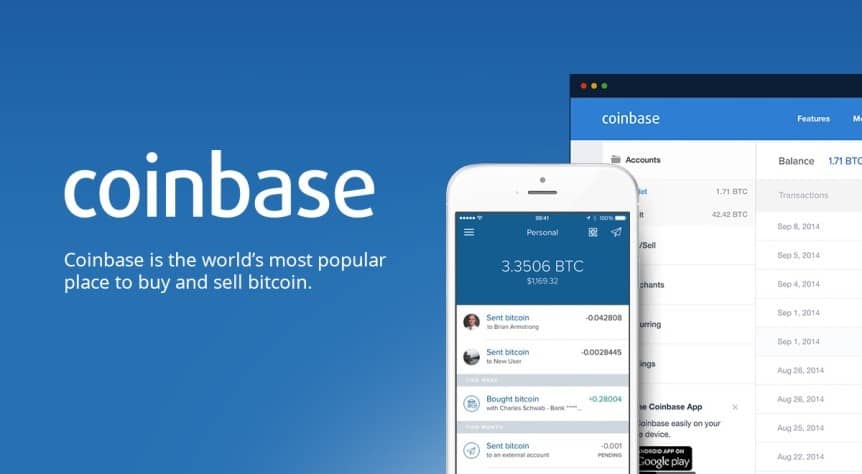 Too easy. You enter the home page, then you go to the top right and you will see a button to register. When you register you will be asked for basic personal information. After that, you must verify your identity with an identification document and pass the security test that you will be shown on the page.
2) Choose a payment method
This step is as simple as it is important. You must choose between bank account, credit or debit card, or PayPal.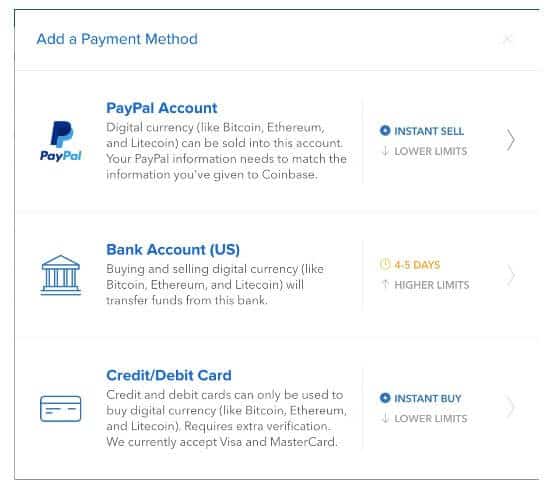 3) Select cryptocurrency and deposit
You must choose one of the 5 Coinbase options. It is LTC for Litecoin. Then you must deposit the amount of LTC you want.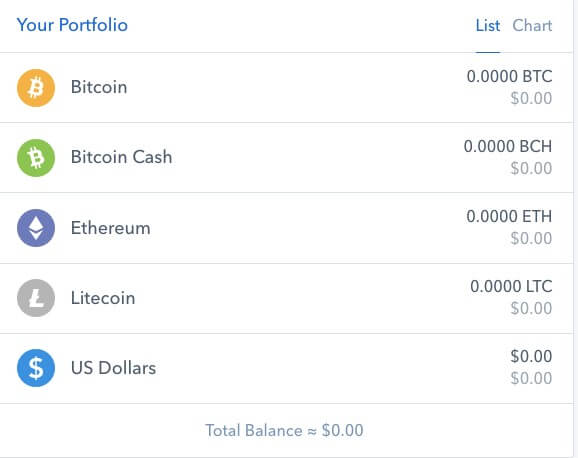 4) Buy (finally)
You should select the buy/sell tab, select LTC, then select the payment method, and finally click "buy Litecoin"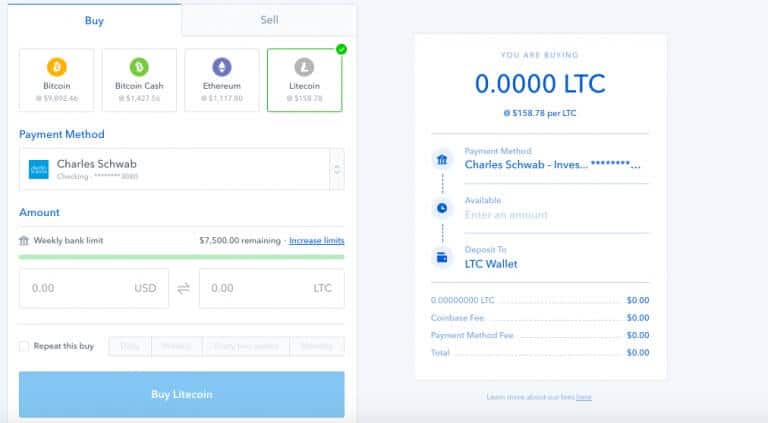 Coinbase is one of the most popular platforms to buy/sale cryptocurrencies. Coinbase allows you to buy directly with different payment methods. It is also interesting to know that the founder of Litecoin worked at Coinbase before dedicating himself to his LTC project.
Plus500
Plus500 is a well-known CFD broker where you can trade Litecoin CFDs. It is important to note that when you trade Litecoin, you do not own the asset, you play according to its value on the market.
Here we show you, step by step, how to trade Litecoin in Plus500. The process is very simple:
1) Create an account in Plus500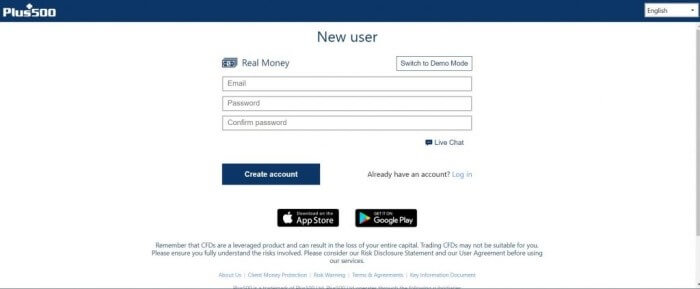 You can choose between creating a real (money) account or a practice account (demo mode one). The real one is what interests us, but we can create the demo one to familiarize ourselves with the platform.
Creating an account is very straightforward, you just type your email and set a password. If you create a real account, you must verify your data by filling out a form with some basic questions about your finances. Those questions are for platform security. Once you have completed the verification, you are going to "deposit" then you can have funds in your Plus500 account and buy Litecoin.
2) Open a position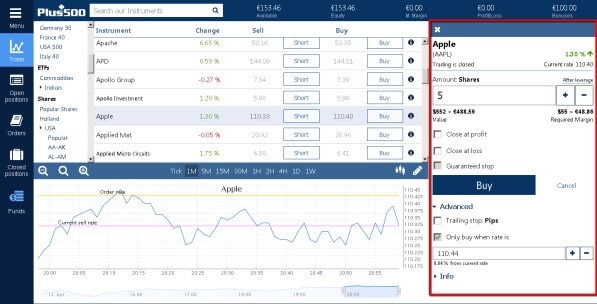 To trade Litecoin on Plus500, you must select an instrument. On the left side of the bar, you will find several options for instruments, including one for cryptocurrencies. Once there, you will select LTC to buy Litecoin (LTC/USD). If you click on LTC, it will give you all the details about that crypto. Finally, you get the option to "buy"
You choose if you want to buy or sell, depending on the variations that the same page will indicate. Remember this: when you trade Litecoin, you are playing depending on the market and its values.
3) Positions management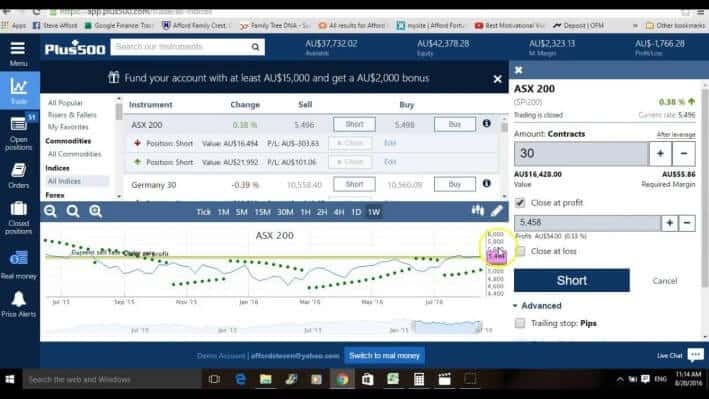 Here you can edit a position already open or even close it, according to your preference. You go to "open positions" and choose the "edit" option. Once you make the changes, you choose the "update" option.
If you want to close the position because you are already satisfied with the trade, the procedure is similar to the previous one, only instead of "edit" you will select "close the position"
It is important to know that positions are usually closed automatically, by reaching the established limits or for many other reasons. However, you already know a manual way to do it.
When evaluating Plus500, we can only say it is a wonderful platform with varied and useful tools. It is not a page for beginners, we must admit it. Despite that, we believe that trading LTC or any other crypto is something complex that takes time to learn, but it doesn´t mean it has to be difficult.
80.6% of retail CFD accounts lose money
Buying Litecoin in your Country
UKUS & CanadaAustralia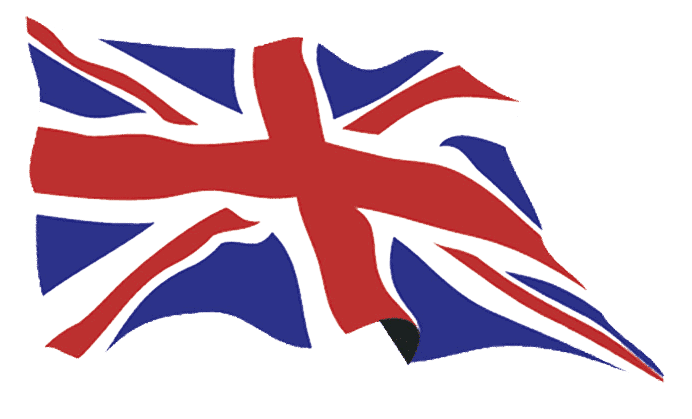 The crypto boom has crossed all kinds of borders. Nowadays, everyone wants to buy Litecoin and many other altcoins; UK is not an exception. Actually, Litecoin has become quite popular in the UK, not only for trading, but also there are already online shops that use it as a payment method.
We, for the UK, recommend Binance. It is the most suitable platform to buy Litecoin in the UK, both for the popularity of the page in UK, and for how well it works according to the testimonies of the UK users themselves.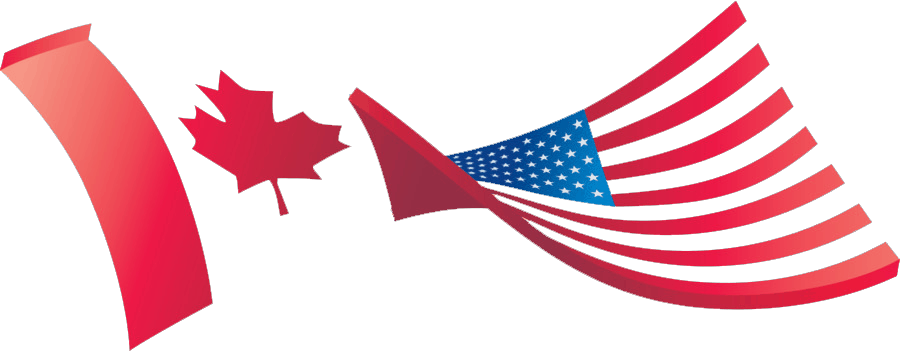 Litecoin has became so popular all over the world, but without a doubt, North America is perhaps the area where Litecoin is most popular, which is not necessarily crazy. If you want to buy Litecoin in USA or Canada, we recommend Coinbull.
As you have seen, there are many platforms where Litecoin can be purchased, but for USA and Canada, Binance and Coinbase, are not the only options, there are many more, and one of them is Coinbull.
In Coinbull, the procedure is very simple: you must first create an account, which is very fast, it only takes a few minutes.
After creating the account, you will deposit funds from your credit or debit card. Once you have funds, you choose how many LTCs to buy, opening purchase orders with short and long positions, and then you can start enjoying the benefits of Coinbull.
Just as Litecoin has arrived in the USA, Canada and the UK, it is also true that it has become very popular in Australia, where the crypto boom was not long in coming. If you are in Australia and want to buy Litecoin, our best recommendation is Binance, because the users of that area have reported great satisfaction with that platform, and it is really very popular worldwide.
How to trade Litecoin with a trading robot
Nowadays, trading with trading robots is very popular. You can trade even cryptos, including Litecoin.
Trading with Crypto Robots has become very popular for the following reasons:
Comfort: Is there anything more comfortable than being able to delegate functions? Robots make life easier for us in all the aspects in which they can be useful.
Usage: robots are more than useful, they are also very easy to use.
Quality: Bots do many things for us, and do it with high quality. Most transactions on Wall Street are made by robots today.
Saving time and money: Robots can not only do things very well in record time, but they can also help save money by reducing wage costs.
In summary, robot trading are very useful but there are details that make us not recommend them for all cases. There have been cases of scams, it is also known that some can be very expensive and only agree if it is about more frequent movements.
Alternative Methods to Buy Litecoin
Credit/Debit CardPayPalBitcoin
Binance is the best way to buy Litecoin with a credit or debit card. We have already explained, step by step, how to buy in Binance. However, if you want to know another alternative, we can talk about Changelly.
Changelly is an exchange platform that allows you to buy and sell crypto, using a credit or debit card as a payment method.
The procedure in Changelly is quite simple. First of all, create an account at the home page, providing your email and some personal information. After that, deposit USD with credit or debit card to buy BTC. Those BTC can be exchanged for LTC, and that's it, get Litecoin in 4 simple steps.
PayPal is one of the most popular electronic purses for fiat money. Buy Litecoin and almost any altcoin, is very easy with PayPal. We know there are many platforms where you can buy Litecoin with PayPal, but we recommend you mainly Coinbase. Besides being very popular, Coinbase is the safest site, according to thousands of user testimonials. There is also just a few days ago, the information that Binance enabled the function to buy Litecoin with PayPal, although it is still very new.
As you have already seen, buying Litecoin with Bitcoin is quite common. You can do almost any exchange platform, the one you like the most, the one that best suits your needs. However, we prefer to recommend Binance, the commissions are very low, and it is also the most famous page for its security. Binance transactions are usually very reliable, and therefore we believe that it is the best option to buy Litecoin with Bitcoin.
How to sell Litecoin
If you have already purchased Litecoin or you have obtained them as a payment, and you want to sell them, because we can only recommend you Localbitcoins and Binance.
In both sites you can, not only sell them but also exchange them for other crypto, if that is your intention. Localbitcoins and Binance are platforms that in addition to being quite safe, provide many tools and benefits for users, besides being very simple and easy to manage. Those sites also have a very high number of users, so selling your LTC there could be something very fast and simple.
In conclusion, Litecoin, more than just a crypto, is a company that is getting bigger and bigger day after day. All platforms of purchase, sale, or trade of crypto, have gradually adopted it. Nowadays, it is difficult to find crypto sites where there is no mention of LTC.
Differences between buying and trading Litecoin
divider style="single" border="large" color="#efefef"]
Buying
You own the Litecoin, you have the right to move it, sell it, and transfer it as you wish.
Traditionally associated with longer-term (Multiple months to years)
Assets can be used just as fiat currencies are; for purchases, or for payments
Somewhat safer than trading directly using margin or with borrowed funds
Trading
LTC trades use contracts for difference (CFDs)
You don't actually own Litecoin, you own a representation of Litecoinwhich is in the form of a contract
Traditionally associated with shorter-term positions or ideologies about Litecoin because using margin accrues fees very quickly
Higher risk is implied because you're buying contracts on margin (Borrowed money from the broker)
How to create a Litecoin Wallet
The first thing you should do before buying Litecoin, is to have where to store them. To store Litecoin, you must create a Litecoin Wallet. Today there are many different wallets, some are online, others are exclusive for Android or iOS devices, others are for desktop computers, and so many more.
We recommend you to use blockchain.info because it is the safest site thanks to several features during the process of creating the wallet.
When you create the Wallet, the process is simple: you go to "create wallet", there you will be asked for an email and a password. Then, you must verify your identity according to the steps they indicate to you by email.
Once you have verified your identity, you are ready to use your Wallet and store Litecoin. Blockchain.info is not only one of the safest wallets, but it is also very easy to use, ideal for those who are just beginning in the world of cryptocurrencies, handling small quantities.
[/toggle]
FAQs
All those questions are too frequent, at the same time they are also very logical. The advantage is: in this article we can give them a clear and precise answer.
What is the best way to buy Litecoin?
The best way to buy Litecoin is through a recognized platform, where we know that the probability of being scammed is minimal. It is also important to know that there are different methods of payment, so we can use the one that suits us best.
Is Litecoin a Scam?
Until now, Litecoin has a great reputation, so it is definitely impossible to think that it could be a scam. Like every crypto, it has highs and lows, which is normal. There is no signs so far to believe that it is a scam. If so, they would not have gotten that far in such a competitive market.
Should I invest in Litecoin in 2019?
Investing in Litecoin is a personal decision, but we must not forget that LTC has not only remained in the market, but has also had interesting increases in value, besides that more and more businesses are adopting it as a method of payment.  Investing in Litecoin seems to be a wise decision, although everyone owns their money and what they decide to do with it.
2019 is just beginning. It seems to be a good a year for Litecoin between many other altcoins. Is important to point the fact that many sites have made changes to include LTC in their options, and that´s for sure a good sign. We can´t predict the future, but it seems to be only good things awaiting for Litecoin in the future.