Irrespective of the country you reside in, it's likely that you have access to a national lottery game of some sort. In most cases, these are backed by centralized government agencies. But how do you know that the game is true and fair? The truth of the matter is we just don't know. As such, Bitcoin lotteries are now a thing, with heaps of platforms offering the chance to win big in a fully transparent manner.
If you're thinking about playing a Bitcoin lottery, be sure to read our comprehensive Bitcoin lottery Guide. We cover everything from what Bitcoin lotteries are, how they work, whether they are safe, and how much you can win (or lose). We'll also discuss the 5 best Bitcoin lottery sites of 2021 so that you can get started today!
The best 5 bitcoin lottery sites for 2021
1. FortuneJack - Best platform for Keno-style Bitcoin lottery games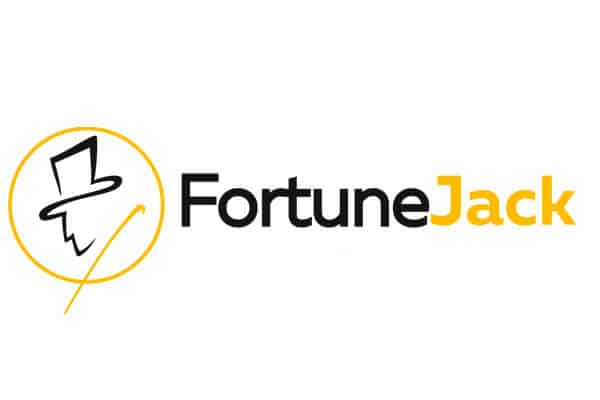 FortuneJack is one of the main players in the Bitcoin casino and sportsbook space. Launched way back in 2014, the platform lists thousands of games, which covers both software games and live dealers. Although FortuneJack doesn't offer traditional lottery games, it makes our list because of its extensive Keno department. In its most basic form, Keno is a form of lottery that uses fixed-odds, as opposed to a progressive pool that bases its wins on the number of tickets sold.
This appeals to a lot of players because you have the chance to set your own stakes. Moreover, as you are competing against a pre-defined algorithm, you can play as many games as you want, whenever you want. However, unlike Bitcoin lottery platforms like DuckDice, FortuneJack generates its lottery balls via regulated third-party software providers.
Although this might make you uncomfortable, these software providers must go through a highly stringent regulatory process before they are able to launch their games to the online space. As such, you can be sure that the balls are drawn in a true and fair manner.
Key Points:
✔️ Massive selection of casino games – including lottery-style Keno
✔️ Accepts multiple cryptocurrencies
✔️ Bitcoin keno game allows you to play whenever you want
✔️ Fixed-odds system allows you to set your own stakes
✔️ Instant deposits and withdrawals
✔️ Established since 2014
2. BitcoinCasino.us - Secure online casino with great welcome bonuses
BitcoinCasino.us is one of the best bitcoin lottery sites today. Its online casino platform is easy to use and provides all the information that players want to access regularly.
Some of the lottery games you can play on BitcoinCasino.us are Scratchy Bit, Bet on Numbers, 88 Bingo 88, Just A Bingo, Super Mask, Secret Cupcakes, Donut Rush, Monsters' Scratch, Red Square Game and many more. All of its online casino games are supported by famous software providers such as BetSoft, Endorphina, MrSlotty, Booming Games, GameArt, Bgaming and Spinomenal.
Aside from the huge variety of casino games on BitcoinCasino.us, its players also like its quick and secure deposit and withdrawal process. They can easily deposit and withdraw their earnings because the casino website supports cryptocurrencies such as Bitcoin, Litecoin and Ethereum.
New players also have the chance to get deposit bonuses of up to 5 BTC. Also, 150 free spins will be automatically added to their accounts.
It will only take you a minute or two to create an account so check the site now and start playing!
Key Points:
✔️Easy account creation process
✔️Players can stay anonymous
✔️Free deposits and withdrawals
✔️Lots of lottery games
✔️150 free spins plus deposit bonuses of up to 5 BTC
3. LottoLand - Best if you want the balls drawn in the real-world
LottoLand is completely different from the two Bitcoin lottery sites we have discussed thus far, not least because it gets its results from the traditional offline space. In other words, the platform uses the actual results from well-known national lottery games such as the Mega Millions in the US and the EuroMillions.
The key difference is that you have the option of purchasing your ticket in Bitcoin. Interestingly, you can also deposit funds using fiat currency, if this is something you'd prefer. Nevertheless, it is important to note that the prize system differs from the game it is copying its numbers from.
In other words, you won't win the same amount as money as you would have done by playing the real-world version of the game. Instead, you'll choose 6 numbers, pay your 3.50 EUR ticket fee, and your prize will be based on the amount of money the platform collected for that particular game. What we also like about LottoLand is that the platform is regulated by the Gibraltar Gambling Commission. This acts as an extra safeguard, not least because most Bitcoin lottery websites operate in an unregulated manner.
Key Points:
✔️ Regulated by the Gibraltar Gambling Commission
✔️ Platform gets its ball numbers from real-world lottery games such as the Mega Millions
✔️ No need to verify the authenticity of the results as the offline space is heavily regulated
✔️ Accepts both Bitcoin and fiat currency
✔️ Other games such as scratch cards available
✔️ Monthly bitcoin jackpot games
4. DuckDice - Best Provably Fair Bitcoin lottery
As the name suggests, DuckDice is a platform that mainly specializes in Bitcoin dice. However, don't let this put you off, as it actually has one of the best Bitcoin lottery games in the industry. The platform hosts one game of Bitcoin lottery every 24 hours (15:00 UTC), which is great because it allows enough time for the prize pot to build up.
While we are on the discussion of prizes, DuckDice uses the pool system, meaning that the specific prizes are based on the number of tickets sold in that respective 24 hour period. For matching 3, 4, or 5 numbers, you will win 20%, 30%, or 50% of the prize pot, respectively. If two or more people win the same prize, then the pool will be distributed evenly. For example, if two people match 5 numbers, and 50% of the pot amounts to $50,000, then each player will share $25,000 each.
Most importantly, DuckDice utilizes the benefits of Provably Fair. This means that you can be 100% sure that the numbers have been drawn randomly, and that there is no way for the platform to manipulate the outcome. You also have the option of verifying this yourself by checking the lottery seed.
Key Points:
✔️ New Bitcoin lottery game every 24 hours
✔️ Games backed by Provably Fair
✔️ 100% true and fair – no issues with manipulation
✔️ Wins paid by matching 3 or more numbers
✔️ Prize pool system – wins can be huge
5. Crypto-Games.net - Great for beginners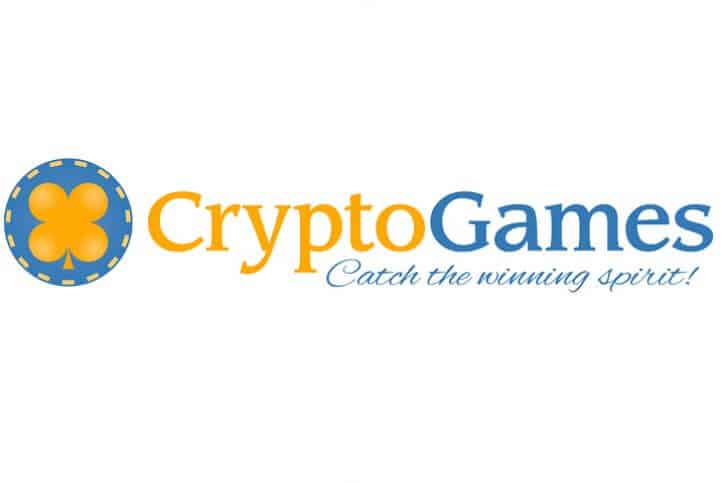 Although Crypto-Games.net might not appeal to those that are looking for state-of-the-art graphics, the platform is absolutely perfect for newbie players. In fact, the platform hosts just 8 games within its gaming suite. On top of Bitcoin lotto, this also includes blackjack, roulette, video poker, Plinko, dice, slots, and minesweeper.
In terms of its Bitcoin lottery offering, the platform uses a pool system, meaning that there is virtually no limit to the amount that can be won. One of the best things about the Bitcoin lottery game available at Crypto-Games is that 100% of the pool is distributed to winning players. This is in stark contrast to a number of other platforms in the space, who will sometimes take a 10-15% percentage fee from the main pool to 'cover their costs'.
Nevertheless, 80%, 15%, and 5% of the prize pool is awarded for 1st, 2nd, and 3rd place, respectively. Most importantly, Crypto-Games uses a random picker protocol that is backed fully by Provably Fair technology. This ensures that the outcome of the game is always true and fair, and that the winning numbers can be verified for their validity.
Key Points:
✔️ Best platform for beginners
✔️ All games hosted on the platform backed by Provably Fair
✔️ Custom URL takes you straight to account dashboard – no need to log-in
✔️ Great reputation for speedy deposits and withdrawals
✔️ Also hosts a number of other casino games
6. 8bet - Best for Bitcoin jackpots
Although 8bet is a relatively new entrant to the Bitcoin lottery space, its platform is well worth a look. Other than a couple of slot games and scratch cards, the entire platform is dedicated exclusively to Bitcoin lotteries. The main Bitcoin game – known as the 'People's One', runs once every 24 hours. It costs just 0.20 mBtc to buy a ticket, which is great if you are just starting out and want to see how everything works.
Prizes start by matching just two numbers, with the main bitcoin jackpot requiring players to match all 6 numbers. The best thing about this particular Bitcoin lotto game is that the bitcoin jackpot rolls over until it is won. 24.1% of each game's respective prize pool is added to the jackpot, meaning that wins can be highly lucrative. At the time of writing, this stands at 4,445 mBtc!
On top of its main jackpot game, 8bet also runs a free crypto lotto game. Although prizes are much smaller, matching 6 numbers will award you a prize of 1,000 mBTC, which is great. In terms of the fundamentals, all Bitcoin lotto games facilitated via the 8bet platform are backed by Provably Fair. As an added bonus – and much like in the case of Crypto Games, 8bet does not charge any margins, meaning that 100% of the prize pool always goes to the winning players.
Key Points:
✔️ Specialist Bitcoin lotto platform
✔️ All games hosted on the platform backed by Provably Fair
✔️ Bitcoin jackpot rolls over until it is won
✔️ Also offers free Bitcoin lotto games
✔️ No margins – 100% of the prize pool distributed to players
What is a Bitcoin lottery?
In its most basic form, a Bitcoin lottery is not too dissimilar to a real-world lottery. If you're based in the US, think along the lines of Mega Millions. Although there is now a range of variations to the game, Bitcoin lottery games essentially require you to purchase a ticket, which then comes with a set of numbers.
Once the game starts, a certain amount of numbers will be randomly drawn. The overarching aim is to then match as many of these randomly drawn numbers against the numbers displayed on your ticket. In doing so, you stand to win a real-world prize – all of which is paid in Bitcoin.
Let's take a look at a quick example to make sure we fully understand the general process.
You buy a Bitcoin lottery ticket, which costs the BTC-equivalent of $2.
Your ticket consists of 6 numbers, ranging from 1-49
The game starts, and randomly draws 6 numbers – ranging from 1-49
You match all 6 numbers, meaning that you win the bitcoin jackpot!
In the above example, you'll see that by matching all of the numbers on your ticket, you won the jackpot prize. The amount offered is typically a percentage of the total 'pool'. The pool is made up by the number of tickets that were sold. For example, let's say that $1 million worth of tickets were sold in your respective game. Taking into account the lower prizes that were won (for example for matching just 3 balls), the bitcoin jackpot might pay 70% of the pot, which amounts to $700,000.
What are the pros and cons of Bitcoin lotteries?
Pros and cons of Bitcoin lotteries
The Pros
Chance to win big prizes
Low stakes required to enter
No experience needed
Can be played by anyone, anywhere
Heaps of Bitcoin lottery providers
Play from home or via your mobile phone
Fully transparent
Guaranteed to be true and fair
The Cons
Providers are typically unregulated
You could lose money
What types of Bitcoin lottery games are there?
It is important to note that the term 'Bitcoin Lottery' is quite a broad one. By this, we mean that there are different variations to the game. Irrespective of what version you go with, both ticket sales and prizes are usually paid in Bitcoin. However, some platforms do allow you to collect your prize in fiat currency, if this is something that you would prefer. Nevertheless, we've discussed the three main types of Bitcoin lottery games below.
1. Balls are copied from conventional lottery
One of the first-ever Bitcoin lottery games to reach the market was that of Lotto Land. In a nutshell, this particular branch of the Bitcoin lotteries space draws its numbers from real-world lottery games. This includes the hugely popular EuroMillions, US PowerBall and Mega Millions, and even the Irish Lotto. As such, there is no technology required, as the numbers you will be attempting to match are the same numbers drawn in the respective national game.
On the one hand, some players prefer this, as there is no input required from the platform in question. Players know that the offline lottery space operates in a heavily regulated environment, which in itself acts a safeguard against fraud and manipulation.
However, some players prefer to stay away from this branch of the Bitcoin lottery space, not least because they would rather opt for a ball-drawing process that allows them to verify the authenticity of the game.
Pros and cons of using balls from national lottery games
The Pros
National lottery games are heavily regulated
No dispute as to how the numbers were drawn
Easy to verify the winning numbers
Games operate at least once per week
Prizes are usually large
The Cons
Unable to independently verify the authenticity of the drawn balls
Prizes could be bigger by buying a ticket in the real-world
2. Balls are drawn via Provably Fair
At the other end of the Bitcoin lotteries spectrum, a whole new version of the game exists – Provably Fair. For those of you unaware, Provably Fair was fist created by the founder of SatoshiDice – a Bitcoin dice game created in 2013. The underlying technology is backed by cryptography, meaning that regardless of what gambling game you are playing, you can be 100% certain that the outcome was generated fairly.
Not only this, but it is also possible to independently verify how the Provably Fair mechanism generated its outcome – as all of the data is available in the public domain. In the case of Bitcoin lotteries, Provably Fair is absolutely ideal.
Here's how it typically works:
You buy a ticket for a Provably Fair Bitcoin lottery game
Your ticket and its corresponding numbers are registered – which cannot be amended or altered
When it comes to drawing the balls, the Provably Fair mechanism will create a seed
The underlying platform will then take a second random seed – only this time from entrants of the game
Once both seeds have been hashed, Provably Fair will then generate the balls
If you matched a certain number of balls and subsequently won a prize, the winnings will be paid to you automatically
One of the best things about Provably Fair Bitcoin lotteries is that the entire end-to-end process can be verified at any given time. This includes the exact amount of tickets that were sold, how much was paid, which addresses held a winning ticket, and most importantly – how the winning balls were randomly selected.
Pros and cons of Provably Fair Bitcoin lotteries
The Pros
100% guaranteed for fairness
Completely transparent
Verify how the balls were drawn at any given time
Check how many tickets were sold for each game
No limit to the size of the bitcoin jackpot
The Cons
You still need to understand how Provably Fair works to check the authenticity of the game
3. Balls are drawn via regulated third-party software providers
The third option that you have at your disposal is to use a Bitcoin lottery website that utilizes a third-party software provider to draw its balls. Firstly, this particular type of Bitcoin lottery game is different from the previous two that we have discussed thus far, not least because they are closer to 'Keno' than a traditional lottery game. Keno is very similar to a lottery game, however, winnings are not based on the number of tickets sold. Instead, winnings are based on fixed-odds.
For example, let's say that 6 balls are drawn at random from a possible 50. The numbers run from 1-50. Prizes and paid when you match at least 3 balls from your ticket.
Here's what each prize could pay:
➡️3 balls: 5x
➡️4 balls: 10x
➡️5 balls: 50x
➡️6 balls: 500x
As you'll see from the above example, prizes are paid in multiples, as opposed to a percentage of the pot. As such, you can effectively set your own stakes. So, if you decided to buy a ticket at $5, and you matched 3 numbers, then you would win $25 ($5 ticket multiplied by 5x prize). Alternatively, if you staked $100 per ticket, you would win $500 for matching 3 balls ($100 ticket multiplied by 5x prize)
The second – and perhaps the most important aspect that sets this particular Bitcoin lottery game apart is the process used to draw the balls. In the vast majority of cases, platforms will partner with third-party software developers such as Microgaming, NenEnt, and Evolution. These software developers are not only required to hold full gaming licenses, but they regularly have their gaming data audited. On the other hand – unlike Provably Fair, the gaming data cannot be verified by the public, meaning that the ball-drawing process is kept behind closed doors.
Pros and cons of Bitcoin lotteries backed by regulated software
The Pros
Software providers are regulated
Lottery data is audited by gaming regulators
Games must be independently tested for fairness before being launched
Play games whenever you want as prizes are fixed-odds
Choose your own stakes
Play at your own speed
The Cons
BTC jackpot prizes are much smaller than conventional Bitcoin lottery games
No way to check the authenticity of the software yourself
What are the odds of a bitcoin jackpot?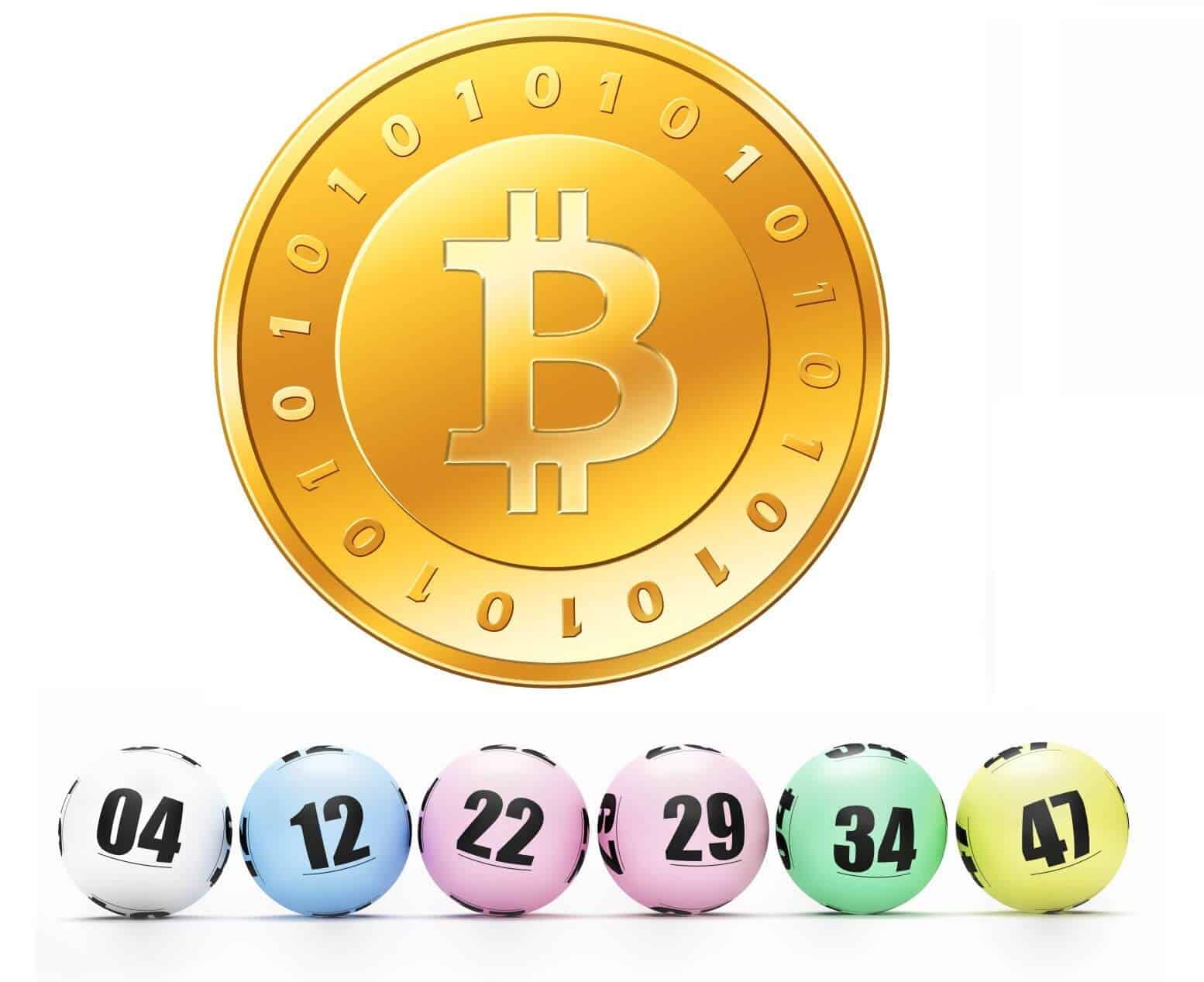 Before you begin playing a Bitcoin lottery game, it is well worth making some considerations regarding your chances of winning. First and foremost, your specific odds will depend on a number of key factors. Notably, this includes the number of balls in the draw, the number of balls that will be drawn randomly, and the number of balls on your ticket.
However, in order to give you an idea of the underlying odds, we have taken the industry average – which is a 49 ball game with 6 numbers drawn.
➡️Matching 6 numbers = 1:13,983,816
➡️Matching 5 numbers = 1:55,492
➡️Matching 4 numbers = 1:1033
➡️Matching 3 numbers = 1:57
As you can see from the above examples from a typical 49 ball game, the odds are heavily stacked against you once you get past the 3 number requirement. As such, it is crucial to assess how much each corresponding win is going to pay. For example, let's say that you match 3 numbers.
Although the odds of you matching 3 numbers are 1:57, will you be paid at odds of 57/1? Probably not. In fact, you'll likely receive a lot less. While this isn't ideal, people still play Bitcoin lottery in their drones because of the huge bitcoin jackpots that are offered for matching all 6 numbers.
How to play bitcoin lottery online
So now that you know the ins and outs of how Bitcoin lotteries work, we are now going to show you how you can get started. Follow our simple step-by-step guide below to find out how to register and deposit funds at a Bitcoin lottery platform!
Step 1: Choose a trustworthy Bitcoin lotto site
Your first port of call is going to be to choose a platform that hosts a Bitcoin lottery game. In some cases, these will be dedicated platforms that specialize exclusively in Bitcoin lottery games. In other cases, platforms will be a fully-fledged Bitcoin casinos that hosts a range of Bitcoin lotteries alongside more traditional games likes like blackjack, roulette, and slots.
Before choosing a platform, you also need to assess what type of Bitcoin lottery game that you want to play. As we discussed earlier, this will dictate how the balls are drawn. For example, while some players prefer balls that are generated via Provably Fair, others prefer Keno-style games that are backed by regulated software providers.
If you're still unsure which platform to go with, we would suggest scrolling to the top of our guide and reviewing the Top 5 Bitcoin Lottery Sites that we have recommended.
Step 2: Open your account
Once you have chosen your preferred Bitcoin lottery platform, you will now need to go and open an account. Although the process is similar across most platforms, we've decided to show you how to get started with DuckDice,
At the top of the screen, click on the 'REGISTER' button. A pop-up box will then appear asking you to choose a username. Once you have read and agreed to the terms and conditions, click on the 'START WINNING' button. Although you have just created an account by simply choosing a username, you should now go into your settings page and add a layer of security. This can either be via two-factor authentication or email notifications.
Step 3: Fund your bitcoin lottery account
Once you opened your account and added a layer of security, you now need to deposit some funds so that you can enter a Bitcoin lottery game. At the top right-hand side of the screen, click on the 'MY FINANCES' button. As you are depositing funds via Bitcoin, click on the 'DEPOSIT' button next to 'BTC'.
You will then be shown your Bitcoin deposit address. This wallet address is unique to you and your Bitcoin lottery account, so make sure you keep it safe. Copy the address to your clipboard, and then head over to your external Bitcoin wallets. Finally, once you transfer the funds to your deposit address, the Bitcoin lottery platform should credit the funds within 1 blockchain confirmation.
Step 4: Buy your Bitcoin lottery tickets
As soon as your account has been funded, you can then proceed to start buying some Bitcoin lottery tickets. As you will see from the image below, the cost of one lottery ticket is 0.0001 BTC. At the time of writing, this amounts to just over $0.78 per ticket. Next, you then need to decide how many tickets you want to purchase for that particular game. Once you enter the number of tickets in, the total cost box will automatically update.
Finally, you then need to decide whether you want your ticket numbers generated randomly, or if you want to choose them yourself. This is very similar to the real-world version of the game, where you can choose your favorite numbers or get the machine to automatically generate them for you.
Step 5: Withdraw your winnings
If you are fortunate enough to win a game of Bitcoin lottery, you will then need to withdraw your winnings back out. Don't forget, in the vast majority of cases you will need to withdraw your funds back out as Bitcoin. As such, head back into the 'MY FINANCES' section of your account, and then enter the amount that you want to cash-out.
Next, you need to enter your external Bitcoin wallet address. For ease, this can be the same address that you used to deposit the funds. As soon as you request the withdrawal, you should see the funds back in your external Bitcoin wallet within 10 minutes.
Our Recommended Crypto Exchange
25 USDT No Deposit Bonus
Easy Account Creation Process
Lowest Exchange Fee
Offers Demo Trading Account
FAQs