Monero (XMR) is one of the largest coins in the crypto market, and the most popular privacy coin out there. It is currently ranked as 13th largest coin, with a market cap of over $878 million. The coin also sees a lot of usage, with its daily trading volume being at around $58.4 million, which is a lot considering that most exchanges and business are hesitant to work with privacy coins.
However, while Monero seems to be popular enough, it is still highly volatile. Its price was seeing constant drops in 2018, and the coin spent most of the previous year around its major support at $120, which turned into a resistance when the coin broke it back in August.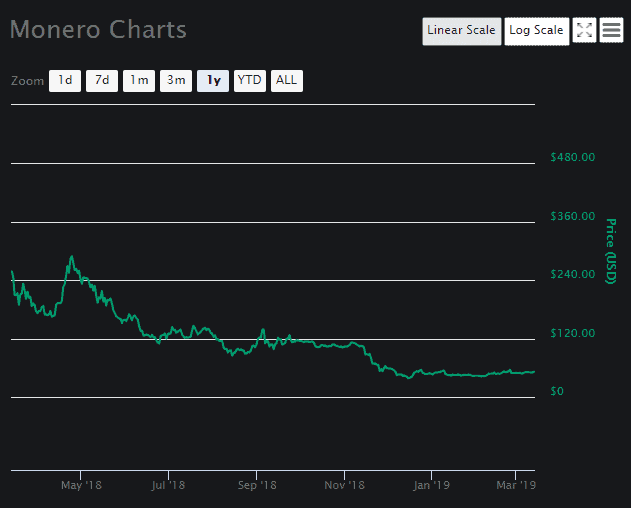 It spent an even longer period right below it until the mid-November market crash cut the coin's price in half,  Since then, Monero has spent months fluctuating between $40 and $50, which is how it entered 2019
Monero remains volatile in 2019
In the last three months, Monero's price did not experience massive volatility, but its price still went up and down all the time. Its biggest growth in the last three months was noted just before December ended, when the coin surged from $40 to $58 within a week, from December 17th to December 24th. This was around the time when the bearish market first started showing signs of weakness, and the bulls started reappearing in the crypto world.
Following the surge, XMR dropped just as sharply to $45, which is the price it had on the first day of January. However, it was not to last, and Monero started another surge this very day, reaching the $55 resistance only a few days later. It even remained there until January 14th, when another sharp drop brought it back down to $45.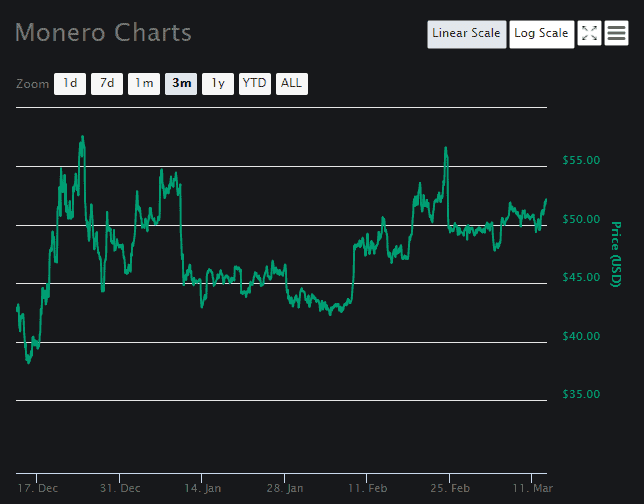 The coin remained stuck to this support until January 28th, when another small drop forced it to break the support and turn it into a resistance — one that prevented further growth until February 8th, which is when an entire series of small surges started.
Monero took every opportunity to growth, breaching the $45 resistance, and surging towards the next one, at $50. This level proved to be tough to breach during this initial surge, and XMR was seemingly satisfied with being near it, between this roadblock and a smaller support at $47. It spent ten days between these two prices, only to grow even further on February 18th, when a new bull run arrived. It continued to grow until breaking the $55 barrier, which is when the bulls suddenly withdrew, which led to another sharp drop for Monero.
However, the coin managed to make another strong support level at $50, which softened its drop. XMR still broke this support, which turned into a resistance after that. However, the coin never went far from it since then.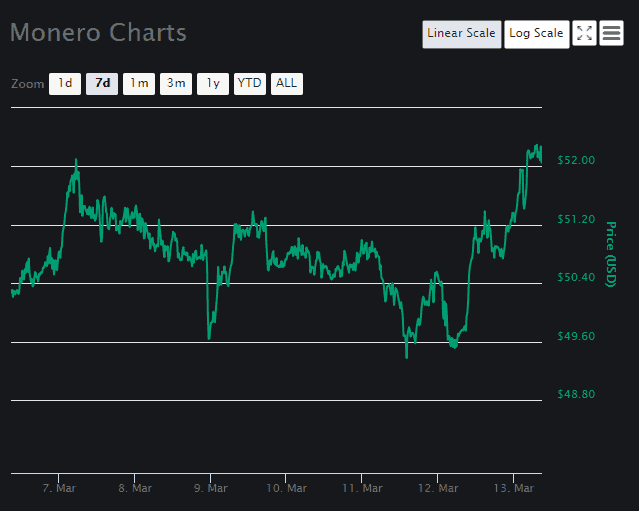 Monero finally managed to breach this resistance once more on March 5th, and it spent the next week fluctuating between this new support and a smaller resistance at $52.5. But, in the last 24 hours, the coin started experiencing another massive surge, which allowed it to breach the $52 mark, and is currently on its way up, growing by around 4.17%, according to CoinMarketCap.
Clearly, this shows that there is a large demand for the coin, as it allows users to buy Monero anonymously. XMR does have a desire to grow, and it caught every opportunity to do so. In the future, it is likely that Monero will keep following the market trends, growing whenever a bull run takes over and correcting its price when the bulls withdraw.