Working with digital currencies is a fickle thing legally. Different states have different regulations and there is not enough precedent to accurately predict which way a judge will go in a case. To help address this concern, more than 50 attorneys from around the nation created the Digital Currency and Ledger Defense Coalition (DCLDC). Designed to protect the civil liberties and constitutional rights of cryptocurrency users and companies. They hope their formation will encourage more companies to innovate without fear of legal reprisal.
"Law enforcement and regulatory actions relating to this technology have been steadily increasing over time and are all too often misdirected or premature[.] It is all too common for responsible entrepreneurs and companies to be subjected to unfair scrutiny by some federal or state agency, which, at a minimum, stifles them and broader innovation." stated DCLDC chairman Brian Klein, who is also a partner at Baker Marquart LLP, in a statement given to the media.
Besides the over 50 lawyers spread across 40 lawfirms, universities and non-profits have also joined the coalition. The statement includes a list of participants.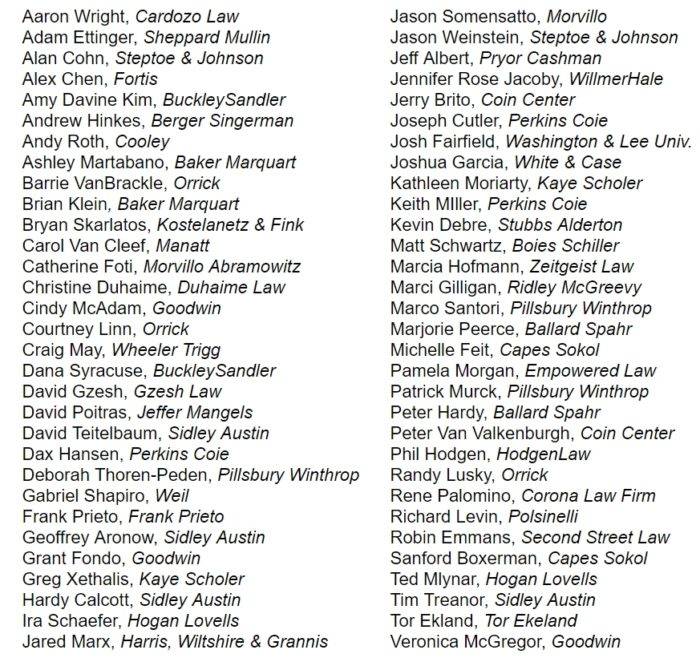 All emergent technologies have issues with established laws and politicians who struggle to understand them. When Automobiles first started gaining popularity, Britain passed the Locomotive Act of 1865, which limited automobile speeds to 2 mph in towns and cities and 4 mph in rural areas. The cars also had to be led by a man carrying a red flag. The flag bearer literally had to walk in front of the car to warn pedestrians and horse drawn carriages that the car was coming.
More recently, the government and free speech activists went to battle over pornography on the internet. Not understanding how the internet works, lawmakers in New York passed Senate Bill 210E. It prohibited the transmission of content "harmful to minors" to any minor, from any state or country. The obvious problem was that site owners have no way of knowing if the user on the other end is a minor or an adult. The courts ruled that the law unconstitutional the same year it was passed after the American Liberties Association challenged it.
The DCLDC is a completely separate entity from Coin Center. It does include two Coin Center members, Executive Director Jerry Brito and lawyer Peter Van Valkenburgh. They hope the DCLDC will defend decentralized technologies like the ACLU and the EFF defended the internet.
"The early internet could not have reached the kind of global scale we see today without the work of motivated entrepreneurs and tinkerers[.] Historically, defense coalitions similar to the DCLDC have played a key role in keeping the way free for innovators pushing the envelope to build out promising network technologies" said Brito.
Cryptocurrency regulation has been an issue for the space for years. Ever since Senator Charles Shumer (D-NY) called for the shut down of the Silk Road, Bitcoin regulation has been an issue for lawmakers. While regulation of some form or another is coming eventually, organizations like Coin Center have been fighting to make that regulation as favorable to the industry as possible. Now, the DCLDC will be working to help people and companies deal with that regulation, regardless of what it might entail.
DCLDC will provide pro-bono (free) legal advice for those who can't afford it. The DCLDC will also issue amicus briefs in cases that could set precedent. Amicus briefs are comments to the court from a group that has not been called as a witness by either party.
You can learn more about DCLDC and how to contact them, on their website.
---
A quick and unrelated note for our longtime readers. Inside Bitcoins is hosting a conference in New York City on October 8th. While it will be going on the same day as Scaling Bitcoins in Milan, Italy, it has a different focus. The Cryptocurrency Pub Con is designed to be accessible to people not actively working in the industry. We have a great line up of speakers, including yours truly. Industry focused conference tickets are often priced in the hundreds of dollars. The Cryptocurrency Pub Con tickets are only $10 if you buy in advance and $20 at the door. It will take place at the Turtle Bay NYC restaurant and bar. It is located at 987 2nd Ave, New York, New York.
We hope to see you there. I will have signed copies of my book for sale as well.
[Image: Inside Bitcoins]