Shiba Inu coin has been called the 'Dogecoin killer.' It's based on the same meme, but offers the advantage of using the Ethereum network and offering decentralized finance.
In this guide, we'll show you how to buy Shiba Inu coin and where to buy Shiba Inu coin in 2021.
How to Buy Shiba Inu Coin – Quick Guide
Want to buy Shina Inu coin without reading our full guide? You can get started right away with these 3 quick steps.
Open an account with Binance: We recommend using Binance to buy Shiba Inu coin. This crypto broker offers low fees and a wide range of deposit methods. Simply head to Binance and click 'Register Now.'
Upload ID: Upload a copy of your driver's license or passport to verify your identity.
Buy Shiba Inu Coin: Click 'Buy Crypto,' choose your payment method, and search for Shiba Inu (SHIB). Enter the amount you want to purchase. Click 'Buy SHIB' when your trade is ready.
How to Buy Shiba Inu Coin Tutorial
Ready to buy Shiba Inu coin? We'll show you how to get started using Binance, which offers trading on Shiba Inu and more than 500 other cryptocurrencies.
Step 1: Open an Account
To register a new crypto trading account, visit the Binance website and click 'Register Now.' You'll need to enter your email and a password for your account.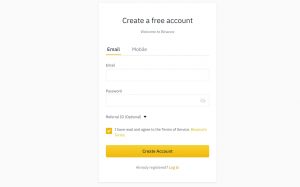 Step 2: Upload ID
Even though Binance is not a regulated exchange, the platform still requires you to verify your identity to comply with Know Your Customer (KYC) requirements. You can complete this step online by uploading a copy of your driver's license or passport. Binance will also ask you to verify your phone number by sending you a text message code.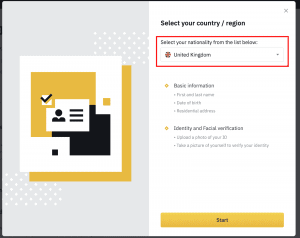 Step 3: Buy Shiba Inu Coin
Once your account is verified, you're ready to buy Shiba Inu coin. Just click 'Buy Crypto' at the top of the page and choose your payment method. Select 'SHIB' from the coin drop-down menu and enter the number of Shiba Inu tokens you want to purchase.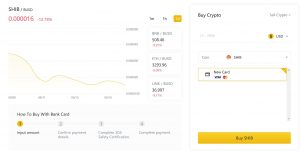 When you're ready, click 'Buy SHIB' and enter your payment details to complete your purchase.
Where to Buy Shiba Inu Coin
In order to buy Shiba Inu coin, you'll need a cryptocurrency exchange. It's important to pick an exchange that's not only highly trustworthy, but also makes it easy to go from fiat currency to digital currency. The best cryptocurrency exchanges also offer cutting-edge trading tools and a wide selection of tokens.
With that in mind, let's take a look at where to buy Shiba Inu coin.
1. Binance – Best Crypto Exchange to Buy Shiba Inu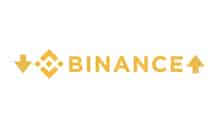 Binance is one of the largest cryptocurrency exchanges in the world and offers trading on more than 500 digital currencies. It stands out in a number of ways, including it's top-tier trading platform and low cost for trading.
Binance gives you multiple ways to trade crypto. You can instantly buy or sell digital currency with a simple web interface, and pay using a debit card, credit card, or bank account transfer. Alternatively, the exchange has a highly detailed web and mobile trading platform where you can analyze price movements and changes in momentum. The crypto platform even includes access to the Shiba Inu order book, which is a major plus for advanced traders.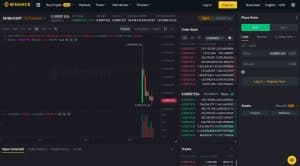 Binance charges a commission of 0.10% per Shiba Inu transaction, which is among the lowest fees in the industry. You can also get a discount by holding BNB, Binance's own cryptocurrency, in your trading account. There are no deposit or withdrawal fees, although the platform does charge a 3% fee if you make an instant purchase with a credit card.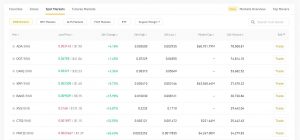 Another thing that's nice about Binance is that it offers trading on cryptocurrency derivatives. So, you can trade special leveraged tokens to increase your exposure to a digital currency or trade futures contracts for popular currencies like Bitcoin. However, derivatives trading isn't available for Shiba Inu coin at this time.
Binance is not regulated, but since it's one of the biggest crypto exchanges on the planet it is considered highly trustworthy. The exchange also has its own crypto wallet, the Trust wallet, that we'll cover in more detail below.
Pros
Multiple ways to buy or trade Shiba Inu coin
Commission of 0.10% per trade or less
Advanced trading platform with access to crypto order book
Supports crypto derivatives trading
Includes a cryptocurrency wallet