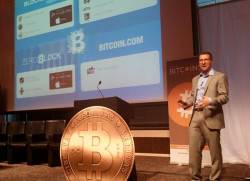 LONDON (InsideBitcoins) — "The block chain is the largest distributed computer network in the world," Nicholas Cary, CEO of Blockchain.com told the attentive audience at the recent Inside Bitcoins Conference in London. "It's far bigger than the human genome program even. "It's in a constant state of consensus which is an incredible thing in itself, a network, which everyone agrees on simultaneously across borders. And London is growing — turning into a hub for digital currency."
For Cary though, it's the global appeal of the block chain that makes it so interesting.
"We're creating a world without financial borders; email was great and we all signed up to it because it had some value. With bitcoin we're literally sending value from here to there, instantly. I'm hoping," he added, "that the first transaction between earth and outer space is going to take place this year."
The block chain's strength lies in its ability to maintain a consensus and although currently that agreement is centred on currency, it remains only one application of the technology.
Get the money right
But first Cary emphasised, we have to get the money right.
"We need to get this thing mass market, and we need to help people understand what it is. The inherent advantages of the currency are all there; there are only so many coins that can be mined but since they are divisible to 8 decimal points, there will be trillions available, more than enough. It's regulated by math, which is infallible, inflation proof and relatively cheap. If you were to design a currency this would be it, it's not perfect, but it's close enough."
To emphasise the need to entice more users, Cary unveiled Blockchain.com's impressive new wallet; visually stunning and designed from the ground up to look and operate much like any other mobile or browser based app, the intention of increasing Bitcoin's market presence is clear.
Same old legacy interests
Cary was also adamant that companies outside the bitcoin community were still basing their ideas on old legacy interests.
"Something like Apple Pay is based on 600 million credit cards. Same old legacy interests and same old compliance costs." Fresh ideas are coming from a predictable source, the Millennials.  "Trust me, they understand bitcoin and they understand the limits of financial services. In North Africa with a smart phone, you can have access to better financial services that we are currently used to in the First World."
This idea of bitcoin as a boon to the less well-off in the world is a theme that resonated several times during the conference – and for Cary, is key.
"2.5 billion people on this planet have no access to financial services and bitcoin is ideal for remittance. Expect disruption," he said.
More of Nicholas Cary's thoughts on Bitcoin will be revealed tomorrow in an exclusive interview with Inside Bitcoins.
Ian Jackson is an Inside Bitcoins correspondent based in the U.K.
---