On Feb.21, Texas' State Securities Board issued an announcement claiming that a regulatory enforcement agreement was signed by four companies that were being accused of offering unregistered securities as well as recruiting unregistered agents.
The settlement was reached after the Board filed an emergency cease and desist order in the summer of 2018. The companies have committed to paying an administrative fine of $25,000 and to stop operating in Texas until the securities on offer will be registered.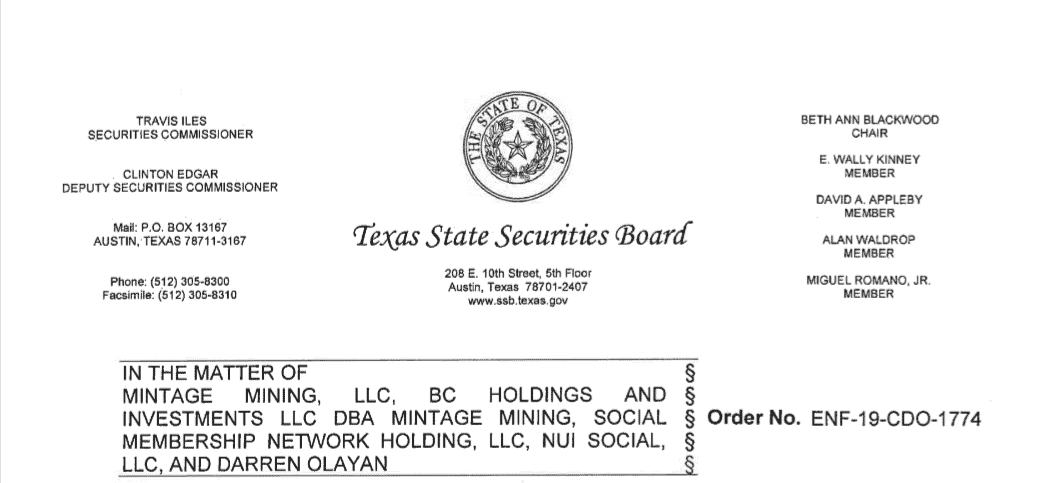 The four companies involved in the nine-month process are BC Holdings and Investments, Mintage Mining, Nui Social and Social Membership Network Holding. The name Darren Olayan, the head of Mintage Mining and Nui Social, is also mentioned in the document. They all agreed to stop offering the unregistered tokens to investors in Texas.
According to the document in question, Mintage Mining, Nui Social and BC Holdings and Investments "were offering investments referred to as "Hash Rate Unit Investment Program". Traders could buy investments for $1 per unit, with a required first-time purchase of $25. Once a unit was purchased, investors were entitled to a share of net mining revenue, minus a fee of five percent. The three companies were also offering "Open Ended Units" investments. Each unit cost $2, with a first-time purchase required of $25. Investors again would receive a share of mining revenue, minus hosting and management fees.
Neither of the two programs was registered with the Securities Commissioner (State Securities Board), which means that the companies were not allowed to be sold by the companies in the state of Texas. Their activities are now suspended.
Once licensing and documentation will be in place, the four cryptocurrency companies will be permitted to sell their programs again.
This is not the first legal action taken by the Securities Commissioner. In 2018 alone, it issued 16 orders against crypto investment firms. All the firms offered platforms to buy cryptocurrencies, but their activities were later suspended by the Board.
Texas is not the only state in the US dealing with cryptocurrency matters. Other states like Wyoming have been taking steps towards the recognition of cryptocurrencies as actual money and the measure will have to be accompanied by increased regulation and monitoring of the market and its platforms.