Last Updated on
NEW YORK (InsideBitcoins) — According to a report in The Independent, UK Prime Minister David Cameron would like to see a ban on certain applications that allow users to send end-to-

end encrypted messages to each other over the Internet. Certain privacy-conscious mobile apps, such as Telegram, have recently allowed users to encrypt their messages locally, which means there is no one for the UK Government to subpoena when they're trying to decrypt a target's online communications. Even closed-source applications, such as iMessage and WhatsApp, could be targeted in a mass shutdown of tools for private online communication in the UK.
Private communications not allowed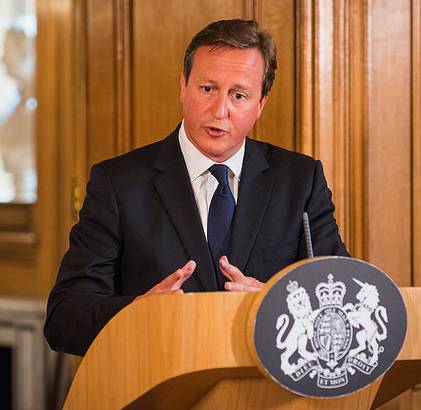 As with most far-reaching, intrusive government programs, Cameron pointed to terrorists and criminals as the reason no one should be allowed to have truly private communications online. As the revelations from various NSA documents leaked by Edward Snowden in 2013 have shown, centralized entities, such as Google and Facebook, should perhaps not be trusted to secure and encrypt communications on their end.
It was only after the Snowden revelations that larger messaging services, such as WhatsApp, decided to offer end-to-end encryption to their users. While the Conservative Party in the UK will try to claim that this is a solution for protecting the lives of innocent civilians who could be targeted in terrorists attacks, the reality is that this sort of widespread ban on end-to-end encryption is essentially an attempt to make sure that every form of online communication can be read by law enforcement in the UK. Cameron made this rather clear when he stated:
"In our country, do we want to allow a means of communication between people which […] we cannot read?"
What does this mean for bitcoin?
Of course, encryption is not only about communications these days. Bitcoin relies on public-key cryptography as part of the base protocol. Although all bitcoin transactions can be found on the public ledger (the blockchain), sending a bitcoin transaction does require the use of cryptographic signatures to prove that only the owner of a certain address can create new transactions that involve the bitcoins held in that address. This is not actually a form of end-to-end encryption, but the pseudonymous nature of bitcoin transactions is likely troubling in Cameron's mind as well.
[Read More: ISIS and Bitcoin – Seeking Financial Privacy Does Not Make You a Terrorist]
Other protocols currently in the works by the open source community, such as zerocash, could also take the privacy provided by bitcoin to the next level. If Cameron wants to place a ban on private online communications, then it would make sense for him to also ban any sort of anonymous digital transaction. Some would even say that a bitcoin transaction is a form of speech in its own right.
Letting the terrorists win
Of course, the irony of this entire line of thinking is that less privacy and freedom for people in the United Kingdom, United States, and other western nations is exactly what the terrorists want — at least if you're following the mainstream argument for what causes terrorism in the first place. If you respond to terrorist attacks by taking away more civil liberties from the local population, you can't help but think that the terrorists may believe their plan of attack on western civilization is working.
Prevent terrorists from attacking freedoms by preemptively taking away freedoms from own people. #CheckmateTerrorists #DavidCameronLogic

— Kyle Torpey (@kyletorpey) January 12, 2015
Whether you're talking about if a controversial movie should be shown in theaters or if people should be able to use the Internet in an anonymous manner, it's important to remember what the terrorists are supposedly attacking in the first place. At the end of the day, the terrorists are simply pointing the gun at our freedoms. The politicians are still the ones who have to pull the trigger.
You can follow @kyletorpey on Twitter.
Photo credit, David Cameron: The Prime Minister's Office