Whether you are a trading newbie or a seasoned expert, spread betting offers the opportunity to enjoy great flexibility when speculating on financial markets. It involves trading on future price movements on various markets both during market uptrends as well as downturns.
Though modern-day spread betting started in the 1970s, the phenomenon traces its roots back to the early 1900s. Today, there are countless spread betting platforms to pick from. While this is certainly advantageous, it also poses a challenge when it comes to choosing the best one.
In this comprehensive guide, we will take a look at the best spread betting brokers. Read on to find out more about their features, strengths and weaknesses so as to choose the most ideal one for your trading style and preferences.
What are the Pros and Cons of Using Spread Betting Brokers?
Pros
Trader education – Brokerage firms use financial professionals to carry out research and analysis on the market. As such, they provide reliable information to assist you to make informed decisions.
Helps you avoid unscrupulous financial managers – There have been instances involving selfish investment managers who put their own interests ahead of their clients'. By using a reputable, regulated brokerage firm, you can get high standards of professional ethics.
Better flexibility and control – Since most of these firms operate online, traders benefit from the speed of using web-based portals.
Opportunity to monitor investments in real-time – When using a brokerage firm, you can get access to information in real-time, allowing you to see how youCrer investments are performing at all times.
Cons
High charges – Certain brokers impose high commissions and fees on their clients since these are not standardized.
No personal relationships – Using a brokerage firm differs from traditional trading in its autonomy. You will basically be left to your own devices.
What are the Top 5 Spread Betting Brokers in 2020?
1. IG
Established in 1974, IG is at the helm of spread betting brokerage in the United Kingdom. It is a world leader in this type of trading and it offers an extensive product catalog as well as highly competitive fees.
The firm is ideal for both trading newbies and gurus as it provides access to world-class education and research facilities. New users get a demo account as well as education through webinars, video tutorials and seminars. Multiple trading platforms, including two for experienced traders, are other highlights.
Furthermore, its user interface is highly intuitive and thus easy to navigate. And its transparency with regards to fee structure is matchless.
In addition to being regulated by the FCA, it also has license from the Australian Securities Investment Commission (ASIC). All traders using this site get access to 500,000 GBP in default broker protection.
Pros
Regulated by ASIC and FCA
$500,000 default broker protection funds
A wide range of trading platforms
Great investor education and research tools
A long history of impeccable service
Over 16,000 markets to choose from
Cons
$250 minimum deposit
Certain assets attract additional broker fees
Contracts have high minimum sizes
2. City Index
Founded in 1983, City Index has made a reputation as one of the top brokerage firms in the UK. It is regulated by top-tier authorities such as the FCA, ASIC and the Monetary Authority of Singapore (MAS).
The firm, which was acquired by Gain Capital in 2014, is renowned for its large selection of assets and top trading platforms. When it comes to research and education tools, it offers an unmatched range of options.
Traders here get access to over 12,000 markets globally, across commodities, forex, indices and shares. Another highlight is its trading platform which has an incredible range of customization options. These include 65+ indicators and 16 types of charts that can help traders with their technical analysis.
They hold client money fully separate from their own funds. And in the event of liquidation, clients qualify for £85,000 from the Financial Services Compensation (FSCS).
Pros
Impressive diversity in research and trading tools
Quick and simple account opening
Competitive fees
Regulated by FCA, ASIC and MAS
Access to 12,000+ financial markets
Cons
Charges an inactivity fee
Offers a limited variety of instruments
Limited copy trading opportunities
3. Core Spreads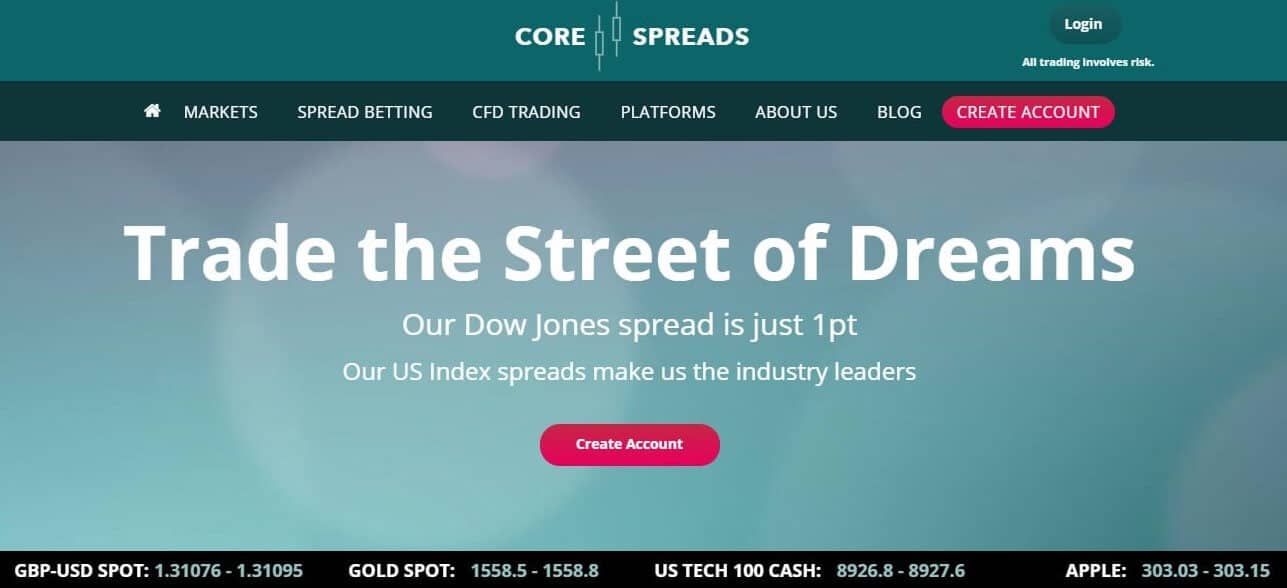 Established in 2014, Core Spreads is a regulated firm under the FC, a trading name of Finsa Europe Ltd. It offers a wide range of financial assets which users can trade across 6 markets.
It has two trading platforms, the popular MetaTrader4 and CoreTrader. The latter, which supports spread betting, is accessible online as well as on mobile and is very user-friendly.
There is no minimum amount required to open an account, but to start trading you need at least $10.
Pros
No withdrawal or deposit fees
Segregates its funds from client funds
Excellent customer support
Trader protection funds of up to $50, 000
User-friendly trading platform
Minimum deposit from $1
Cons
No education tools
Not highly regulated
Limited options in trading platforms
4. Spreadex
Spreadex has been in existence since 1999 and is regulated by the FCA. It operates a highly advanced proprietary trading platform with plenty of neat features.
For instance, traders can access price history spanning an entire decade. It is also possible to trade via charts and get access to advanced order features.
Opening a live account here only requires a $1 minimum. Spreadex offers more than 15,000 instruments for trading as well as more than 51 currency pairs.
In order to protect client funds, it segregates them from its own funds and stores them with tier 1 banks.
Pros
Excellent customer service
Competitive deposit and withdrawal costs
Zero commission on spread betting
Low minimum deposit
Allows hedging and scalping
Cons
Few educational tools
Relatively high minimum spreads
5. ETX Capital
Established in 2007, ETX Capital is another top-tier brokerage firm in the UK, regulated and authorized by the FCA. It is the trading name of Monecor Ltd which was established in 1965.
For newbies, it has a great selection of education tools. These include a suite of education courses from an independent trainer, seminars and live webinars. There are also monthly mentoring sessions and a personal account executive for every trader.
There is a web-based trading platform as well as one for iPhone users. Top-notch trade through charting, fast execution and one-click dealing are some of the highlights of the former.
It offers access to over 5,000 markets and supports instant execution.
Pros
Excellent training tools
Simple and quick account opening with a $100 deposit
Free deposits and withdrawals with multiple options
Cons
High trading fees
Only offers forex, CFD and crypto trading
Limited range of research tools
How to Choose the Best Spread Betting Broker
You may imagine that choosing the best spread betting broker is all about tight spreads. However, there is a lot more to it. Below are characteristics to consider when choosing a spread betting platform.
A good platform is one that is user-friendly with simple processes. Simple account creation and verification are not all there is to it. Think also about funds deposit, trading and withdrawal.
Avoid sites with a reputation for slippage, poor execution and frequent re-quotes.
Mobile platforms offer greater convenience as they allow you to trade on the go and monitor performance in real-time. Though most brokerage firms offer mobile trading apps, not all apps support spread betting.
Choose one that ticks both boxes and confirm its reliability and effectiveness.
The best brokers are supervised and regulated by relevant authorities such as the FCA. This will ensure the safety of investors' money in their custody and a level playing field for all stakeholders.
Diverse investment portfolio
Inquire about the investment portfolio offered by the broker. Some brokers will offer you access to global financial markets while others will not.  A wide range market allows you to diversify investments and maximizes your returns. You can speculate on:
Equities
Forex
Bonds
Commodities (gold, silver, aluminum)
Futures
Options
ETFs
Cryptocurrencies such as bitcoin and litecoin

Timely information
A good broker should provide timely and insightful information on the market performance and trends. Good brokers constantly give these updates on their websites and mobile app.
There are no standard charges cutting across all spread betting brokers.  Each and every firm charges its clients differently. While some have no transaction charges, others charge for everything including account maintenance, deposits and withdrawals.
Consider this factor as these seemingly small fees add up and make a difference in your earnings at the end of the day.
A good broker should have the backing of a strong and reliable customer support system round the clock in case you encounter any problems. Communication can either be through email, chat system, SMS or phone calls.
Check if your potential broker offers you bonuses and promotions on deposits and account opening for new customers.
Find out about other requirements such as minimum account opening and balance and the percentage margin for the broker for every bet. Find out the particular requirements for opening various types of account on a given site.
Best Spread Betting Mobile Apps
Competition and technological advancements have pushed brokers to develop and adapt mobile apps into their operational systems.  Mobile apps help traders to keep in touch with the market trade at the palm of their hands anytime. The apps are downloaded freely on tablets and mobile phones running different operating systems.
IG, CMC, Spreadex, Spreadex and FTX capital brokers have the best mobile apps with tight spread betting. They are also significantly fast and secure.
Top PayPal Spread Betting Brokers
Many payment options are available for spread betting traders and brokers.  PayPal has become a favorite to many because it is efficient, cheap and fast. PayPal users are not required to provide additional personal details. The top PayPal spread betting brokers are eToro, FXpro, Pepperstone, XTB, IC markets, Oanda, Plus500 and Markets.com.
PayPal services are available globally and top brokers have taken advantage to win over customers and expand their reach.  The option for PayPal payments is a critical factor when selecting a spread betting broker.
Best Forex Spread Betting Brokers
Forex spread betting is wagering on value change of foreign currency without really trading in the foreign exchange market.  It consists of the bet amount, the spread and price movement.
In forex trading, you don't actually own the currency but your account deposit is sufficient. A trader can borrow money known from the broker under leverage to finance the bet. Leverage basically provides the trader an opportunity to receive a financial loan from the broker. The trader is, however, required to have some capital.
The topmost forex spread betting brokers in the market are FxPro, e-toro, Oanda, OCTAFX, ActivTrades, FXTM, ThinkMarkets, LCG, XM, Pepperstone and ATFX.
Regulation of Spread Betting Brokers
All brokers should be held accountable for any foul play with their clients' money or engaging in any malpractice. Regulation of spread betting brokers will ensure:
Minimal risk and losses to traders
Consumer protection
Prevention of frauds
In the UK, all spread betting brokers are regulated and supervised by the Financial Conduct Authority (FCA). Working under a regulator ensures order and smooth operations in the industry as well as a level playing ground for all stakeholders and investors.
Making Profits When Spread Betting
Is it possible to make a profit in this high-risk venture? Yes, you can make profits as well as losses here. In order to make money, you need to make a correct prediction in the movement of prices.  If prices move contrary to your prediction, you will incur losses.
Spread betting has been compared to gambling. But unlike gambling, it has a diverse investment portfolio to maximize investment returns and spread the risks. With a small amount of money, you can make money as prices go up and down depending on your speculation.
However, in this type of investment, a huge percentage of investors actually make losses. Though some make profits, they are the exception rather than the rule.
To reduce the possibility of making losses, you need to be very careful in your selection and betting strategy. It is very important to learn the basics and practice using the free demo account before playing with cash as a new player.
On the bright side, spread betting offers an advantage in the sense that there is no taxation on winnings in many countries. Traders therefore get to keep the full profit they make.
Safety of Your Money When Using Spread Betting Brokers
In order to protect yourself from unscrupulous brokers and scammers, it is best to use regulated brokers for spread betting. Additionally, choose those firms that have sound financial stability with big capital investment.
Firms that post their financial reports are actually ideal. IG regularly posts its financial results. IG and spread Core Spread offer trader protection amounting to $500,000 and $50,000 respectively.
Why are Tight Spreads Important in Spread Betting?
Spread is basically the difference between the selling price and buying price of an asset or currency. For instance, if an asset's buying price is 122.1 and the selling price is 122.7 then the spread is 0.6.
In order to make a profit when spread betting, the amount of spread has to be lower than the change in the underlying price. A two-point spread will mean that asset price needs to move by at least two points before you can start making a profit on the trade.
Tight spreads are also known as narrow spreads as they only require a minimal point move. They therefore provide the best opportunity to make profits from minimal price and value movements.
Tips When Spread Betting
Making a profit and minimizing losses in spread betting involves following these golden rules outlined below:
Make research-based decisions
It's important to make financial decisions and investments based on detailed market research. Always do good research and learn from past mistakes. Make use of the research tools on the brokers' websites.
This simply requires you to go with the market trend and learn when to get out. Study market trends and quit at the opportune time.  A graph showing a steady downward trend simply means you sell then buy later at the lowest point. Foreign exchange pairs and major indices are the best to watch here.
Being realistic and objective in your trade will help stop a losing streak. Most trading platforms have stops and limits for this precise purpose. Make good use of these features to prevent steep losses.
Develop a simple plan on how much to spend, the markets to invest in and the trading period. First, determine the amount of money you can comfortably trade within a given trading period and avoid being greedy   Second, choose markets that you understand well. Lastly, the time frame in your trading is very important. You may trade on short, medium or long term speculations.
Remember, having a plan is good but sticking to your plan is even better.
An array of trading instruments is available for you both locally and globally. It is always wise to diversify your portfolio to minimize risk and spread your gains.  For example, you can diversify by trading indices, commodities, FX and stocks.
Spread Betting Tactic When the Market is Going Down
You should learn the art of trading markets on downward trends and capitalize on them.
If the market is spiraling downwards, you can capitalize by selling your stock and then buy back more with the same amount of money at the lowest possible price.
Technical Analysis Versus Fundamental Analysis in Spread Betting
The two major forms of analysis, which are technical analysis and fundamental analysis, are equally important in spread betting. They are both valuable at different stages of the speculation trade.
Technical analysis refers to the study of an asset's price and volume data to determine the likely direction of movement in the near future. Fundamental analysis, on the other hand, studies the asset's financial details. This helps determine whether or not it makes a good investment based on growth prospects, financial health and potential for profitability.
Both of these analyses are complementary, serving their goal at different times and levels.
Currency Liquidation Risk Avoidance in Spread Betting
Trading on assets priced in foreign currency helps avoid the risk of currency liquidation in spread betting. The profit or loss proportion of a particular bet is based on the basic value of the security and not in the fluctuation of foreign currencies.
Conclusion
Choosing the best spread betting broker can be a daunting and confusing task especially to new traders.  The above information will come in handy in guiding your choice. To make the best choice, carefully study and analyze the crucial factors and base your decision on research.
Having the best broker will greatly enhance your spread betting experience, minimize risks while diversifying sources of your gains.
FAQs
What are the common payment options accepted by spread betting brokers?
The payment options commonly and widely accepted by most brokers include bank transfers, PayPal and credit cards.
Do spread betting brokers offer free demo account to their customers?
Yes. Most spread betting brokers have a free demo account for their clients. On the free demo account, you can learn the basics of spread betting and practice with virtual money before trading with real cash.
Do spread betting brokers have customer support system?
Yes, most brokers have a dedicated customer support system to respond to your queries and solve all problems 24/7. This includes email, phone calls and chats.
What is the minimum amount to trade with in spread betting?
The minimum amount to trade with varies depending on the broker. Some require $1 while others insist of at least $100.
Are spread betting brokers regulated?
Yes. All spread betting brokers are regulated by relevant authorities to safeguard their clients' interests and money while providing a level playing field for all stakeholders.
Is spread betting gambling?
No. Spread betting is not gambling. However, in some countries it is illegal.