If you're based in New Zealand and looking to buy Bitcoin, you are likely aware of the Cryptopia hack that resulted in investors losing millions of dollars worth of crypto-funds. As such, it's crucial that you only use regulated online brokers when buying Bitcoin.
In this article, we explain the safest, easiest, and most cost-effective way of buying Bitcoin in New Zealand. We also give you some handy tips on how to find a Bitcoin broker yourself.
Our recommended Bitcoin Platform for NZ
Don't have time to read through our guide and simply want to buy Bitcoin right now?
If so, you'll find out top-rated New Zealand Bitcoin broker below. Unlike Cryptopia – the platform is heavily regulated – which includes licenses from the UK's FCA, Australia's ASIC, and CySEC of Cyprus. It takes just minutes to open an account, and you can deposit funds with a New Zealand debit/credit card, bank account, or an e-wallet like Paypal. Crucially, there are no trading commissions to pay when buying Bitcoin other than the spread.
eToro: Best Crypto Platform in New Zealand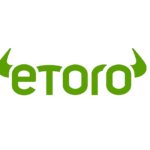 Well regulated
Social and copy bitcoin trading
PayPal accepted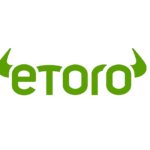 75% of retail investors lose capital when trading CFDs with this provider. Crypto assets are highly volatile unregulated investment products. No EU investor protection.
Bitcoin in New Zealand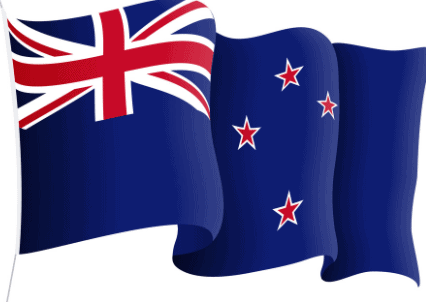 If you perform a Google search that targets Bitcoin in New Zealand, it's likely that you will come across information about the infamous Cryptopia scandal. For those unaware, Cryptopia was a New Zealand based cryptocurrency exchange that facilitated the buying and selling of digital currencies.
Then, in January 2019, the platform was hacked by a group of bad actors – subsequently stealing the vast bulk of Cryptopia's client holdings. Although the exact figure is yet to be clarified with any certainty, the total theft resulted in millions of dollars worth of client funds being stolen. 
With that being said, cryptocurrencies like Bitcoin are still highly sought after by those in New Zealand. For example, although legislators have noted that Bitcoin is not legal tender, employers are permitted to pay salaries with the digital currency (on agreement from the employee). Moreover, with more and more New Zealand based traders exchanging Bitcoin in the country, the government announced plans to introduce a GST-style tax.
Plans initially proposed to tax users 15% every time a digital currency exchanges hands, albeit, this has since been scrapped.  We should also note that New Zealand is home to a few of blockchain-based startups, and a number of crypto-related conferences have been held in recent years.  This includes the annual BlockChain.NZ Conference held in Auckland.
What is the Best Way to Buy Bitcoin in New Zealand?
There are multiple ways to get your hands on Bitcoin in New Zealand. The first option that you might be considering is a domestic cryptocurrency exchange. Such platforms often allow you to buy Bitcoin with a credit card or via a local bank transfer. With that said, many of these exchanges are not regulated, so you have to tread with extreme caution. In fact, one only needs to refer back to the infamous case of Cryptopia to understand just how important safety is when buying Bitcoin online.
Alternatively, you might consider using a Bitcoin ATM in New Zealand, albeit, there is just a single machine currently active. This is based in Auckland, which won't be suitable if you live elsewhere. As such, the easiest and most secure way of buying Bitcoin in New Zealand is to use a regulated online broker. The space is dominated by platforms located overseas – which in turn, are licensed by a number of tier-one bodies.
This includes key regulators such as ASIC (Australia), CySEC (Cyprus), and the FCA (UK). Crucially, this forces brokers to keep client funds in segregated bank accounts, so your investment remains safe at all times. An additional benefit of using a regulated online Bitcoin broker is that you will be able to deposit funds with ease. This includes New Zealand-issued debit and credit cards, or an e-wallet like Paypal and Skrill.
If you've got your heart set on buying Bitcoin with a New Zealand bank account, this is also possible. However, while debit/credit cards and e-wallets are instant – you will need to wait a few days for the funds to arrive when opting for a bank transfer. Once you do buy Bitcoin from a regulated online broker, there is no requirement to withdraw the coins out. Instead, you can keep your investment at the platform until you are ready to sell it back to NZD.
How to Buy Bitcoin in New Zealand: Step-by-Step Tutorial
So now that you know the easiest way to buy Bitcoin in New Zealand, we are now going to show you what you need to do to make a purchase today. The step-by-step guidelines below are based on our top-rated broker eToro. As noted earlier, the platform is heavily regulated – including a fully-fledged license from ASIC. With that said, if you want to use a different online broker – the steps below remain largely the same.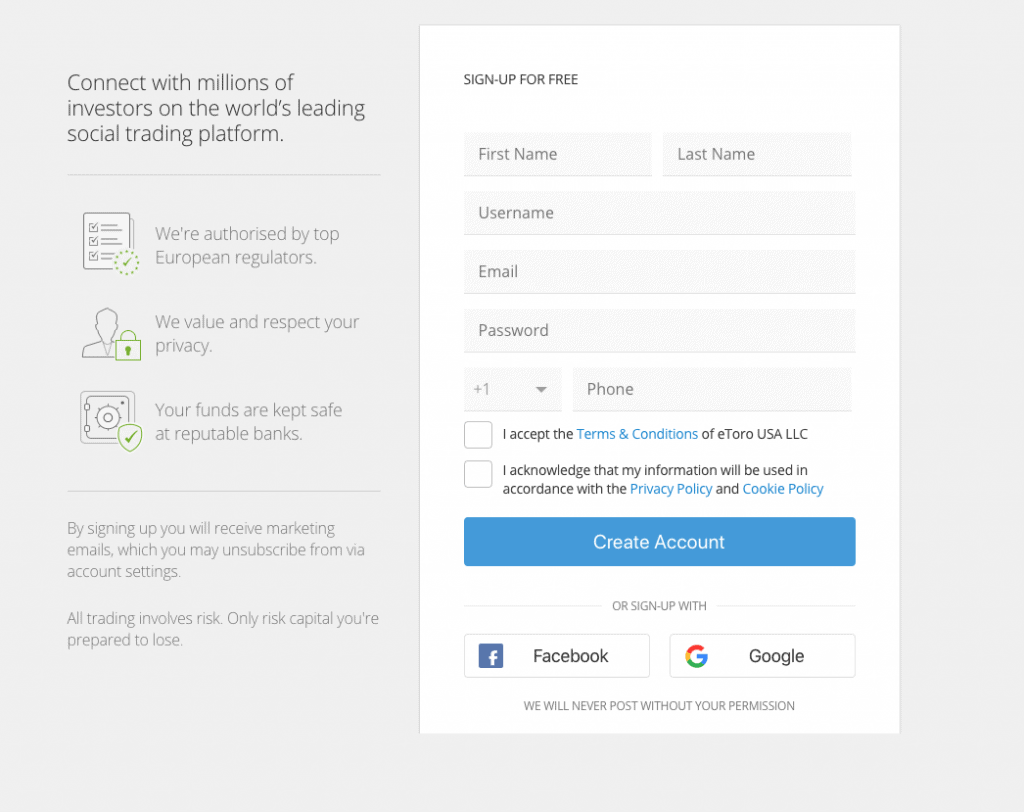 To get the ball rolling, head of to the eToro homepage and elect to open a Bitcoin account. As the platform is regulated, you will need to provide some personal information.
This includes your:
First and Last Name
Home Address
Nationality
Date of Birth
New Zealand Tax Number
Contact Details
As regulated brokers like eToro also host more sophisticated financial products (like leverage and short-selling), you will need to answer some multi-choice questions about your prior experience of online trading. This is merely to ensure you understand the risks of buying and selling assets.
Step 2: KYC & Verification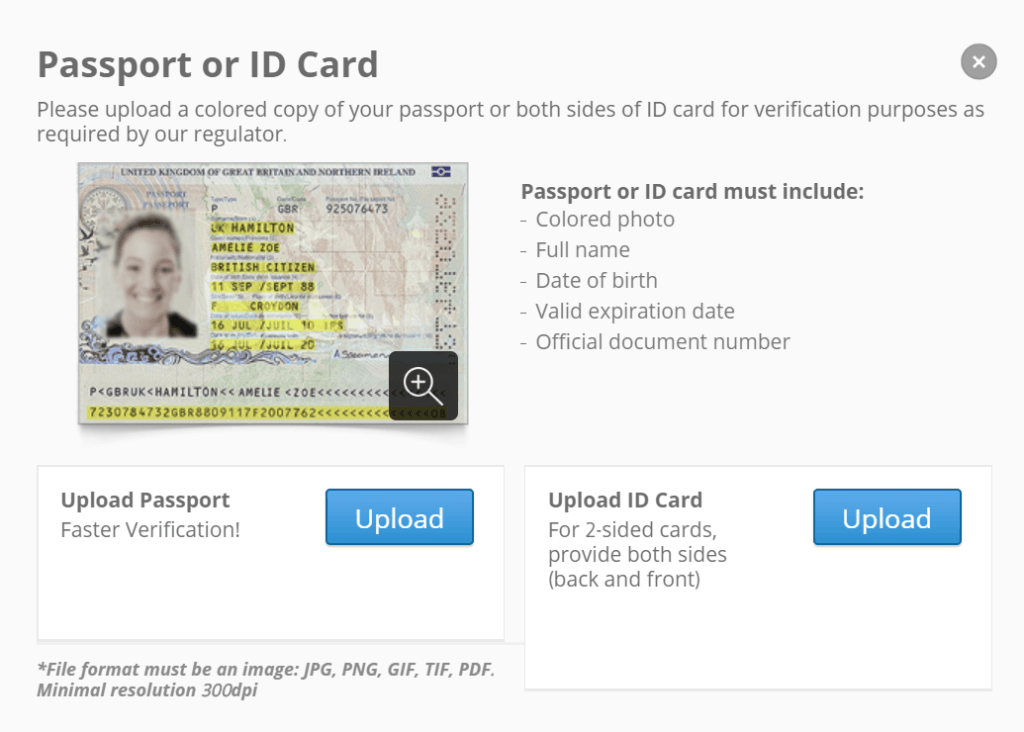 The final stage of the registration process requires you to verify your identity. This is to ensure eToro complies with anti-money laundering regulations, and essentially – it ensures you can buy Bitcoin in a safe and secure environment. As such, you'll need to upload a copy of your New Zealand passport or driver's license.  In most cases, eToro will validate the document instantly.
Step 3: Deposit Funds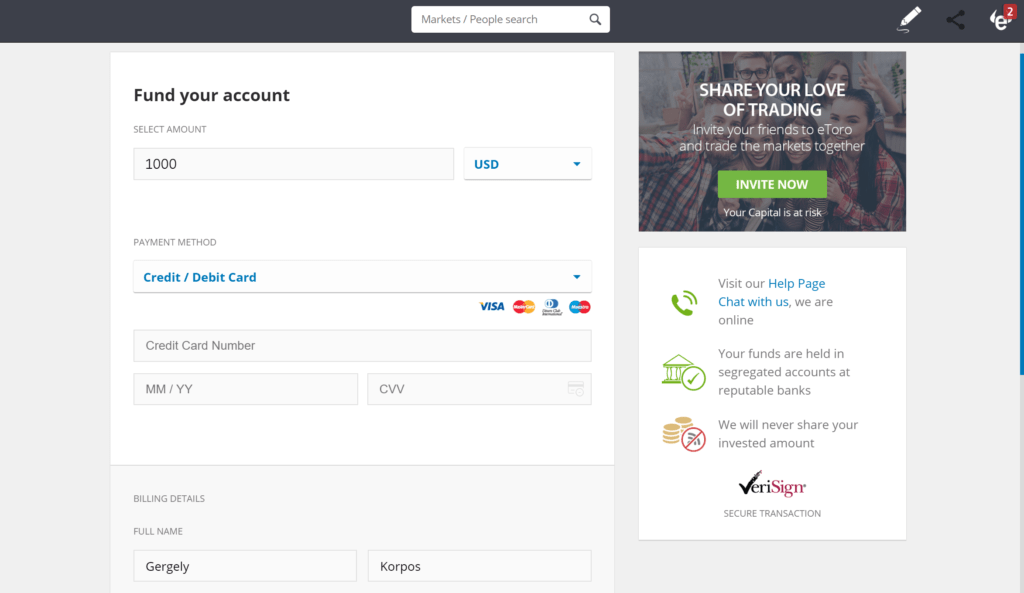 eToro will now ask you to deposit some funds. Minimum deposits amount to $200 USD – which amounts to about $330 NZD. You don't need to spend the entire amount of Bitcoin, as you can use the balance to trade other assets (like stocks).
Nevertheless, eToro accepts the following payment methods:
Debit Card
Credit Card
Local Bank Transfer
Skrill
Paypal
Neteller
RapdiPay
Unless you are depositing funds with your New Zealand bank account – all other payment methods are instant. Don't forget, once your deposit is credited the funds will show up in USD.
Step 4: Go to Bitcoin Trading Page
Now that you have funded your eToro account, head over to the cryptocurrency trading section of the site. Alternatively, enter 'Bitcoin' into the search box and the top of the screen. Then, to get to the Bitcoin trading page click on the blue 'Trade' button.
Step 5: Buy Bitcoin
In order to buy Bitcoin at an online broker like eToro, you will be required to set up an order. Although the order box might appear confusing at first glance, it's actually pretty straightforward once you know how things work.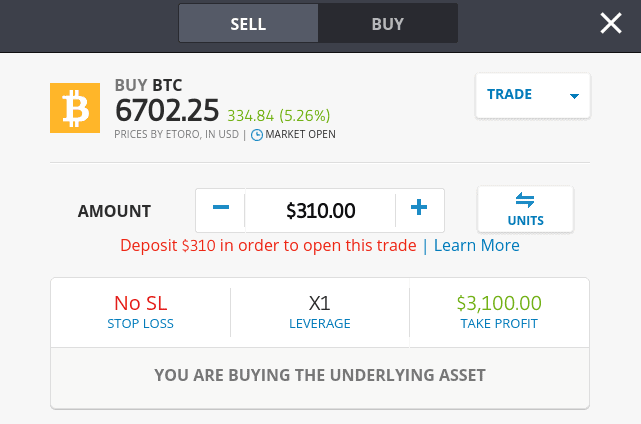 With that said, be sure to review the explainers outlined below to ensure you place your Bitcoin buy order correctly.
Buy/Sell: As you are here reading this guide on how to buy Bitcoin, make sure that the box is set to a 'buy order'. If it's set as a 'sell order', this means that you are shorting Bitcoin.
Stake: Enter the amount of Bitcoin that you wish to buy. Again, this is in USD and not NZD.
Market/Limit Order: If you're buying Bitcoin for the very first time, you might be best to leave this set as a market order. This means that your purchase will be executed at the next available price.
Leverage: eToro allows you to apply 2x leverage on Bitcoin trades. Tread with caution, as leverage is a high-risk strategy.
Stop-Loss: If you want to limit your potential losses by a certain percentage, set up a stop-loss order.
Take-Profit: If you have a profit target in mind, set-up a take-profit order.
Finally, click on 'Buy' to complete your Bitcoin purchase.
What to Look for in an New Zealand Bitcoin Broker
If you're planning to do a bit more research on our top-rated Bitcoin broker – or you simply want to explore other options, it's super-important that you know what to look for. In doing so, you can be 100% sure that the platform is right for your personal investment needs.
As such, be sure to make the following considerations in your search for the best New Zealand Bitcoin broker.
[su_list icon="icon: check-square-o" icon_color="#28cd11″]
As we have noted throughout our article, the most important metric that you need to look out for when choosing a Bitcoin broker is whether or not the platform is regulated. In fact, not only should the broker be regulated, but it should hold a license from a tier-one body. This includes the likes of the FCA, ASIC, and CySEC. Crucially, if the platform isn't regulated by a respected licensing body; avoid it.
Supported Cryptocurrencies
You also need to check what cryptocurrencies the broker supports. While it is all-but-certain that the platform allows you to buy and sell Bitcoin, there might come a time when you decide to invest in other digital currencies. For example, our top-rated platform eToro lists heaps of other popular coins like Ethereum, Ripple, and Bitcoin Cash.
The easiest way to buy Bitcoin is to use an everyday New Zealand payment method. Most regulated brokers will accept debit and credit cards issued by Visa and MasterCard – which allows you to deposit funds instantly. E-wallets like Paypal are also worth considering. If you want to deposit funds with a New Zealand bank account, you'll likely need to perform an international wire.
Fees and Trading Commissions
It's important that you understand how much you will be charged to buy Bitcoin from an online broker. After all, platforms are in the business of making a profit. This is why we recommend eToro – as the platform doesn't charge any trading or deposit fees. If you do opt for a broker that charges a commission, this will be calculated against the amount you buy. For example, the likes of Coinbase charge 1.5%, meaning a $1,000 purchase would cost $15 in fees.
Leverage and Short-Selling
If you're looking to buy Bitcoin on a short-term basis, you might be considering a platform that offers leverage. This is where you get to trade more than you have in your account. For example, by applying leverage at 2x, a $500 would permit a trade size of $1,000. Similarly, if you're feeling bearish on Bitcoin (meaning you think its price will go down), choose a broker that allows you to go short.
As regulated Bitcoin brokers are typically based outside of New Zealand, you should check to see what hours the customer service team works. After all, you don't want to have to wake up in the middle of the night to get assistance on your account. With that said, platforms usually offer customer support on at least a 24/5 basis, but check this anyway.
[/su_list]
Other Ways to Buy Bitcoin in New Zealand
If you don't like the sound of using an online broker – or you simply want to assess other investment avenues, below we have listed two alternatives – Bitcoin ATMs and peer-to-peer exchanges.
Bitcoin ATMs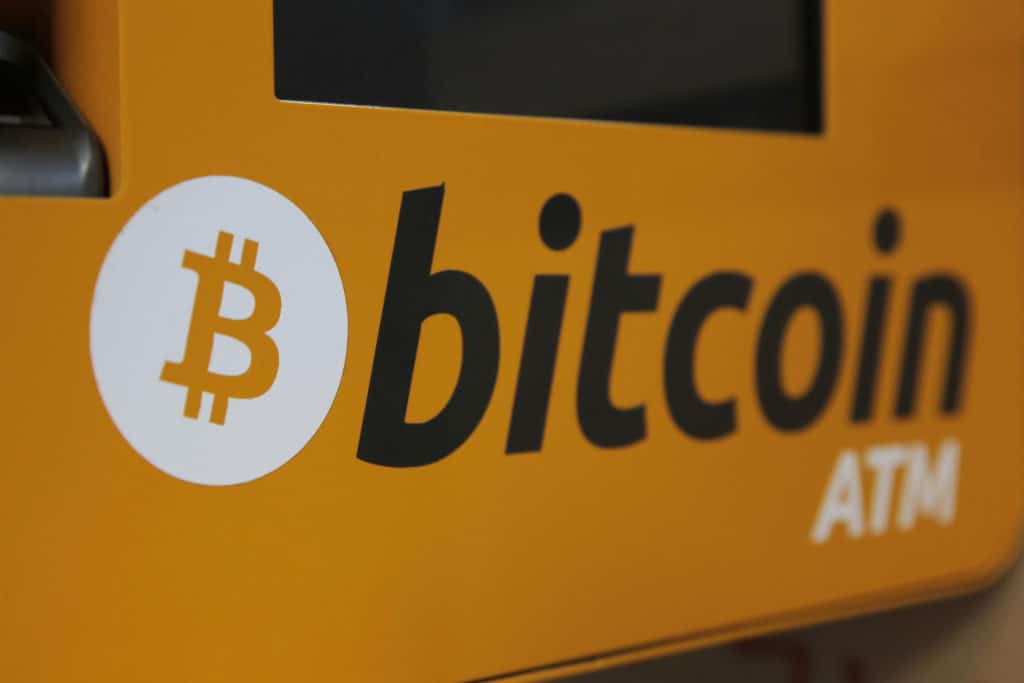 Bitcoin ATMs are still in their infancy in New Zealand – with just a single terminal in the country as of May 2020. This is located at the Dogs Bollix in Auckland
on Newton Rd.
If you do live within distance, here's how it works:
You begin the Bitcoin ATM process by entering the amount of Bitcoin you wish to buy in New Zealand dollars.
The machine will then ask you to verify your mobile phone number via an SMS code.
When prompted, enter the exact amount of NZD into the machine
If you already have a Bitcoin wallet, you can scan the QR code via your mobile phone
If you don't, the machine will print a voucher. You will then need to claim your Bitcoin by downloading a wallet onto your desktop or mobile device. Instructions are on the back on the voucher.
Take note, the single Bitcoin ATM located in Auckland charges hefty fees. This fluctuates depending on market conditions, albeit, it's not uncommon for the fee to surpass 10%.
Peer-to-Peer Websites

If you don't live within distance of the Auckland Bitcoin ATM, the only other option that you have at your disposal is to use a peer-to-peer website. At the forefront of this is LocalBitcoins, which has a good number of users from New Zealand. As a peer-to-peer platform, this means you will be buying Bitcoin directly from another user.
Here's how it works:
Once you have created an account at LocalBitcoins, enter the amount you are looking to buy (in NZD) and your preferred local payment. Most traders opt for a NZ bank transfer as this is the easiest way to transact.
You will then be presented with a list of sellers that accept your preferred payment method – alongside the seller's NZD/BTC exchange rate.
Once you confirm which seller you want to use, the seller will deposit the Bitcoin into the escrow wallet of InsideBitcoin.
You will then be asked to transfer the funds into the seller's NZ bank account. Once you do, notify the seller.
Once the seller confirms receipt of the funds, the Bitcoin will be released to your LocalBitcoins wallet. Finally, withdraw the Bitcoin into your private wallet.
Although using a peer-to-peer website allows you to use local payment methods that might not otherwise be available at an overseas broker, it is important to remember that you will be 100% responsible for keeping your Bitcoin safe. If the worse happens – and your private wallet is hacked, your Bitcoin will be gone forever.
Conclusion
With the cryptocurrency community growing exponentially in New Zealand, it makes sense that heaps of buying methods are available to you. However, you need to be extremely careful when buying Bitcoin online, as you don't want your investment to go the same way as NZ-based Cryptopia did in 2019. As such, this is why we suggest using a Bitcoin broker that is heavily regulated.
For example, our top-pick eToro is licensed by ASIC, the FCA, and CySEC – so you have regulatory protection on three fronts. Moreover, not only does the platform allow you to buy Bitcoin with debit card, e-wallet, or bank wire – but you can make the purchase without paying any commission.
FAQs
Is Bitcoin legal in New Zealand?
Yes, buying and selling Bitcoin is perfectly legal. Those operating exchange services must ensure that they follow domestic anti-money laundering laws, meaning ID is compulsory. Moreover, the New Zealand government has also approved salary payments being dominated in Bitcoin, albeit, the employee must agree to this beforehand.
What payment methods do New Zealand Bitcoin brokers support?
If using a regulated broker that targets its services to retail clients, then you should be able to deposit funds with an NZ debit/credit card or international bank wire. Some platforms also accept e-wallets like Paypal. Skrill, and Neteller.
Can I buy Bitcoin anonymously in New Zealand?
Potentially, but it's extremely risky. For example, you could arrange an in-person trade via a peer-to-peer website like LocalBitcoins but you stand the very real risk of being scammed.
What is the minimum amount I have to invest to buy Bitcoin in New Zealand?
This will vary from platform-to-platform. For example, eToro requires a minimum deposit of $200 USD, which amounts to about $330 New Zealand dollars.
Can I buy Bitcoin with leverage in New Zealand?
Yes, but you will need to use a regulated broker that offers Bitcoin in the form of CFDs. Moreover, your limits will be determined by the broker you sign up with. For example, eToro caps Bitcoin leverage to 2x - as per ESMA regulations.