Which vendors accept bitcoin? This is one of the biggest criticisms of bitcoin in the past – that bitcoin can't actually be spent anywhere. Cryptocurrency is not just about online trading, it's also about spending it on goods and services. In our list below, we've provided a detailed timeline of major brands which now accept Bitcoin and other cryptos.
Merchants have been accepting Bitcoin and other cryptocurrencies since 2013 and there's no doubt this will carry on throughout the years. It first started out that only services such a VPNs would accept Bitcoin, now it possible to fly around the world using cryptocurrencies.
2019:
Whole Foods (May 2019) –  One of the biggest supermarket chains started accepting Bitcoin in store.
Starbucks (May 2019) – Began accepting Bitcoin across 30,000 stores worldwide.
Crate & Barrel (May 2019) – Retail store accepting crypto for housewares, furniture and home accessories.
Gamestop (May 2019) – American video game, consumer electronics and wireless services retailer using Bitcoin as payment online.
Baskin Robbins (May 2019) – Using crypto has never been sweeter.
Regal Cinemas (May 2019) – Huge cinema chain now taking Bitcoin as payment.
Barnes & Noble (May 2019) – Accepts cryptocurrencies for content, digital media, and educational products.
Petco (May 2019) – Use your digital currency to buy pet supplies, pet food and pet products.
Caribou Coffee (May 2019) – Your morning coffee can now be bought with Ethereum.
Bed Bath & Beyond (May 2019) – Domestic merchandise retail store.
Ulta Beauty (May 2019) – Cosmetics, fragrances, skincare and beauty gifts.
Jamba Juice (May 2019) – Use Bitcoin Cash to buy freshly blended smoothies.
Nordstrom (May 2019) – Big American chain of luxury department stores now accepting altcoins.
Lowes (May 2019) – Specialising in home improvement, you can now spend your Bitcoin at Lowes.
Home Depot (May 2019) – Buy tools, construction products, and services with Bitcoin.
Dolder Grand (May 2019) – First luxury hotel to accept cryptocurrencies.
2018:
Newegg (January 2018) – Use Bitcoin to purchase computer hardware and consumer electronics.
KFC Canada (January 2018) – Fried chicken tastes better with crypto.
Playboy (March 2018) – Now accepting crypto for adult content.
NordVPN (March 2018) – Encrypt traffic.
Fancy.com (July 2018) –  Luxury shopping marketplace 'fancy.com' offers discount for Bitcoin.
Major Cineplex (July 2018) – Thailand's movie theater chain to integrate digital currency payments.
Microsoft (October 2018) – One step closer to mass adoption.
Univerity of Nicosia (September 2018) – Study with Bitcoin.
eGifter (November 2018) – Online gifts with cryptocurrencies.
Surf Air (November 2018) – You don't need fiat to fly.
2017:
CJS- CD Keys (January 2017) – Steam and Origin CD keys can now be bought with Bitcoin.
Russian Burger King (June 2017) – WhopperCoin now accepted!
Etsy (November 2017) – Various sellers are now accepting crypto for handmade and vintage items.
Roadway Moving Company (December 2017) – The professional moving company now accepts Bitcoin.
2015:
Badoo (January 2015) – A dating focused social media site accepts digital payments.
Lionsgate Films (October 2015) – The online company store allows purchases with Bitcoins.
2014:
Overstock (January 2014) – American internet retailer which has supported cryptocurrencies from the beginning.
Expedia (June 2014) – This global travel technology company accepts crypto online.
Fortune Jack Casino (June 2014) – Gambling with Bitcoin.
Dell (June 2014) – Multinational computer technology setting an example for other companies.
ExpressVPN (June 2014) – Virtual private network service.
REEDS Jewelers (June 2014) – Balling with Bitcoin.
Wikipedia (July 2014) –  You can donate to Wikipedia with Bitcoin.
Dish (August 2014) – One of the largest television providers even accepts Bitcoin Cash.
2013:
Pizzaforcoins (February 2013) – Fun way to spend crypto, on pizza!
NameCheap (March 2013) – Buy domain names fast and easy.
9Flats (April 2013) – Enabling people to lease or rent short-term lodging via cryptocurrencies.
CheapAir (June 2013) – Fly around the world with Bitcoin.
PureVPN (July 2013) – One of the first VPN services to take Bitcoin as payment.
Namecheap (July 2013) – Domain registrations.
Subway (November 2013) – At limited branches you can use Bitcoin to buy sandwiches.
Shopify (November 2013) – eCommerce platform integrating cryptocurrencies.
Virgin Galactic (November 2013) – Fly to the moon with Bitcoin!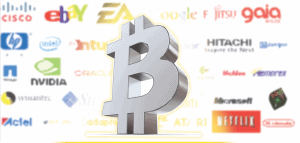 Which Retailers Have Been Rumoured to Accept Bitcoin?
May 2019 has been a particularly busy month for merchants accepting crypto due to a plethora of major retailers accepting cryptocurrencies such as Bitcoin, Ethereum and Bitcoin Cash through the start up Flexa, which uses its own cryptocurrency wallet 'Spedn' – giving people the ability to spend their crypto at these retailers.
Due to all these new major retailers accepting Bitcoin, there has been more and more talk regarding the giants accepting cryptocurrencies as payment.
eBay – As an event sponsor at crypto's Consensus 2019, it's apparent that eBay is keen in exploring how blockchain can benefit their business. An advertisement at the conference showed 'Virtual Currency. It's happening on eBay' – which sparked a lot of interest among cryptocurrency users. Despite eBay declining the rumours, it seems we are not far off from seeing cryptocurrencies being used on the online marketplace.
Amazon – Wholefoods is actually owned by Amazon, so there are rumours that Amazon are testing out the acceptance of virtual currency with them before integrating it onto their own website, which is exciting news.
Walmart – Crypto users want to start using their digital currency to do their shopping, however, it seems Walmart are not quite ready to enable this alternative way of payment.  Although there is Gyft, which offers one way around that. You can use bitcoin to buy a gift card and then shop at retailers such as Walmart.
British Airways – There have been rumours that one of the biggest airline companies in the world will start accepting Bitcoin to target and entice a different kind of audience, one that owns a lot of crypto and likes to travel!
McDonalds – As their rivals Burger King and Subway have been getting involved in the cryptocurrency industry it only makes sense that McDonalds will want a piece of the action. It has been rumoured that Thailand's McDonalds have been considering Bitcoin payments for a while now.
Why Don't More Retailers Accept Crypto?
There are a number of reasons why:
The volatility of the market and the fluctuating prices
Bitcoin transactions can sometimes have delays
At the same time transactions can be expensive
Some believe Bitcoin is more of an asset than a cryptocurrency.
One Step Closer to Mass Adoption
Bitcoin's value is not the only thing increasing, the amount of merchants accepting Bitcoin is constantly on the rise. This is one of the ways Bitcoin is trying to achieve mass adoption, the more places that people can spend Bitcoin then the more people will purchase Bitcoin. Countries such as Japan are at the forefront of this operation, regulating cryptocurrency payments which is legitimising the whole market as a whole. It seems that naturally, other countries will follow suit and it won't be too long before accepting crypto is the norm!