Despite the "crypto winter" this industry has suffered from recently, the market is doing very well in terms of transactions, according to a Weiss Crypto report on the matter.
Public perception can be deceiving
The post reports that not only has there been a "major surge" in transaction volume within the top assets, but adoption in general has also been high. The group compares this to the dot.com bubble – the market blew up, fell, and stabilized:
"Even during the bust, the technology never stopped evolving. Internet speeds improved dramatically. Mainstream usage soon followed. Within 15 years, the entire world was transformed: One billion websites."
Enthusiasts believe that this transformation will happen very soon in the crypto space. Digital asset prices soared and the market saw a plunge. But from there the technology continues to improve. More projects are coming that are much better than what we've seen. By the time the mainstream comes back, this technology will be ready.
A big blow up
Since February 2018, the "volume of user (on-chain) transactions" has grown exponentially. The report cites EOS (EOS), TRON (TRX), WAX (WAX), and BitShares (BTS) as the four growing assets.
EOS – In the period of February 2018 to March 2019, EOS' daily transactions went from 7,000 a day to 4.6 million a day. This stat is 14x more than Bitcoin (BTC) and 8x more than Ethereum (ETH).
TRON – Tron is a similar project to EOS. In the same period, this blockchain went from 3,000 daily transactions to 1.9 million.
WAX – Used for trading in-game gaming assets, WAX went to 4.4 million transactions a day.
BitShares – 789,00 to 1.5 million transactions. BitShares is a decentralized exchange.
In total, these four assets went from 433,000 transactions a day to 12.4 million in the period of February 2018 to March 2019.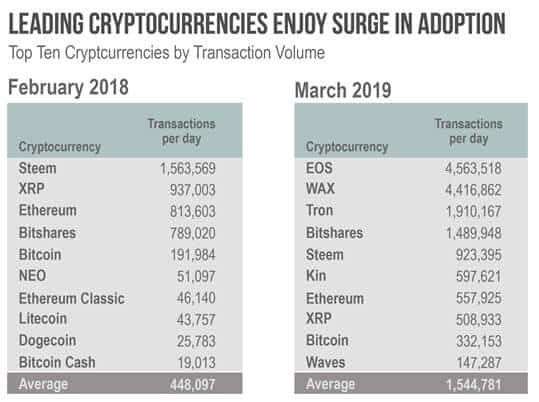 The report then notes that obviously each transaction is valued differently. To account for this, the report also details some additional network stats among rated assets:
Network security improved 115%.
Network capacity gained by 170%.
Developer participation grew 28%.
Popular interest, as measured by social media activity, was the only area where a decline occurred, down 22%. But with prices now recovering, that metric is also likely to bounce back.
"Just be sure you an afford (sic) the risk," ends the post. "Then, use our ratings to avoid the worst and invest in the best."