The crypto market's bull run seemingly continues, and with all the growth that the prices have seen in the last several days, most of the coins are approaching the heights seen during the previous surge in mid-February.
The trend even managed to reach Verge (XVG), which is once again taking off from its major support. The coin's trading volume in the last 24 hours has grown as well, reaching $3.67 million, and indicating that investors are still looking to buy Verge coin, despite all of the issues that the project has experienced.
Verge price drops after code malfunction
It is a well-known story in the crypto space, but Verge, which was once considered to be one of the top privacy coins, actually dropped quite deep after it turned out that its mining code contains a serious vulnerability. After three time-warp attacks and one 51 percent attack, Verge coin price continued to drop as 2018 went on.
The coin's price was never particularly large, to begin with, and as the year approached its end, it only got lower and lower, eventually dropping to $0.005166 in late November 2018. Since then, the price has been relatively stable, although it recently started seeing more activity.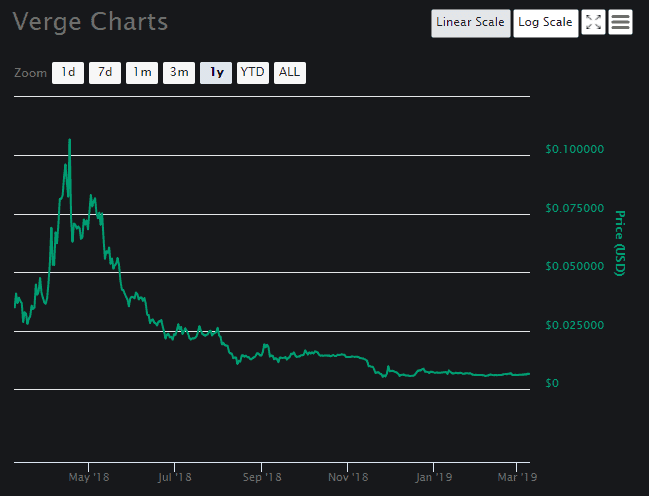 In the last three months, for example, XVG price experienced minor fluctuations which were mostly contained between a support level at $0.00640 and a resistance at $0.00800. It breached this resistance on December 24th, although it did not manage to stay above it for a prolonged period, and it quickly dropped down.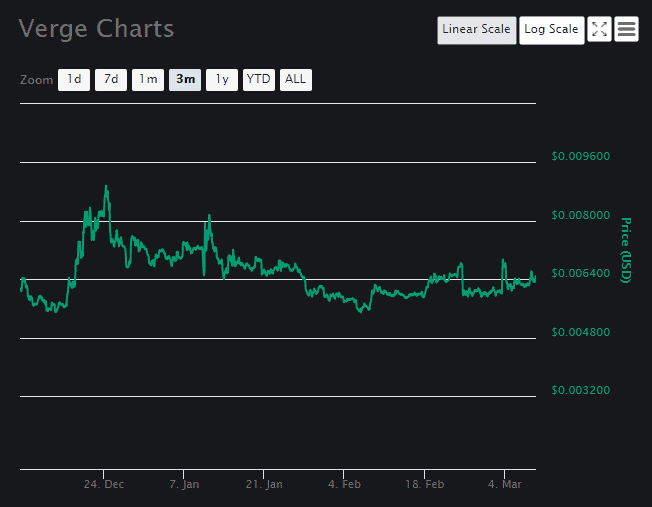 After a few more attempts to breach this resistance again, XVG experienced another harsh drop, one that broke the support on January 27th. The fall was stopped by another minor support at $0.006000, while the $0.006600 mark started acting as a resistance.
This is where Verge was mostly contained within the last month, which is when two new bull runs arrived, giving the coin's community hope that Verge might see some new gains. As a result, investors and traders are once again more than willing to buy cryptocurrencies.
XVG during the two surges
The first of the two bull runs started on February 18th, while XVG was sticking close to its support at $0.006000. Within only two days, the coin reached its resistance at $0.006600, and it continuously tried to breach it during the rest of the bull run, even managing to do so on February 24th.
However, this was when the bulls withdrew, while the bears once again took over, and Verge sank to its previous support in a matter of hours. It remained there From February 25th until something unusual happened on March 3rd.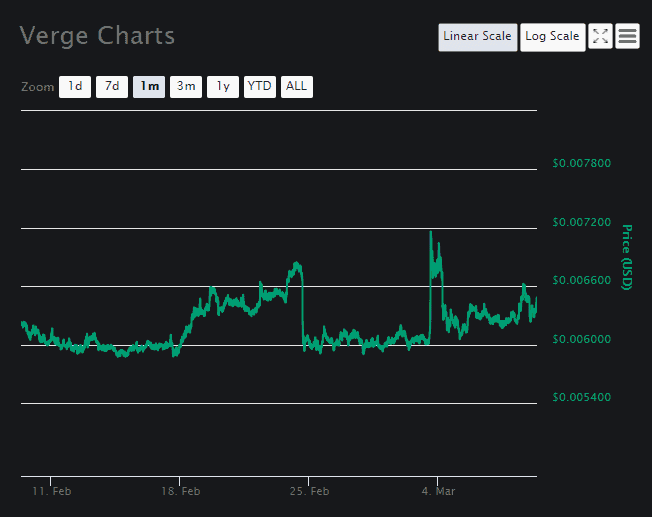 This was when the coin surged even higher than during the bull run, making a sharp growth all the way up to a completely new resistance level at $0.007200. The growth was completely unexpected, and the reason behind it is unknown, although many suspect that it may be caused by an 'accidental' tweet by one of the project's developers, in which the developer shared a new sign-up process on March 1st. The announcement was not supposed to be published until March 4th, and the tweet has since been deleted.
However, the price growth did not last for long, and XVG started dropping soon after it reached the resistance. The previous resistance at $0.006600 started acting as a support, but it failed to keep the coin from dropping for longer than two days, and XCG went back to $0.006000 by March 4th.
Then, the new bull run took over, and XVG is still growing because of it, with its current price once again being at $0.006435, once more on its way towards $0.006600 resistance. if the bull run continues, the resistance might be broken once more, but if not, it is likely that XVG will simply continue to fluctuate between these two levels — $0.006000 and $0.006600.