VeChain (VET) is among the youngest coins on the crypto market, with its official launch being less than a year ago, during the summer of 2018. The project came during the worst period for cryptocurrencies, while the crypto winter raged, and the bearish market had the coins' prices constantly declining.
The coin's initial price was at $0.01600, although its value quickly dropped down after the launch. Even so, VeChain turned out to be a relatively popular project, quickly climbing up the list of largest coins by market cap, and currently sitting at the 23rd spot, with a market cap of $287.3 million. The coin also sees quite a lot of usage, with a trading volume of over $12.6 million in the last 24 hours.
While this is nowhere near for it to challenge the top 10 coins, it is still an impressive achievement for a cryptocurrency that is only half a year old.
VeChain during the early months
As mentioned, VET never had a particularly high price. Not only that, but the price of VeChain dropped immediately after launch, due to the harsh conditions. However, there was a large demand for the coin, and many who believed in the project were looking to buy VeChain, which allowed its price to surge back up and even breach its largest resistance at the time, at $0.01600.
This was also when VeChain reached its all-time high at $0.019577. Immediately afterward, on September 4th, VET price once again succumbed to the bearish influence, breaking its new support at $0.01600 and dropping further down. During the next few months, the coin's price continuously experienced losses, breaking one smaller support after another, including the ones at $0.013, $0.012, and $0.011.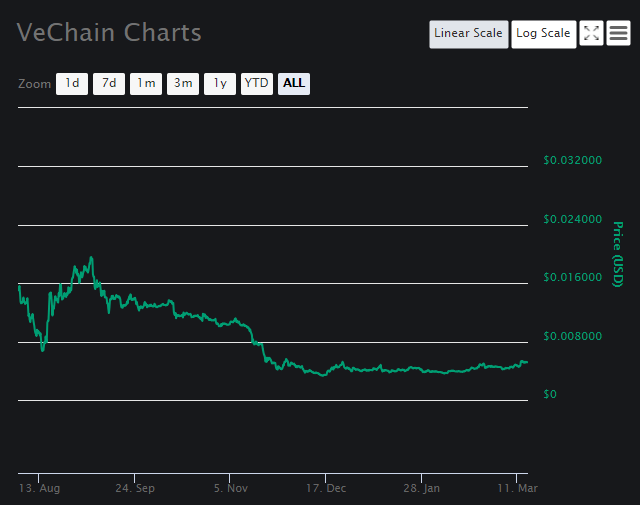 VET then seemingly stabilized just above $0.010, but then the Bitcoin Cash (BCH) hard fork brought another market crash in mid-November, and it dragged the entire market with it. VET once again started breaking supports rapidly, including its largest one at $0.008.
It found another major support at $0.004, and it mostly managed to remain above it, with a few exceptions. One of these exceptions occurred on December 16th, when VET hit its all-time low at $0.003458. This drop was followed by a correction which allowed VET to rise once more and use $0.004 mark as a support again. The coin then spent the final days of 2018 right above its $0.004 support.
VET starts seeing gains in 2019
FOr the first week of January 2019, VET was behaving pretty much the same as in late December — close to its support with only minimal fluctuations, and an occasional spike which ended just as quickly as it arrived. Also, as January and early February of this year were still under the bearish influence, to an extent, VeChain's price occasionally broke the support, but it never dropped deeper than a fraction of a cent.
However, things really started to change for the coin around February 18th, which was the perfect moment to buy VeChain. The entire market got caught up in a bull run at the time, and VET was no exception.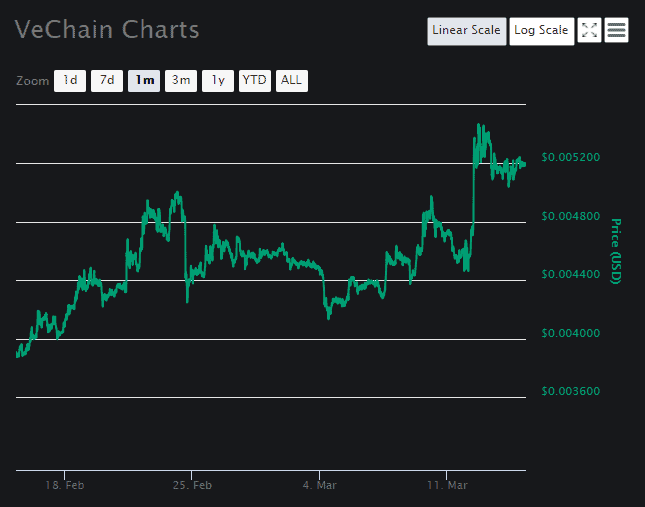 The coin's price started surging, and it broke two resistances along the way — at $0.0044, as well as the one at $0.0048. After the bull run ended on February 24th, VET dropped slightly, although its $0.0044 now started acting as a support, keeping the coin from further drops.
VET participated in a few more bull runs since then, eventually managing to break the resistance at $0.0048, and even surging up to $0.0052. While this was still far from its price in early November, this is also the first time VET reached this mark since late December. At the time of writing, the coin is seeing small gains, with its price at $0.005182. In the following days, VET might continue to slowly rise, unless a new correction takes place. In that case, the $0.00500 support might hold, and if not, the one at $0.0045 will be tested next.