Last Updated on
NEW YORK (InsideBitcoins) — Recent bitcoin hacks serve as yet another reminder that bitcoin is still in a nascent state when it comes to security. The blockchain may be a public ledger, but it's not as easy to track stolen funds as some people might think. Innovations like mixers and tumblers can move digital currency holdings to multiple bitcoin addresses, allowing privacy-seeking users to obscure their trail.
Due to repeated and significant security lapses, governments all over the globe are beginning to consider tighter legislation on cryptocurrencies. According to Fabio Federici, CEO of Coinalytics, if people within the bitcoin community can create tools that help keep users safe from hacks, government regulators might be appeased – or perhaps of a mind to invoke less rigorous restrictions.
"Security and regulation are going to be two big topics this year. Even though the blockchain is secure, vulnerabilities in other spaces, like we have seen with the Bitstamp case, could potentially cause major damage," Federici told Inside Bitcoins.
Coinalytics compiles data from the blockchain and converts it into user-friendly analytics. After Bitstamp had been hacked, the blockchain data analysts at Coinalytics decided to plug in available information and visualize the direction of where the coins were heading.
"I think it's good that we've shown that we can handle those issues," he said. "Being able to show the regulators that we can deal with the bad actors, that we have tools to track fraudulent behavior and keep the end user safe, is going to put us in a favorable environment."
At its core, bitcoin allows anonymous transactions by not linking specific identities to public keys. So tracking bitcoin through Coinalytics doesn't bring users to a person, but rather a still anonymous public key.
Federici noted that the platform isn't being built for them to de-anonymize the blockchain; it's being developed as a tool for businesses that fall victim to theft.
"Our framework allows people to add additional information, like proprietary data, supercharging that data with insights from the blockchain," Federici explained. "They can combine that with our insights from the blockchain and get a better look at what's going on. Basically doing that last step, for example, is connecting an address or an output to an identity on their side."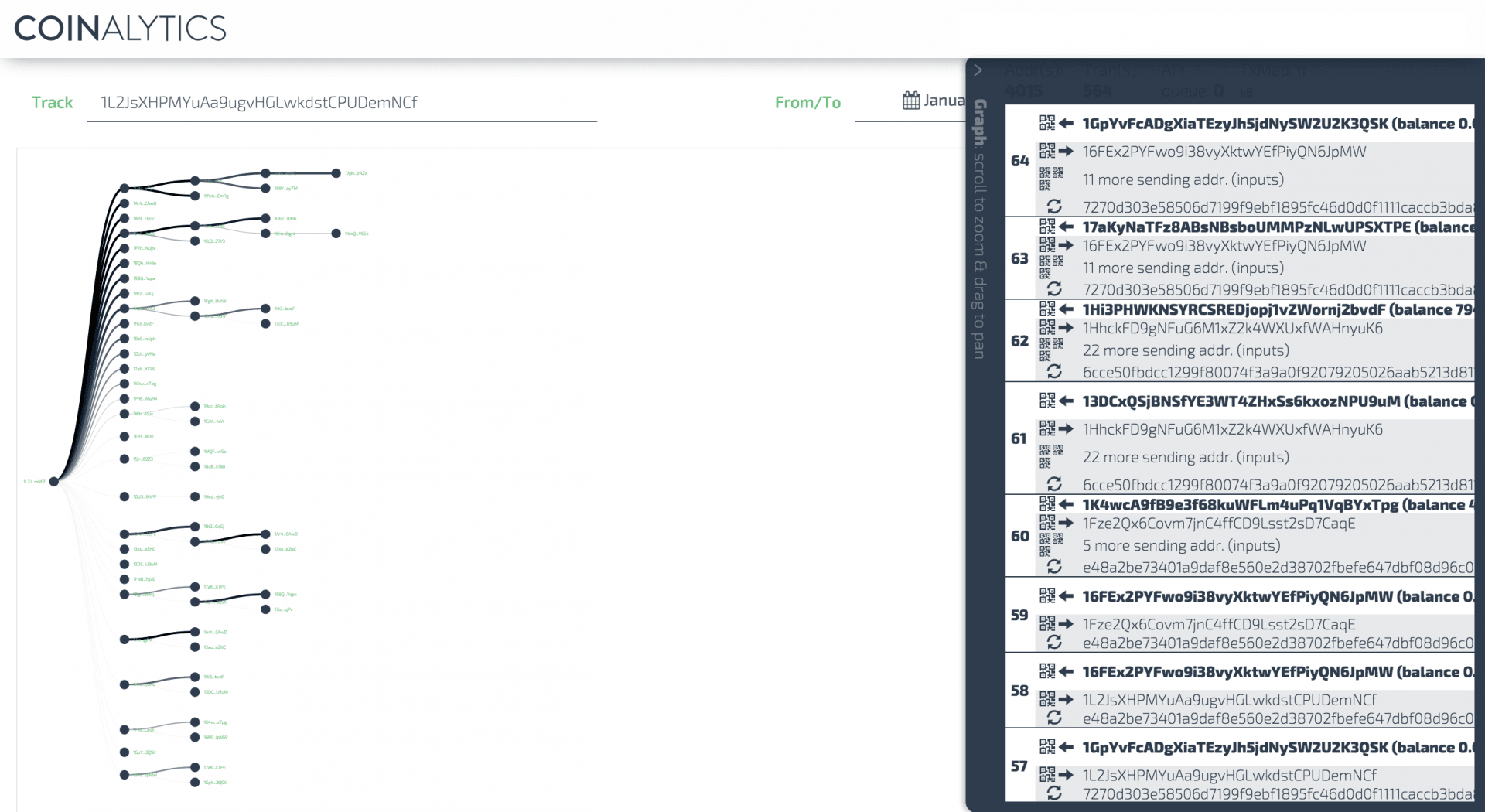 It's a controversial notion: the fact that there are ways to allow for de-anonymizing bitcoin transactions. Recently, ChangeTip came under fire for their ability to connect Facebook, Reddit and Twitter profiles directly to bitcoin addresses. A Cornell professor was highly concerned that eventually, ChangeTip would sell that information to interested parties.
"In terms of de-anonymizing it, I think we should really focus on making sure that we don't go too far."
"The only way ChangeTip can command a higher revenue than a measly few thousand per year on their current business plan is by selling our information," the professor said. "And they have two pieces of amazing information that no one else has."
ChangeTip says they will never sell customer information.
Federici too, says Coinalytics has no interest in linking people to their public keys via there service; they simply want to develop tools to study the data that the blockchain already allows.
"The data is there. The blockchain is public and we're really just building tools to give people the best possible access to that information," he said. "In terms of de-anonymizing it, I think we should really focus on making sure that we don't go too far."