Last Updated on
LONDON (InsideBitcoins) — As Inside Bitcoins reported last month, opinion appears to be divided in Europe as to the future of Bitcoin, with EU member states pushing to have value added taxes (VAT) placed on trading and mining sitting in opposition to a recent U.K. tax authority ruling that Bitcoin remain tax free.
And whilst the slow wheels of the EU political process began their first creaking turn, U.K. Chancellor of the Exchequer George Osborne further distanced himself from mainstream opinion on the European mainland.
In a speech earlier today, the chancellor made clear his intention to make Britain a 'global centre of financial innovation.'
The speech, which was delivered at the launch of a new trade body for British FinTech, 'Innovate Finance,' seems to represent a clear shift in the U.K. government's attitude towards digital currencies. And with the financial sector being of much greater importance to the U.K. economy than to other EU member states, the Chancellor was unequivocal in his support.
"The technologies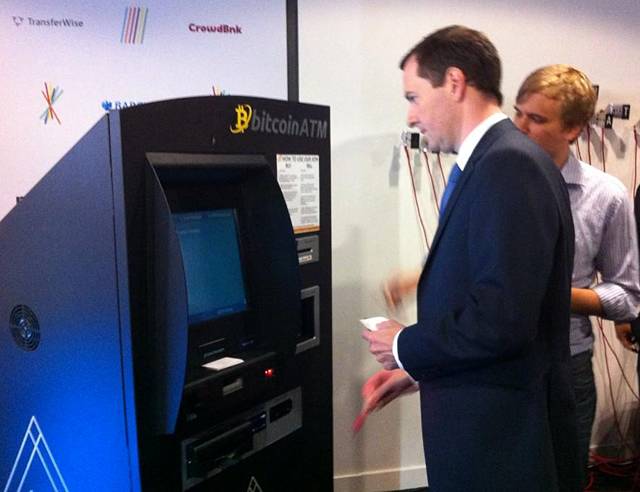 that you are developing have a huge economic potential for our country, and for the world. Just as the introduction of paper money hundreds of years ago revolutionised commerce, the technologies being developed today will revolutionise the way we bank, the way we invest, and the way companies raise money," Osborne said. "It will lead to new products, new services, and new lenders; and no one in this room – certainly not me – can predict exactly how these new forms of banking will develop."
And the Chancellor offered more than just words of encouragement, pledging to make London the heart of the world's digital currency revolution. He then showed a personal commitment by obtaining an undisclosed amount of bitcoin from an ATM on display at Innovate Finance.
The U.K. will be the "Western Centre for new global currencies"
"What we can do and I can do, is to create the best environment in which this financial innovation can flourish. That's my ambition – short and sweet," he added.
Likening his slew of new measures to other British firsts such as the creation of the first insurance companies and the invention of the joint stock markets centuries ago, Osborne promised London "rapid emergence as the Western Centre for new global currencies."
An already promised £100 million funding support in aid of Fin Tech was doubled to £200 million and linked to an extensive consultation on how best to create a world class fibre and 5G network.
Indeed, as Tim Foley, a spokesmen for the U.K. Treasury told Inside Bitcoins, the initiatives that the Chancellor announced are part of an ongoing process to modernise British financial institutions.
"What we've announced today is that we'll start a major programme of work to look explore the potential of virtual currencies (like Bitcoin) and digital money. This will look at whether regulation of the sector is required including an assessment of the opportunities and risks posed by these currencies," Foley said.
"It will be an all-encompassing piece of work," he added, "with a number of different strands to it and will involve government departments, regulators, law enforcement and the Bank of England."
The chancellor's speech certainly backs up such sentiments.
Stating that Britain stood at the "Dawn of a new Era in banking" he included virtual currencies such as Bitcoin in a list of important innovations that were to be made a "priority" by the U.K. Trade and Investment Agency.
And whilst it's too soon to gauge the reaction of other member states in the EU, it does seem clear that the U.K. is attempting to set itself up as the most Bitcoin friendly country in the world. Whilst the Chancellor was not opposed to regulation, he stated clearly that it needed to be "pro innovation" setting the U.K. once again in direct opposition to EU attempts to regulate and indeed tax financial transactions. Proposed legislation via the EU parliament is still some time off actuation but for now, it looks as if Britain's opposition and sense of individuality on this issue has been ranked up a notch.
"We'll say more in the autumn about this work when we publish a strategy document setting out in detail how we intend to make the U.K. the global centre of financial innovation," Foley concluded.
Ian Jackson is an Inside Bitcoins correspondent based in the U.K.