Last Updated on
Looking to get in on the smart economy as machines and devices start to talk to each other and transact in smart cities? Internet-of-Things (IoT) aligned IOTA and NEO, the so-called "Chinese Ethereum" with an industrial focus, could be a buy.
IOTA and NEO certainly have their critics but they have both weathered the bear market storm and are well-positioned to break higher as fundamentals improve and real world traction begins to set them apart from the crowd.
So in addition to trading Bitcoin and Ethereum or holding in your portfolio, you might want to fish lower down the pecking order where the returns could be even bigger.
IOTA (MIOTA)
Despite the announcement that Jaguar Land Rover would be using its IoT-focused blockchain to reward motorists for reporting back new road features to update mapping data, the coin was still trading lower in the month of April.
Despite a 20% pop on the Jaguar news the token traded 9% lower in April at $0.278 and is currently priced at $0.292.
The Jaguar deal is a first for the car industry in many ways as it seeks to incentivise good driving and sued to pay for tolls. The tech is being tested in Ireland.
There is a twofold explanation for this.
Doubts about "post-blockchain" Tangle
The first speaks to how tightly held IOTA (MIOTA) is. There are a lot of long-term bag holders. At least that's what a tweet from crypto influencer Jacob Cranfield thinks is going on, when he said of the recent uplift "it should have gone up higher". It appears a lot of sell orders were bought up but and beyond 5950 "market makers had zero bids to buy".
The other factor is the legacy of FUD that surrounds this project because of its technology, which uses cryptography in a non-blockchain setting.
IOTA is as fast and scalable as it is because of its "post-blockchain" Tangle Directed Acyclic Graph technology which means it gets faster as the number of transactions increases. This is because each new transaction is verified by verifying two previous transactions.
For blockhain enthusiasts this give it "shitcoin" status. For such maximalists the fact that it is feeless is also a problem.
However, it you are willing to take the perspective that Tangle actually solves the problems all blockchains have because of the serial architecture that means the last block in the chain can be a block to transaction throughput and the that nodes have to distribute and keep up to date the entire blockchain presenting future storage issues, then this project looks future proof.
That seems to be what a host of blue-chip companies are thinking. Not ideologically committed to blockchain, they see value in IOTA's distributed ledger. Fujitsu, Bosch, Volkswagen, Energinet in Denmark as well as Jaguar Land Rover, are just some other companies already onboard.
Smart cities leadership
IOTA is also arguably in a leadership position for smart cities, with Austin Transportation and Taipei and Dubai via the IOTA affiliated Akita all  adopting its technology.
Unlike previous supposed partnerships, notably a deal with Microsoft which turned out to be no such thing, the Jaguar deal is the real thing and has made a big impact in market mindset toward the project.
"The virus is spreading" noted Antony Pompliano, founder of Morgan Creek Digital Assets, about the Jaguar news, although that should be tempered by other less favourable takes.
For instance, Jameson Lopp commented "I hope they don't integrate it into any critical systems", in an echo of a criticism prevalent elsewhere in the Twittersphere.
The project is addressing other longstanding issues, chief among them the Coordinator, which stands above all transactions as the ultimate arbiter, giving the network an overarching centraliser.
It's an unfair criticism in that the roadmap always envisaged the overthrow of the Coordinator and the first signs of that coming to pass are in evidence. For example, there's the recent launch of Znet, a Coordinator-less testnet.
Trinity, Qubic, 5G, Ford and a $55 price target
IOTA's frustratingly dysfunctional Trinity wallet has at last been updated.
The Qubic second layer protocol for handling oracles (think data feeds), smart contracts and more is moving forward as is the data marketplace and the push into North America.
There's been increasing chatter about 5G and this is the last reason for inclusion on our watch list.
5G makes IoT real because it virtually obliterates latency in comparison to current internet performance.
Speed is important but latency more so because this is about the time it takes to make a connection – the nearer to instantaneous connection speeds are, the more efficient an IoT network becomes. IOTA is one of the few crypto projects positioned to grab this transformational opportunity.
An analyst known as Taipei Style put a price target of $55 on IOTA, which would represent a 18,000% appreciation from here.
Also, Ford's German division made a visit to IOTA Labs this week. That may portend some market-moving on the horizon.
In the chart below, the red line shows the 50-day moving average and the white the 200MA.
If you are looking to buy IOTA you might want to check out this page.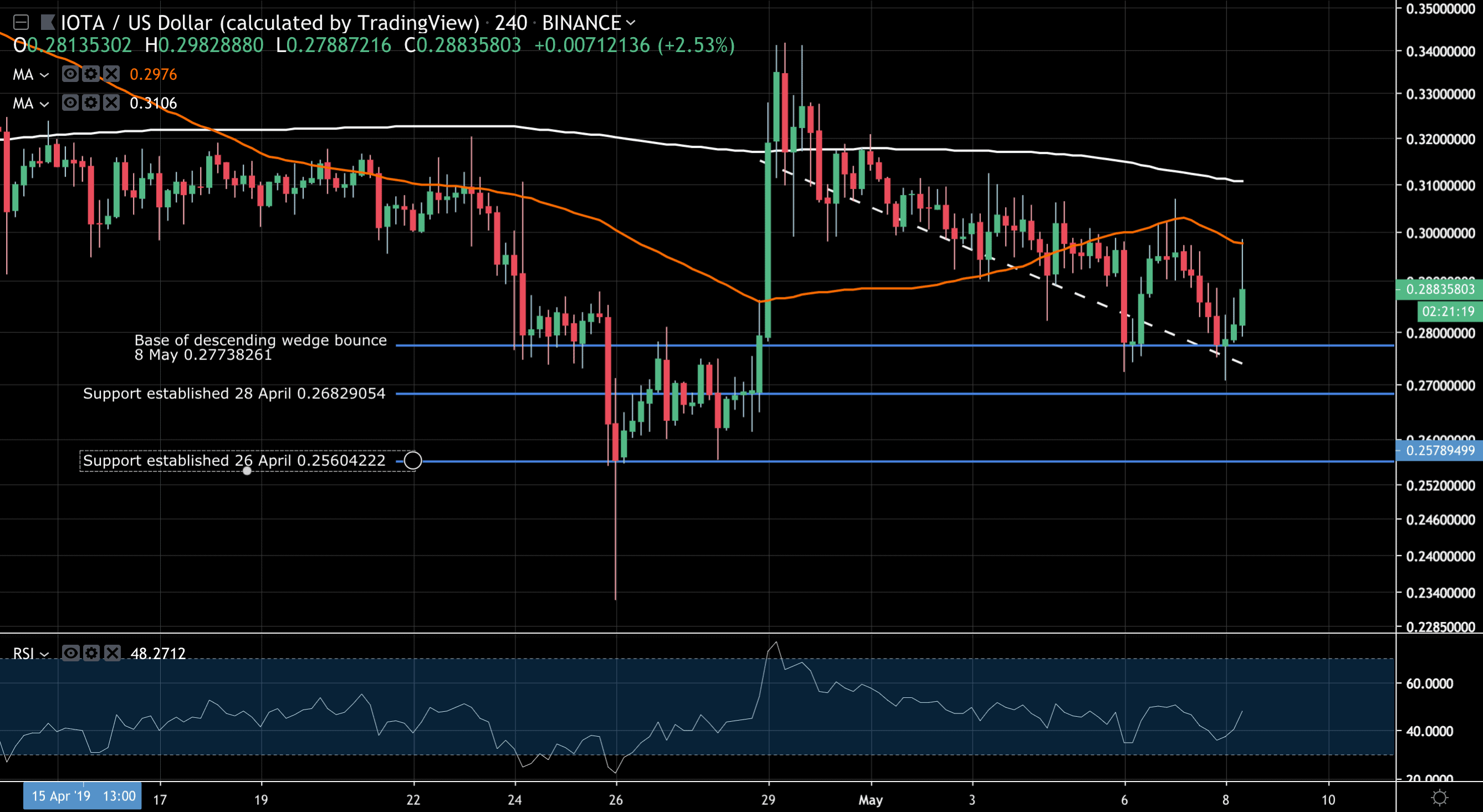 NEO
Another smart economy focused coin is NEO and it has dropped out of favour somewhat from the days when it was perceived as the "Chinese Ethereum".
There has even been sustained criticism on Reddit and elsewhere suggesting it was a "dead" project.
Part of NEO's problem stems from poor governance, or at least confusion if not a lack of transparency in that quarter.
NEO has been criticised from the outset for its highly centralised approach although this has now opened up, with consensus node candidates elected by community voting. Nevertheless, there is a limit of seven on the number of consensus nodes.
There is also the issue of the expense of developing and running smart contracts on the platform. Similarly, to Ethereum, NEO's native token for getting anything done on the platform requires the purchases and expenditure of NEO Gas.
Steps to NEO 3.0 in focus
NEO founder da Hongfei (DHF) has moved in what could be a decisive fashion to address its weaknesses, which includes a governance overhaul as well as improvements to the blockchain with the implementation of NEO 3.0. The steps to get there are already being taken with NEO 2.X, which at its core will see the implementation of delegated byzantine fault tolerance
First, DHF is taking charge of the NEO Global Development (NGD) operations in Shanghai and Seattle. The venture ECO Fund will now be managed by NGD and not NEO Global Capital as previously.
Also, the Financial report  of the Eco Fund, which still hasn't appeared despite previous promises, is confirmed to be published soon. "as a steady step towards our goal of transparency".
Eco Boost is being launched in 2019 Q2 which sounds like it will be taking a leaf out of the book of the TRON incubator programme. It aims to "provide a strong and comprehensive support mechanism designed to accelerate the growth of our ecosystem".
One fly in the ointment is the shifting of Johnson Zhao and Peter Lin  out of the NGD to unspecified "new initiatives in the greater NEO community".
Adoption – Travala lights the way
As far as adoption one high-profile project – Travala  – is on the front foot. The travel platform with a focus on room bookings and loyalty incentives, continues to grow.
Travala's April report shows the number of bookings growing from 20 in December to 185 in April. Website visitors has jumped too, from 9,931 in January to 46,141 in April.
Its booking reward program has just gone live, giving back to bookers 2% of the value in AVA, Travala's native token.
NEO was down 3% iApril to $9.77 while GAS is unchanged over the same period at $2.67, which suggests that the  latter may have a better risk-return profile at this point but either token is a buy.
It is currently priced at $8.90, dropping 4% on 8 May in the wake of the reaction to the Binance exchange hack.
You can read more about buying NEO here.
Interested in buying IOTA & NEO? Check out eToro, a secure cryptocurrency exchange now available to US customers.