ARNHEM, GELDERLAND (InsideBitcoins) — Numerous attempts have been made by various publications to find a way to plan a trip away from home without spending any fiat along the way. Most have met with limited success and involved compromises that resulted in an experience with a deliberately limited itinerary. Not so in Arnhem, the self proclaimed bitcoin city; though you may have to spend fiat on both plane and train to actually get here, once you have arrived, the amount of Euro's you need to carry with you amounts to a nice fat round zero.
All good trips begin with a great hotel and Hotel Modez, nestled in the heart of the Arnhem fashion district certainly lives up to its reputation as a unique take on bespoke design. With each room decorated by a different celebrity designer and given intriguing names such as 'The People of the Labyrinth and 'Piet Paris' there is something to accommodate all tastes. Attic rooms are particularly sumptuous, providing great views of the sprawling metropolis below and adding a distinctly Dutch feeling to the whole proceedings.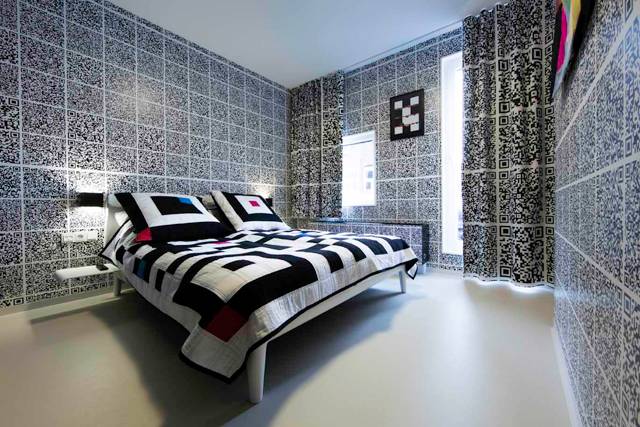 The room entitled 'patchworks' also offers a deliberate nod towards the cyrptocurrency communities; designer Antoine Peters' playful wink is expressed via the prescience of QR codes implemented directly into the design from the wallpaper to the curtains. The codes,  once scanned, take you  to the room's hidden third dimension which consists of 'pornography, pinups and other piquant phenomena;' the inclusion of a secretly seductive living world for you to enjoy is a stroke of genius. Even the lift is an oddity; the shaft itself is an art gallery and the lift can be paused at any point in its journey in order that you might appreciate its collection of prints, curios and paintings.
Concentrated in a small area, the city provides a wealth of ways to spend your hard earned satoshi. Consulting the provided map reveals that it is impossible to be anywhere within the city bounds that is more than a few steps away from a local merchant.
Groceries, toiletries and other essentials can all be bought from the local Spar supermarket, so running out of toothpaste will not lead you reluctantly to an ATM. There are no fewer than eleven restaurants to choose from with Molon offering a contemporary twist on the classic burger in stylish surroundings. Food lovers can choose to go for something more elegant at the fine dining Karakter, which offers a comprehensive menu of authentic local and international cuisine, speciality coffees and a desert menu to die for.
For those who forgot to anticipate the changeable weather in this part of the world an extra layer or two can be bought from Okimono, or else you can keep warm with an evening at local watering holes such as Cafe Kleyn or the Njoy cafe. You can also  keep the party going with expert catering from the Urban Chef, buy flowers from the local florist, hire a bicycle or else try your hand at rock climbing, hiking, camping and more. The whole day can then be capped off with a trip to a local photographer who will be happy to provide you with a memento of your trip, which you can of course mail home without the use of fiat.
Not that the whole experience is about spending those bitcoin. Arnhem is a city enamoured with the currency, it's a slice of the future, a place where people understand instead of recoil in confusion and horror. The community here has managed to ingratiate itself to the general populace, to bypass negative media stereotypes and win people over by virtue of a reasoned debate. Its use will only increase from now on; merchants are eager to open up new opportunities to service their customers.
Arnhem is the standard by which other city's will compare themselves, it's where you are now, only a few years ahead, and a few arguments on. Got bitcoin? Come here, come to Arnhem.
Ian Jackson, European correspondent for Inside Bitcoins, is visiting Arnhem, a bustling little city in the Netherlands — proclaimed as the "most bitcoin-friendly city in the world."