Top Coins' Price Prediction: Bitcoin/Ethereum/XRP/Cardano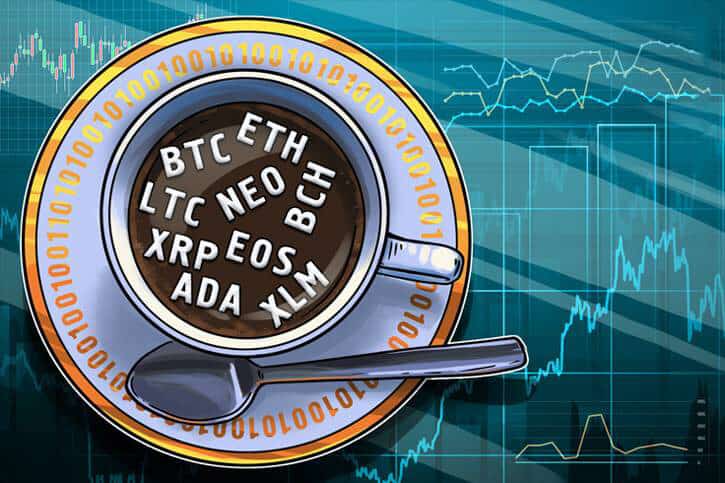 Last Updated on
Cryptocurrencies have seen a lot of action recently, as February 2019 was marked with several ups and downs. The prices of various coins have changed dramatically, first due to a long-anticipated bull run, and then because of sharply-emerging bears which cut the growth short and reduced the value of most coins.
However, the bear market ended just as suddenly as it originally started, leaving most coins where they were at the time. The market is currently entering the sixth day of stability, with crypto prices having only minor fluctuations. Even so, investors are interested in finding out what might happen next, which is what we will discuss today in regards to four different cryptocurrencies — Bitcoin (BTC), Ethereum (ETH), XRP, and Cardano (ADA).
Bitcoin (BTC) price prediction
BTC continues to be the most dominant coin in the crypto space. This includes the size of its price, the size of its market cap, and even the size of its daily trading volume. Those looking to buy Bitcoin can do so at the current price of $3,860.35, according to CoinMarketCap. But, other than that, what else can be expected of Bitcoin price?
BTC had a few small price surges in February, thanks to which it managed to break several resistance levels. The first surge brought it from an average price of around $3,400 to $3,650 after the coin broke the $3,600 resistance. While many expected the price to drop back down, the resistance turned into support, and it held Bitcoin from dropping for the next ten days.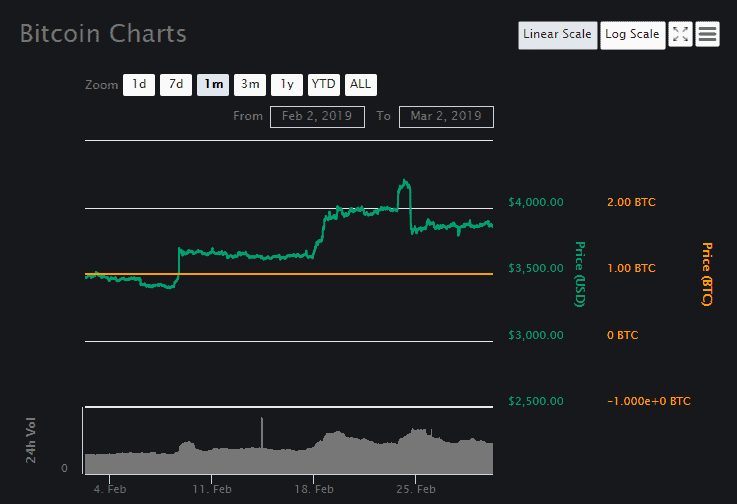 When the coin surged again on February 18th, it hit a $4,000 resistance which did not allow it to pass until February 23rd. However, the growth was not a long-lasting one, and almost as soon as BTC broke this barrier, a bear market struck, knocking it back down. The coin was stopped by another support at $3,800, and it remained slightly above it ever since.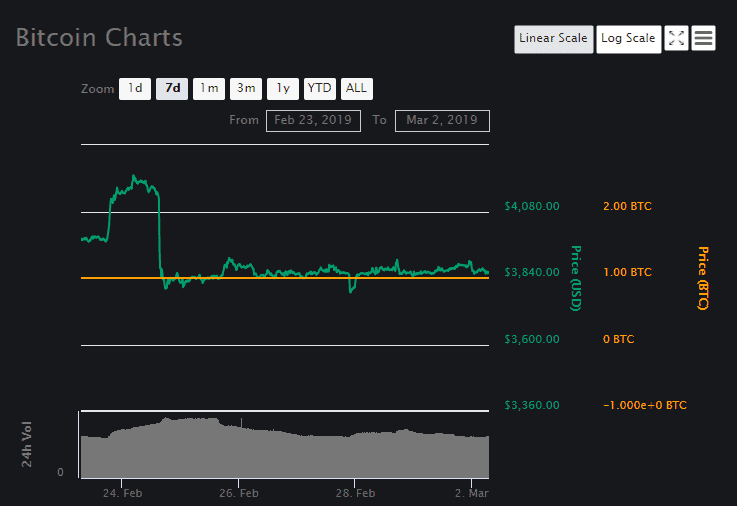 This shows that Bitcoin has the potential and desire to grow, and every potential rally, no matter how small, would likely see Bitcoin participating. Other than that, the coin appears to be out of strength right now, which is understandable considering how much the crypto winter took from it. However, it could be possible that BTC is simply gathering strength right now. The coin could also continue its drop if the bears return, making it a risky investment right now.
Ethereum (ETH) price prediction
Next, there is Ethereum, which had just as successful February as Bitcoin, if not more. While the bears took Ethereum price back down, its value remains above the level it was at in early February and before. Thanks to the few smaller surges which mirrored the one that happened to Bitcoin itself, Ethereum managed to grow by around 33%. This allowed it to break several resistances, such as the one at $120, which has been acting as a support for a while.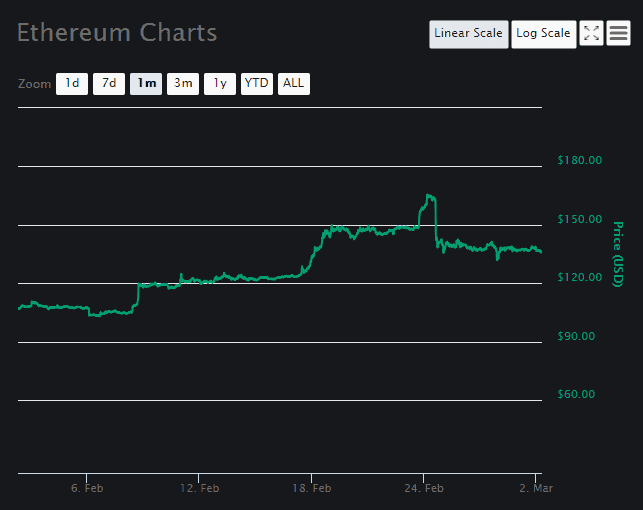 Next, ETH hit resistance at $150, and while it managed to hold for days, the resistance finally got broken, and Ethereum successfully reached as high a price as $165. This is where things took a turn, just like with Bitcoin, and ETH started dropping as soon as the bears emerged. Its fall was almost instant, and $150 level, which many expected to start acting as a support, did not even slow it down. Instead, the first support that had an effect was at $144. This one slowed the drop down and allowed the one at $136 to stop it completely. This is where Ethereum has been since Sunday, February 24th.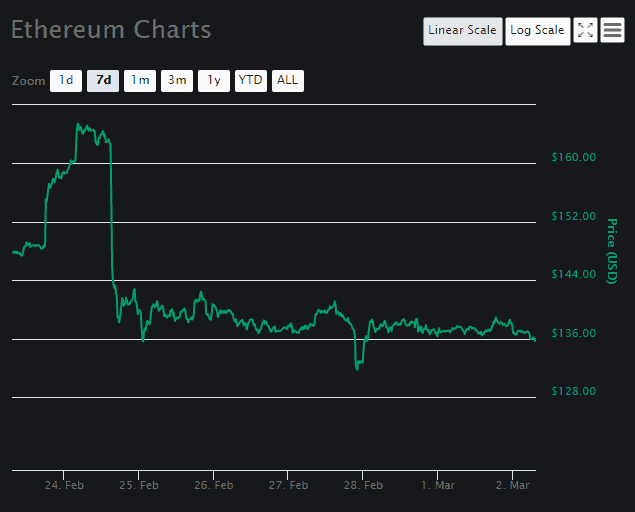 In the near future, it is likely that Ethereum will continue acting like Bitcoin, as it often mirrors its behavior. Other than that, ETH seems to be ready to grow, and two new updates are expected to make the coin's network more effective, scalable, and faster. Even so, investors who wish to buy Ethereum should be aware that the coin may continue to fall, as it briefly breached its $136 support at the time of writing. ETH price right now is at $135.85, with a 1.07% drop in the last 24 hours.
XRP price prediction
XRP price has seen a lot of volatility recently, and in the last three months, the coin has experienced several serious drops. This is a trend that remains from 2018, when XRP constantly surged, only to drop back down. The coin has one major support, which is at $0.2000. This has been the largest support XRP has ever had, and it managed to protect the coin and prevent it from dropping under during its entire existence. However, XRP came close to breaking it several times already, and it currently sits only slightly above it.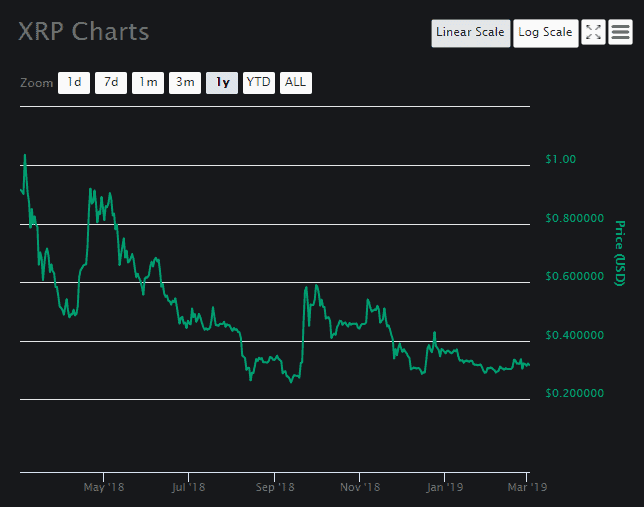 At the time of writing, it is possible to buy XRP at the price of $0.317434, although the coin is currently experiencing minor drops. Despite this, looking at the coin's behavior in the last month, it is clear that it too got caught up in the bull run, which allowed it to breach several resistances, but also break some supports.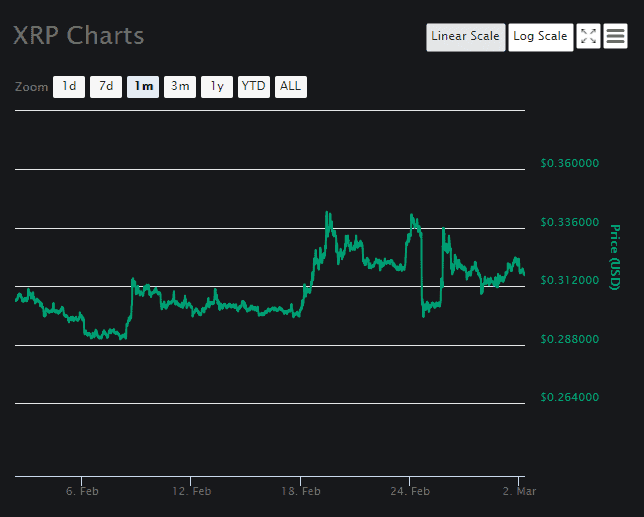 For example, XRP was held by the smaller resistance at $0.312 for a long time, until it finally managed to break it on February 18th. The very next day, XRP briefly broke another resistance at $0.336, although it dropped back down almost immediately. However, the $0.312 level became new support which prevented it from going further down. Another surge allowed for another breach, which is when the bears arrived. The bears took XRP below not only $0.336 but also below $0.312, although this was only briefly.
During the previous week, XRP climbed back up, and it almost managed to breach $0.336 level once again when it suddenly lost strength, even though bears have withdrawn at this point. Since then, the XRP price remained between $0.312 and $0.320 which started acting as the next resistance.
Although things do not look particularly good for XRP at the moment, it is possible that the coin will get back up in the near future. While this is not a conclusion that the charts are showing, it should be noted that XRP is the coin which allows Ripple Labs' products such as xRapid to operate. Considering how many banks around the world are choosing to support the product, it is likely that XRP will see more usage, and the new use case might bring its price back up.
Other than that, the coin has been more stable 2019 than at any point in 2018, which is a sign that the real bearish market might actually be over at this point.
Cardano (ADA) price prediction
The last on the list is Cardano, with a current price of $0.042958. Those wishing to buy Cardano should be warned that the coin is currently in the middle of a minor drop. However, it is also worthy to note that Cardano has been one of the most stable coins in the last six months.
Its price has been on a gradual decline, that much is true. However, in case of ADA, the coin's volatility has mostly been under control, at least when compared to other coins.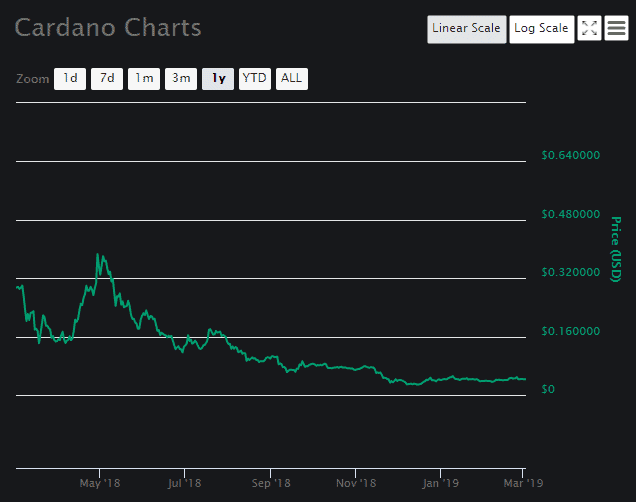 Things are slightly more dynamic on a smaller scale, and Cardano price has mostly been trapped between support at $0.036 and resistance at $0.048 in 2019. The coin managed to breach the resistance on several occasions, such as on January 7th and January 9th, although these were breaches that did not last for long, and ADA quickly returned below this level.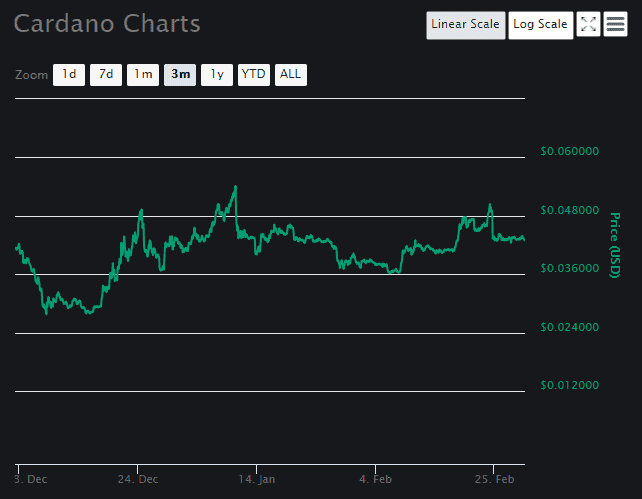 However, it never dropped below $0.036 in 2019, while its price went well below this support in mid-December.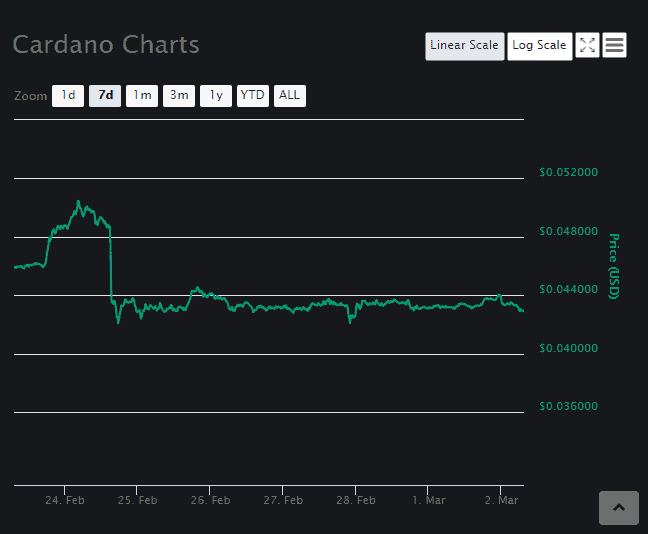 In the past seven days, Cardano price struggled to breach a minor resistance at $0.044, although mostly unsuccessfully, with only a single small breach on February 25th. For now, it seems that this might be where ADA will stay for the foreseeable future, although any potential rally might change that. The opposite is also true, and another sign of increased activity from the bears could easily cause the coin to return to dropping further down.
However, as mentioned, ADA did show signs of stability in the past six months, and any major change to its price has been due to a strong impact of bears or bulls. As for the coin's natural movement, it seems that there is hardly any, making Cardano one of the most stable non-stablecoins on the crypto market.