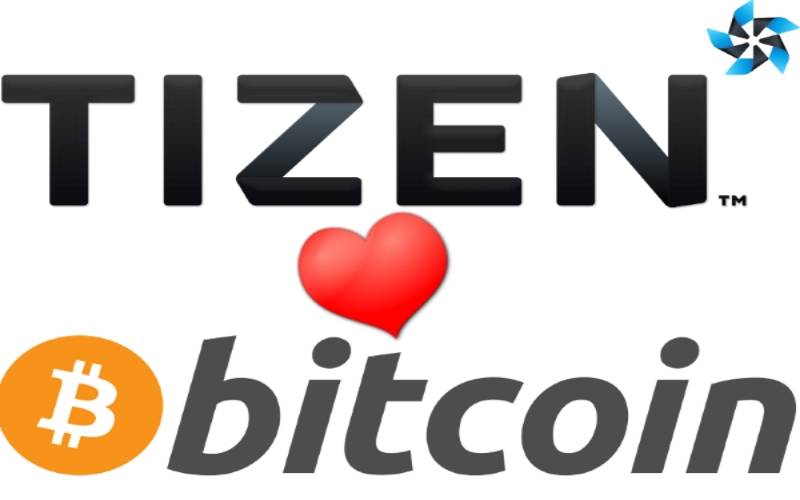 The worst kept secret in the smart phone industry is that Android is king. You wouldn't know it in the west. iOS generally gets the newest and best performing apps. But worldwide, it isn't even a competition. Some estimates put Android's global market share over 80%. The reason is that there aren't many cheap iOS phones going around. The poor outnumber the rich and the third world is quickly gaining access to the technologies the West has enjoyed for years.
But there is a competitor to Android that aims to be even cheaper. Samsung is aggressively targeting the low end market and they aren't depending solely on Google's Operating System to do it. Tizen is making waves in India. The Samsung OS is more known for its use in smart watches but Samsung is pushing hard for it to appear on smartphones. The Bitcoin community should take note.
What is Tizen?
Tizen has been finding its way onto cheap cell phones and is finally making some headway into that market. Earlier this year, Tizen replaced Blackberry as the fourth largest mobile OS (After Android, iOS and Windows 10 Phone).
Samsung's Tizen powered phones are targeting India. It is a large cell phone market where Domestic and Chinese phone manufacturers you probably have never heard of dominate the shelves. Phones are cheap in India, priced to match the market they are in, but they are nevertheless "smartphones." Phones that would have passed as flagship phones in the US just a few years ago, are sold for less than a hundred bucks in India's tech stores.
Samsung's Tizen phones, like the popular Z1 and the 4G enabled Z2, are designed to hit that market. The Z2 just launched today to significant fanfare.
Many manufacturers in India ignore Google's Android requirements. Android is an open source OS, but most companies that sell cell phones in the US pay a substantial licensing fee for the privilege of putting "powered by Android" on their packaging and including a selection of core apps called GAPPS (which includes Gmail, GooglePlay and others). Supposedly, this also gives them priority on OS updates, but companies who have forged their own path have oftentimes been quicker to update than official SKUs outside of Google's own Nexus line of phones and tablets.
Domestic Indian companies rarely concern themselves with Google's unofficial rules. A company like Samsung would like to target the growing Indian market but not run afoul of any obligations it has to Google. They need India but they can't drop the US, Korea, Japan, Europe and other markets where Google holds court.
Tizen allows Samsung sell phones to India's poor without having to pay a red cent for licensing. And they are so far, surprisingly successful at it. While Tizen-powered phones make up less than 1% of Samsung's total sales from last year, that number is rapidly growing. Indians bought 3 million Tizen phones in 2015 and that number too, is rapidly growing.
The (android-powered) budget Samsung phone J2 was their best seller in India last year. Media outlets cite the lack of 4G in previous Tizen phones as the reason the J2 was more popular. The Z2 includes 4G. It is launching for under $70 (4,590 rupees) and is sporting specs roughly equivalent to and in many cases exceeding, the Galaxy S3 (Samsung's flagship phone in 2012). Tizen is sure to make more headway in the last quarter of this year and going into next. The Z2 is the cheapest 4G enabled phone available in India.
How Bitcoin Can Use Tizen
It is not clear what Samsung's ultimate goal with Tizen is. Does it only want to offer it in emerging third world markets? Or is that only the start of a longer term goal to challenge Android and Apple across the world? When I wrote about Chinese and Indian devices for GizChina, the thought was laughable, now it seems at least as plausible as Microsoft clawing itself up from its distant third place standing.
What is clear is that Samsung wants to bring the smartphone experience to the billion Indians who are clamoring for new technology. But I imagine consumers who purchase a Tizen phone are likely finding themselves disappointed. Tizen looks a lot like Android. Someone unfamiliar with smartphones could even confuse the two. Both are built on top of Linux, but Tizen cannot run Android apps.
Imagine hearing about all the capabilities and apps that smartphones have, only to find that your first smartphone doesn't have access to them. Bitcoin can help ease that pain by providing an international online payment, banking and remittance solution.
Samsung is including its own payment app on Tizen: My Money Transfer. But Bitcoin may fill different needs of Indians than Samsung's fiat-based app. My Money Transfer works with local banks, but not European or US based ones. Bitcoin could be the remittance bridge, much the same way BitPesa has found success in Kenya with MPesa.
What it absolutely does show, is that Samsung sees the Indian mobile payment market as a key target for the Tizen operating system. India's payment methods are currently ancient, with Cash on Delivery being the most common payment method for online purchases. Companies hate that payment method because it is unreliable. That is why you still see "No CoDs" disclaimers on product infomercials in the US. If the customer is unavailable when the product is delivered or is unable to pay, then the manufacturer has to ship it back to themselves and prepare it for another customer.
Hooking millions of Tizen users on bitcoin could be one solution to this problem. More online stores currently accept Bitcoin than My Money Transfer and Samsung Pay.
From Samsung's perspective, they should welcome more apps onto their ecosystem. A recent report states that Samsung is looking to further embrace Tizen at the expense of Android. The desire to control their own ecosystem was cited as the heart of that. "If you don't have your own ecosystem, then you will have no future," said an unnamed Samsung executive, according to the Korean Times via 9to5Google.
Google Play isn't quite as dominate in India as it is here in the US, but Samsung will still need thousands more apps if it wants to compete. It would be extremely surprising to see them deny Bitcoin apps, like Apple did in 2014. Its desire to launch Samsung Pay in India should not trump its desire to lure mobile developers onto its platform.
Developing a web wallet for Tizen should not be difficult. The platform's web API supports HTML5, so porting existing apps should be trivial. Native apps can use the same Linux libraries that Android takes advantage of. More important, it will give bitcoin a foothold on a variety of devices besides phones.
Bitcoin and Tizen in the West
As mentioned, Tizen is on almost every other smart device Samsung manufactures besides phones. Smartwatches, Smart TVs, smart appliances, smart cars even smart signs. Samsung is a big believer in the Internet of Things and Tizen is at the tip of their spearhead for that. A Bitcoin web wallet designed for Tizen phones and watches can easily be extended to other Tizen devices. Imagine driving your smart car, when a song on the radio you like comes on. You hit a button, and the car asks if you would like to purchase the song. You say yes and swipe your Gear 2 watch across an NFC chip. Your phone and car both download the song instantly.
Samsung Pay or Bitcoin could perform the above scenario.
We could wait for Samsung to develop this system on its own and then try to play catch up with Bitcoin. Or, we could start developing Tizen apps right now. If its users get hooked on Bitcoin it will be in the perfect position when Cars with apps are a commonplace.
It is possible, even likely, that Tizen won't top Android or iOS. It may never even reach Microsoft's modest heights. But it is growing in popularity. It is targeting the poor and unbanked, which is exactly what Bitcoin needs to target. Bitcoin is useful in the first world, but we can get by without it. Populations ignored by banks are the ones that Bitcoin has the most potential to help. Apple and Google largely ignore that market as well. But Samsung's Tizen is targeting them directly. Bitcoin should not pass over this opportunity.
---