Last Updated on
One of the largest publications in the United States, The New York Times, may be getting into blockchain-based publishing. As reported by CoinDesk, the newspaper posted a job looking for someone who can "design a blockchain-based proof of concept for news publishers":
"The New York Times is looking for a forward-looking leader who will help envision and design a blockchain-based proof of concept for news publishers. You will codify the vision for the research project and share that vision with potential stakeholders at other media organizations. You will help brand and create a public identity and assets for the project."
A Limited Examination
The job is to be temporary, however – around 12 months in length. What it's looking for:
8+ years leading a combination of engineers, designers, journalists.
Strong communication, writing, and presentation skills
Experience with partnerships and collaborations, within and across companies
A mixed skill set with some experience in at least 3 of: journalism, product, design, software development, hardware engineering, user research.
Established track record in real-world application of new technologies.
A curiosity about technology and the inclination for hands-on problem solving.
Expertise in seeing new product creation from start to finish.
Excellent interpersonal skills.
A real passion for The New York Times's mission.
The job posting has been taken down as of this writing, strangely. However, CoinDesk was able to recover a screenshot from it.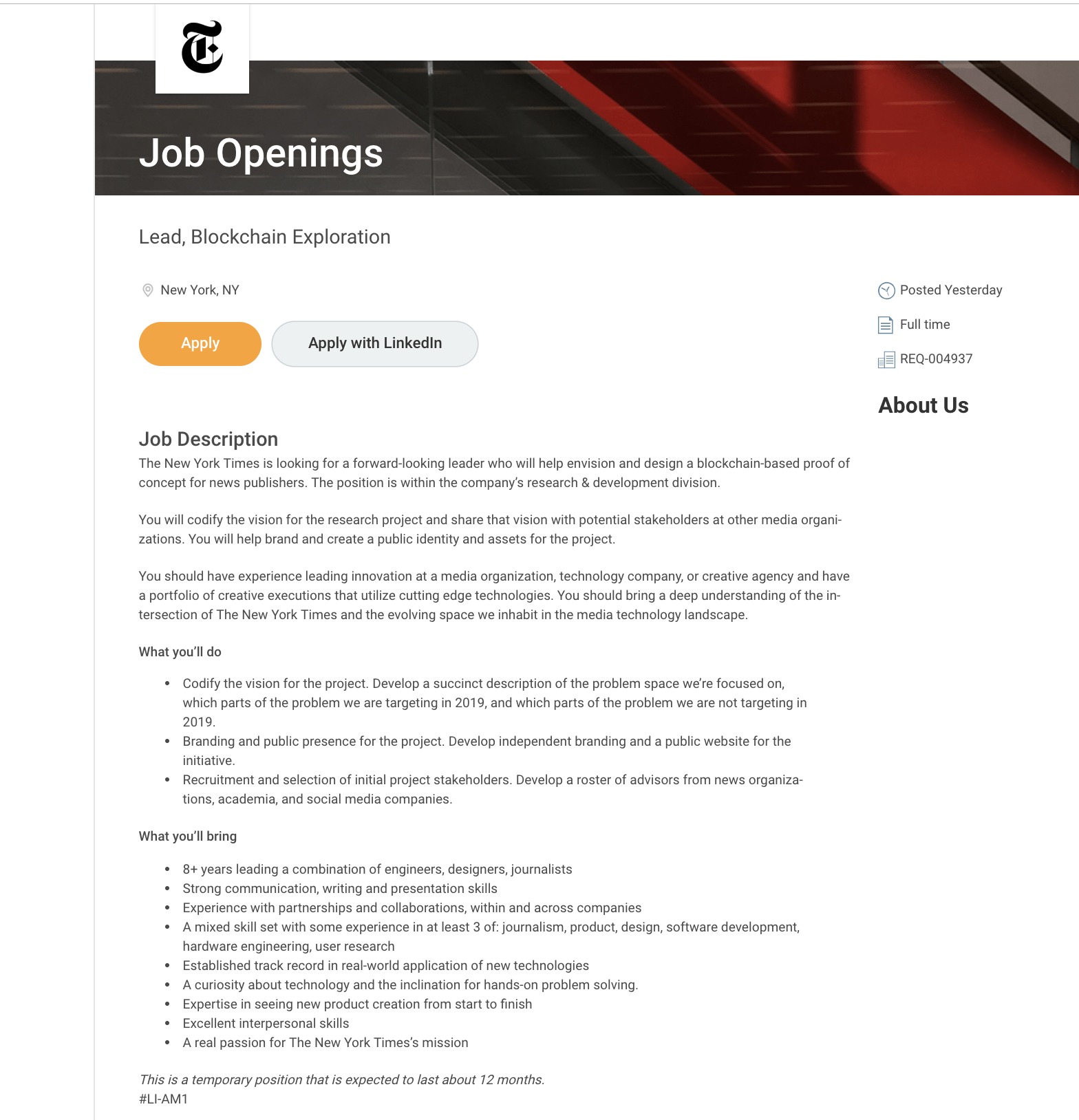 Blockchain-Based Ethics
Companies like Facebook, Amazon, and Google are all experimenting with blockchain. It should come as no surprise when other top-tier groups are looking into the tech as well. In fact, one project, Civil, has been in the news a lot lately.
Civil is a blockchain-based publishing platform for journalists with a focus on ethics. Having delayed its launch for months, the project just recently went live. Its CVL token provides access to different newsrooms and enables users to upvote legitimate news articles while downvoting unethical ones. Users can also attend events and see different journalists, gain access to special newsletters, and even a forum to post about stories.
The token exists as a form of membership. That said, it does hold value. Investors hold CVL in their wallets and can tip writers for their stories, similar to SteemIt.