Stellar (XLM) is one of the fastest coins currently on the market, and it is known for its noble goal of allowing regular people to easily and instantly send money internationally. However, while the coin is among the most popular ones, and it still sits among the top 10 largest coins by market cap — XLM has not been doing particularly well in terms of its price.
Even now, when the bearish market is once again seemingly losing its grip over the coins, Stellar is still experiencing minor drops, with its price currently being only $0.084947, according to CoinMarketCap.
Stellar (XLM) has seen a lot of damage
As mentioned, Stellar has been handling itself relatively poorly during the crypto winter, with its price mostly seeing drops in the past 12 months. The most stability the coin has seen was from mid-July 2018 to late November 2018, when its price remained between $0.2000 and $0.3000, although this period is marked by large volatility as well, and the coin's price mostly went up and down between these two marks.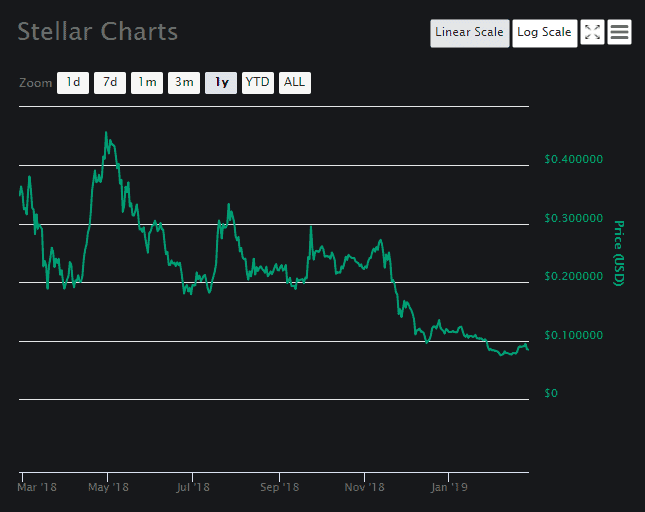 However, in the second half of November, Stellar broke its support at $0.20 and started dropping, eventually falling below $0.10 on January 27th.
Since then, the coin dropped through several supports, with its drop finally being stopped right above $0.073. This was when Stellar reached its lowest point since November 2017, with a price of $0.073774.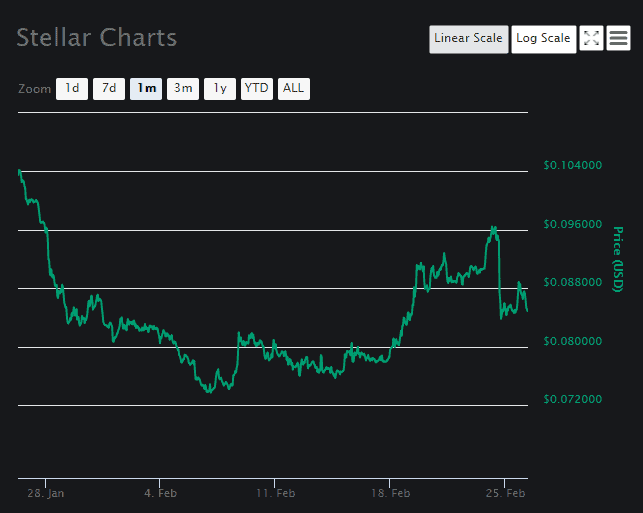 After that, the coin showed attempts at growth, even managing to breach its resistance at $0.0800 several times during the next three weeks. At this point, on February 18th, the coin finally started growing after being caught up in a bull run, although its price struggled to grow, constantly attempting to drop after each new resistance has been broken. It finally reached the price of $0.096, which is its next major resistance, which is when the bulls suddenly withdrew and were replaced by the bears once again.
Stellar reacted immediately, and in a matter of only a few hours, its price dropped once again. The coin did not even slow down at $0.09000, and only the support at $0.08400 managed to stop its free fall.
The coin's price remained just above this support since February 24th, attempting to breach $0.0900 only once since then, although unsuccessfully.
Will Stellar continue to drop?
Stellar has not shown any real initiative to grow ever since the crypto winter started, and something has been dragging it down on every occasion. Even after the market turned bullish, Stellar has been resisting the growth, indicating that the coin is not ready for an increase. While it has been struggling to find balance multiple times so far, its price is still using any opportunity to drop, either sharply or gradually.
The coin is still seeing a decent amount of usage, with its trading volume being just below $123 million in the last 24 hours, indicating that investors and traders are still willing to buy Stellar. Meanwhile, its market cap sits right above $1.6 billion, which allows XLM to hold the 8th spot on the list of largest coins by market cap. However, as mentioned, its price has been on a constant drop ever since January 2018, and it still does not show any signs of changing for the better.
At the time of writing, Stellar's price dropped below $0.0856 and is seemingly heading towards $0.0840, which is its major support that managed to hold after the bearish trend returned. Whether it will hold the coin this time as well remains to be seen.