Last Updated on
Stellar (XLM) is one of the most popular coins on today's crypto market, as well as one of the rare few who are currently seeing gains, while the majority of digital currencies are trading in the red.
Stellar is a coin that aims to provide individuals with a quick, easy, and cheap way of sending money cross-border. Its transactions are near-instant, which makes it the main competitor to XRP, which has chosen to do the same but is offering its services to banks and financial institutions.
As mentioned, XLM is currently on the rise, which might be valuable information to those looking to invest in Stellar.
Stellar price saw sharp drops in 2018
XLM, just like pretty much every other crypto, has seen sharp drops throughout 2018. The coin has had several surges during this time as well, although each of them was followed by a sharp drop.
The largest surge happened in early May when XLM managed to grow from its major support at $0.20 all the way up to major resistance at $0.40. The coin even managed to break the resistance and reach $0.44, but then the bear market took over once again, taking XLM back to its $0.20 support. There were other supports along the way, and while they softened the drop, they were unable to stop Stellar from hitting its bottom at the time.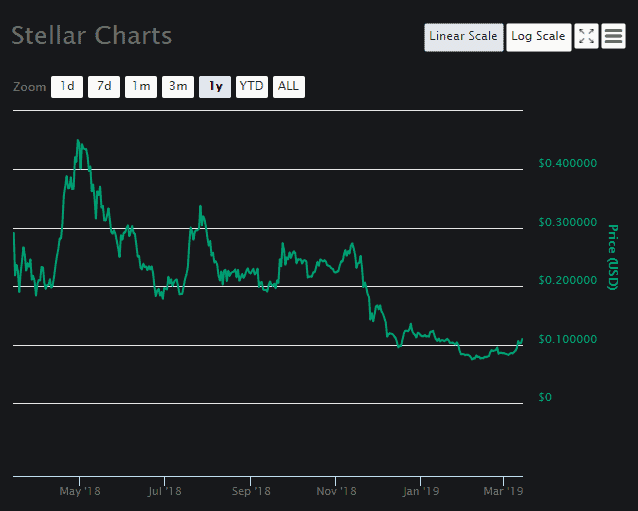 Soon enough, in mid-July, XLM saw another surge which allowed it to breach another resistance at $0.30, although this was a short-lived success, and the coin returned to its $0.20 support for the third time in mid-August. It spent the rest of August and most of September close to this level and then surged again on September 19th, breaching a smaller resistance at $0.24, and being around that price until mid-November, when BCH hard fork caused the second market crash.
This event has had a strong effect on XLM price, which dropped down, breaking all previously known supports. The coin dropped below $0.20, breaking even the next major support at $0.15, although this one did manage to slow it down, and even hold it for a short period. However, the drop continued, finally stopping in early December at $0.10. Stellar price managed to grow a bit after that, as the bear market started losing its strength, although the coin never went far up, mostly fluctuating between $0.10 and $0.13.
Stellar drops again in 2019
Stellar was behaving in a similar way in early 2019, mostly keeping some levels of stability until mid-January. However, on Jan. 10th, the coin dropped a bit more, approaching its $0.10 support level and sticking to it closely until the end of the month.
On January 27th, it finally broke this support as well, continuing its drop until it was finally stopped at $0.074814, which was its lowest point in 2019 to this day. After that, February brought several smaller bull runs, although they did not have a particularly strong effect on XLM price. One of them managed to bring the coin up to a smaller resistance at $0.0900, and it even breached it, although it was not for very long. On February 24th, bears returned once again, and XLM price dropped below this mark, although it remained close to it.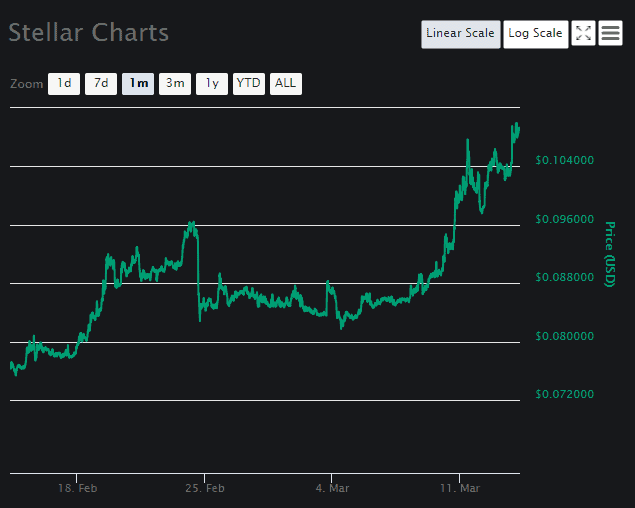 Stellar finally started seeing gains around March 6th. It started surging and breaking several minor resistances along the way during the following week. Those include $0.088, $0.096, as well as $0.104. This leads us to where Stellar price is right now, with the coin's value currently being at
$0.109403
, after experiencing 5.31% gains in the past 24 hours. Meanwhile, the coin's market cap remains over $2.1 billion, making it the 7th largest cryptocurrency by market cap.
Its trading volume is also quite high, currently being at around $163 million. In the following days, Stellar's price might experience further recovery, unless the bear market strikes again. In this case, another correction is possible, although its supports at $0.09 and $0.07 are likely to hold unless the drop is sharp and strong enough to break them.