Last Updated on
CryptoSolarTech is a company created in 2018 and based in Malaga, Spain, that focuses on cryptocurrency mining. The startup raised $68 million during ICO (initial coin offering). However, it recently told its investors that the money will be returned and that the company will stop operating.
The news broke with a tweet published by Spanish IT lawyer Sergio Carrasco on Tuesday, Feb. 20. The post includes a screenshot of the official letter directed to the investors stating: "hemos decidido devolver todas las aportaciones realizadas por los usuarios durante la ICO, en un plazo de 60 dias". "We have decided to return all the contributions made by users during the initial coin offering, within 60 days".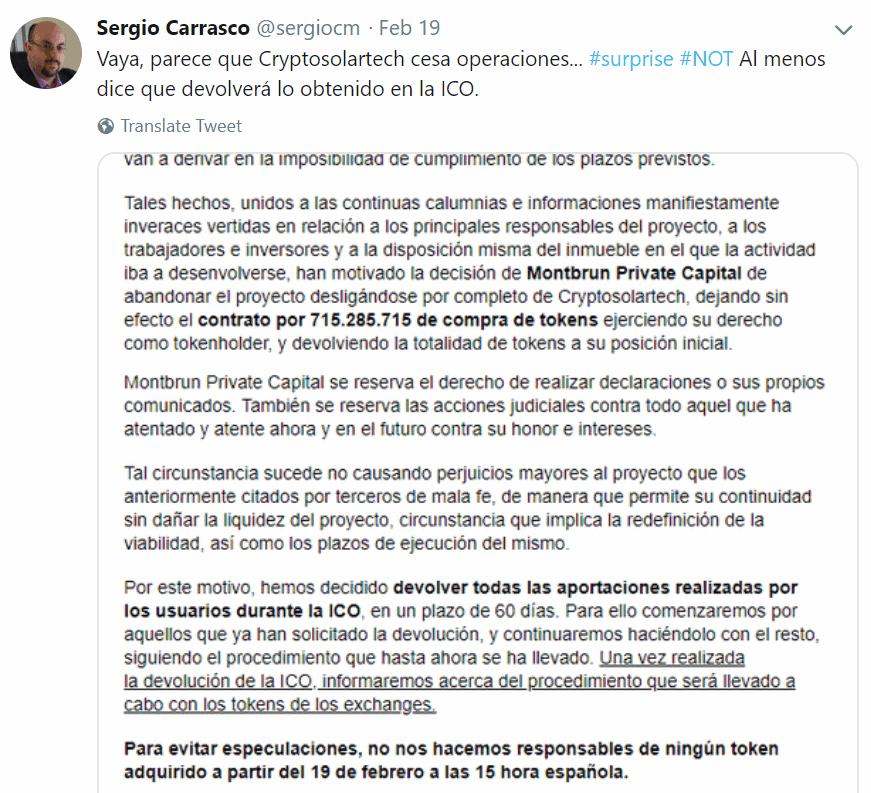 According to the company's official website, CryptoSolarTech was developed to start a cryptocurrency mining farm through renewable energy. On it, you could buy digital coins such as the new token called CST, which was created to allow users to participate in the mining platform.
The $68 million were raised in under two months during the summer of 2018 and most of it came from Spain and Singapore.
However, the letter states that the company did not manage to get a permit to build the crypto mining facility, meaning that the project could not go any further. Hence, the announcement that the funds would be returned. They also claim that starting from Feb. 19 after 3pm Spanish time, CST is no longer responsible for the purchase of any CST tokens.
According to CoinMarketCap, CST tokens operate on the Ethereum platform. They are currently ranked 1462 with a 24 hour volume of $203 and a market cap of $104.307. Its trading price is of £0.00162 down from the debuting price of $0.018.
In September 2018, CST appeared as number 7 in the "Top 10 Losers Against Capital ICO Funding" according to the Diar firm, with a loss of $59 million.