NEW YORK (InsideBitcoins) — There numbers may have been few, but their complaints were many. Protestors gathered yesterday to show support for Ross Ulbricht as he went on trial, accused of being the brains behind Silk Road, the underground illegal drugs marketplace shut down by federal authorities in November 2013.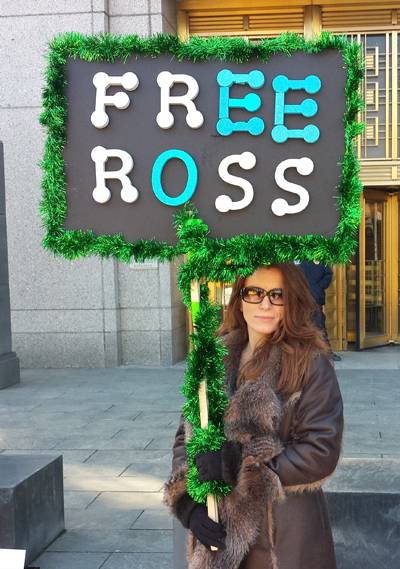 Members from the CopBlock.org team, jury nullification protesters and bitcoin enthusiasts showed up to protest outside the courtroom with an assortment of signs. One sign read, "Today's villain, tomorrow's hero," while another said, "No victim, no crime."
James, who only gave his first name, a resident and business owner from New Hampshire, said: "In my opinion, he is just running the website. If I sell something illegal on eBay or Craigslist, they don't arrest the people who run those."
An opinion shared by others in the group: Silk Road was a good thing.
"I think he did a valuable service if anything," James added. "The drug world is a dangerous world because of the black market. If you can just order on the Internet, you don't have to meet with the dealer, you don't have to put yourself at risk, you don't have to carry a lot of cash on you, you don't get robbed — so it was just revolutionary in that regard. I think it was a good thing for the road, Silk Road, even though I am sure there were bad things associated with it. I think overall it was more good than bad."
"If the government can misapply the law against Ulbricht, it can do it to any of us."
Many voiced concerns regarding the way in which evidence was gathered by the feds. According to FreeRoss.org, "His [Ross Ulbricht's] Fourth Amendment rights have been violated with illegal warrants and searches and seizures lacking any warrant. If the government can misapply the law against Ulbricht, it can do it to any of us."
[Read More: Silk Road Was Ross Ulbricht's Idea but Defense Says He Is Not the Real "Dread Pirate Roberts"]
"The problem is that the government says that since the servers are in Iceland, it's outside jurisdiction of Constitution. But the Constitution is inalienable from our Creator," said Michele Seven, who goes by the nickname BitcoinBelle on Twitter. Another protestor outside of the federal courthouse yesterday, Seven has been a self-proclaimed activist since she was twelve. "I want to get some waves started of people so there's always someone outside with a poster."
Unfortunately for the Ulbricht supporters, that might be a problem. Seven tweeted out this morning that Judge Katherine B. Forrest would anonymize the jury if she saw signs this morning.
https://twitter.com/BitcoinBelle/status/555354644227293184