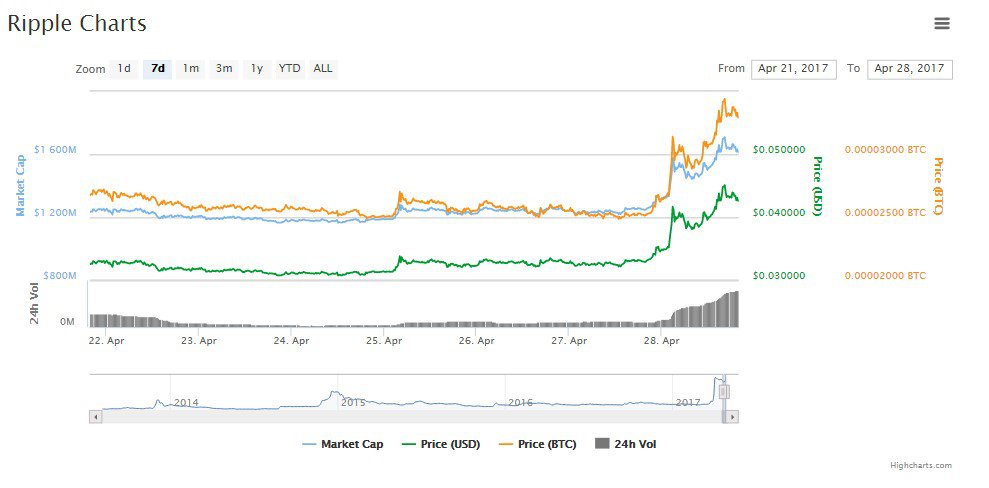 This
story
was shared from
this site
Bank-friendly Ripple (XRP) still exists, to the surprise of many, the author included. Not only that, but it has continued its apparent strategic partnership initiative, partnering with Asian and Australian banks in conjunction with its stated goal of acting as a sort of Paypal mechanism for large interbank transfers.
Four short weeks ago, the coin was sitting around a penny a pop. But with more enthusiasm building among traders, it has steadily risen, and today saw a spike of over 30%, rounding out just under 5 cents each.
Ripple has been getting a ton of attention as of late, and not the negative kind like it once received for managing to get a $700,000 fine from the federal government and thereby underscoring the risk of having a known entity backing a cryptocurrency. Just a couple of examples of this are this recent video in Bloomberg News and inclusion in a Bank of England program.
// Get exclusive analysis of bitcoin and learn from our tutorials. Join Hacked.com for just $39 now. //
Skepticism among more traditional cryptocurrency people still thrives. The centralization aspect and the inherent issue of being able to identify coin users as well as reverse transactions certainly is a specter of wrongdoing for many of us. But as one writer put it, "one man's sh**coin is another man's treasure."
The fact that the Ripple project has continued to develop its platform and strategic partnerships, continued to bring on talent, and continued to grow its community means that they are at least serious, not scammers looking for a quick buck. The "Paypal of banks" aspect is important, and paralysis in the Bitcoin community over a simple issue certainly gives any bank pause when it comes to partnering with cryptocurrencies. A recent report from IBM shows
---