Last Updated on
NEW YORK (InsideBitcoins) — Although there has been plenty of growth in the Bitcoin space over the past few years, most of the mainstream public is still sitting on the sidelines when it comes to using the Internet's favorite cryptocurrency. So, what's the main reason Bitcoin hasn't conquered the payments world? Well, to be frank, the reality is there isn't a reason for most people to use it right now.
There are a few user-friendly wallets available and plenty of coverage in the mainstream media, but Bitcoin's killer app still hasn't arrived on the scene. Having said that, the digital currency's first major selling point that could actually resonate with the general public could be right around the corner.
Getting cash back with Bitcoin
While Bitcoin adoption may make sense for merchants right now, there still isn't really much of a reason for consumers to hop on board. This is mainly due to the fact that merchants see savings on payments while consumers see little more than a volatile currency.
What could make sense for consumers is getting a bit of cash back on all of their bitcoin purchases. Popular bitcoin blogger Two-Bit Idiot discussed the idea of a Coinbase rewards program recently, and made a solid case for Coinbase to be the company to turn this idea into a reality.
Is Coinbase ready to make this happen?
There are a few reasons to believe that Coinbase is in the perfect position to create a Bitcoin rewards program. First of all, they're already allowing their merchants to easily pass on their Bitcoin savings to their customers. At the end of the checkout process, customers of certain online shops are seeing helpful statements related to their Coinbase merchant discounts.
In addition to offering an easy method for setting up Bitcoin discounts, Coinbase also already allows users to easily reload their balance every time they spend some bitcoins. The 1% fee for purchasing bitcoins on a regular basis could be a problem when trying to making this rewards program happen, but it's probable that competition from other large players in the industry might eventually cut that fee in half.
It's also possible that a rewards program could be one of Circle's sources of revenue in the future, but that's just wild speculation at this point. The well-funded Bitcoin company has not revealed how it plans to make money over the long term, but this kind of setup could be perfect for earning some revenue from merchant integration.
What is the real cost of accepting credit cards?
The one question that remains is — how much cash could Coinbase or Circle users get back if a bitcoin rewards program became a reality? Some would say this program couldn't offer that much savings due to the fact that credit card fees are only around 3% per transaction, but those numbers don't consider the added costs of chargebacks and fraud.
It's hard to find some concrete numbers on this kind of thing, but GoCoin CEO Steve Beauregard made a rather interesting statement at the 2014 CoinSummit in London. During a panel on increasing consumer adoption, Beauregard pointed out that many businesses have entire departments dedicated to nothing but the chargebacks and fraud associated with credit cards. When you add that to the base processing costs of accepting these traditional forms of payment, it becomes obvious that the real cost associated with the cards is closer to 7%. (Click image below to play video clip.)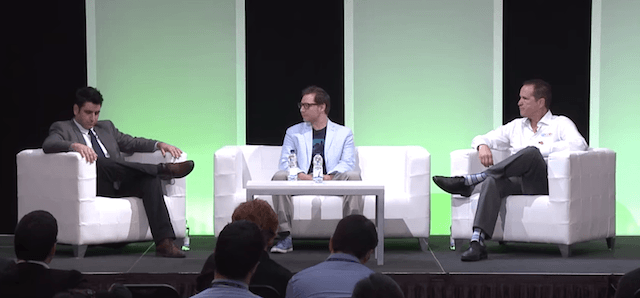 Savings on both ends
Steve Beauregard is not the only Bitcoin entrepreneur to make this type of claim. In an interview with Let's Talk Bitcoin from earlier this year, Kraken CEO Jesse Powell discussed many of the problems associated with accepting credit cards at his previous businesses. When speaking about the actual cost of accepting credit cards, Powell pointed to the same 7% data point.
When you consider the overall cost of doing business with credit card companies, it isn't crazy to think merchants could offer 4% cash back on all purchases made with bitcoin. This still leaves three percentage points of the savings for the merchant, and it would be downright impossible for credit card companies to compete with that kind of rewards system. Perhaps bitcoin's first killer app has finally been found.
Written by Kyle Torpey
You can follow @kyletorpey on Twitter.