NEW YORK (InsideBitcoins) — Mark Levine, a democratic New York City Councilman, is looking to send "a very powerful message" to other municipalities. The Manhattan lawmaker officially introduced a bill to his colleagues today that would allow citizens to pay parking tickets, fines and other city fees with bitcoin.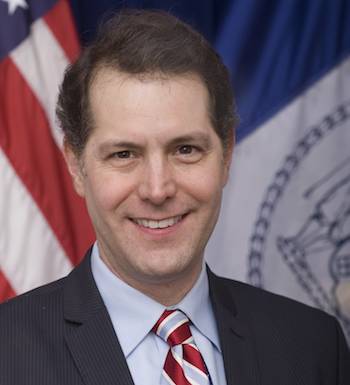 "It [the bill] sends a very powerful message to the whole world that New York City's on the cutting edge of technology and finance," Levine told Inside Bitcoins. "We're competing with other major technological centers in the country and whether its 128 Boston or Silicon Valley, we're gaining on them all. I think for New York City to do this, and to be early and ahead of all other localities in the country would send a really powerful message."
Levine said this bill will save the city money in the end, as New York City currently spends a significant amount on processing credit cards. In parking tickets alone, New York City collects more than $30 billion in revenue. By implementing a way to accept bitcoin, both the city and the taxpayers could benefit from bitcoin's smaller transaction fees.
There's a sense of urgency that's motivating the introduction of the bitcoin-related legislation. With New York's Department of Finance issuing a Request for Information on bitcoin and other mobile payment methods last December and the BitLicense proposal making headway, Levine thinks now if the time to act.
"It's a confluence of events," Levine said. "New York's Department of Financial Services (NYDFS) is, itself, moving pretty quickly to bring more formal regulatory oversight to bitcoin in New York. I feel that that will reassure my colleagues and people in the administration about going forward on this. It's a confluence of events."
Although Levine thinks the NYDFS bitcoin regulatory structure might ease politicians into the idea of approving his proposed bill, he's not promoting the BitLicense's passage.
"I won't say that I endorse it," Levine explained. "I will say though that the interest in this issue and the press [Ben Lawsky's] gotten around it I think has reassured leaders in the administration and my colleagues that this is a safer place to move."
Unexpected fees
According to Section Three of the bill, New York City would be allowed to enter into agreements with "one or more financing agencies" to help them through the process of accepting bitcoin. However, Levine said bitcoin would be exchanged for U.S. dollars once a transaction is complete.
"It'll be a cheaper proposition for the taxpayer."
Under the proposed bill, people paying fines in bitcoin would be subject to the exchange fees imposed by the payment processor. While it's not uncommon for establishments accepting bitcoin to exchange the digital currency immediately into fiat, it is uncommon for merchants to push that fee onto the consumer.
Today I introduced Int 661, which would allow NYers to pay fees and fines with Bitcoin and would make #NYC the first municipality to do so.

— Mark D. Levine (@MarkLevineNYC) February 12, 2015
"They [exchange fees] would be passed on under our bill to the person paying the fine, but it's less than they currently pay if you want to make a credit card payment," Levine explained. "It'll be a cheaper proposition for the taxpayer."
In New York, when paying fines or tickets with a credit card, citizens are charged a "convenience fee" of approximately 3-4%. According to Levine, if citizens were to pay in bitcoin, they would only pay a convenience fee for the miner's cost along with the exchange fee – typically 1%.