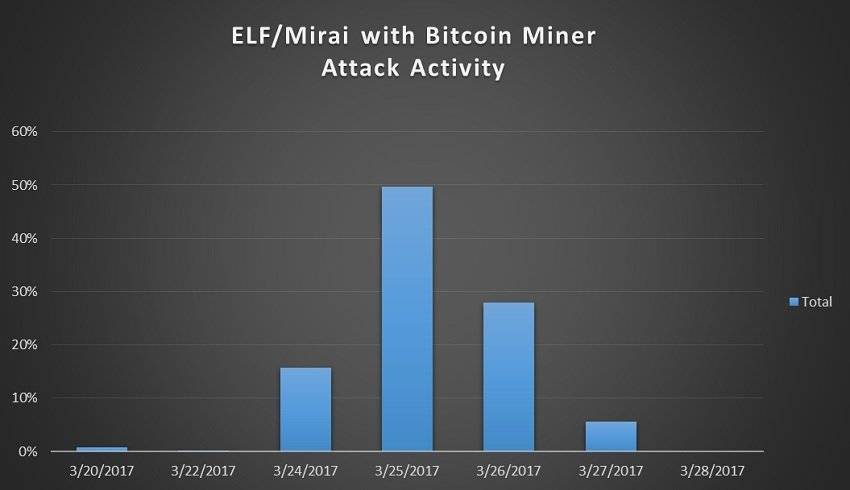 This
story
was shared from
this site
Using bots for Bitcoin mining
Cryptocurrencies would take over transactions in the future. Out of the cryptocurrencies that can be found out there, Bitcoin holds a prominent place. However, Bitcoin mining has become some sort of a challenge. This has tempted engineers to seek the assistance of latest technology for Bitcoin mining. That's where they paid attention towards Internet of Things (IoT). However, the technological development is not just being used for the betterment of Bitcoin mining. It is being used by people for fraudulent activities. IBM recently discovered such an activity.
From a recent study conducted by IBM, the Mirai Internet of Things botnet is being used to install Bitcoin mining code on computers of the victims. With additional investigation, they figured out that the Botnet has been used for some of the bigger DDoS attacks taking place in the recent past. The takedown of the DynDNS is a perfect example for such an attack. According to the experts, this is the biggest attack of its kind yet.
The Mirai Internet of Things Botnet
The Mirai Internet of Things Botnet was discovered back in August 2016. A white hat security group called Malwaremustdie; Mirai was able to figure it out after conducting an extensive project. Mirai has the ability to transform the network devices that run on Linux into controlled zombies or bots, which can be used for DDoS attacks. However, it can only use the devices that are based on out of date versions of Linux. This accumulates a considerable amount of devices, which can be used to power up a large scale attack.
The Mirai IoT botnet was initially created by the team of engineers for two main purposes. These purposes were explained by Dave Mcmillen, who is a Senior Threat Researcher, working for Managed Security Services at IBM.
---