Cryptocurrency prices are experiencing another correction after several days of seeing gains. Most of the coins are currently trading in the red, with the only exceptions among the top 10 list being Binance Coin (BNB) and Stellar (XLM). The situation is similar within the top 100 largest cryptocurrencies by market cap, with the large majority of them currently seeing drops.
Among them is NEM (XEM), currently ranked as the 19th largest coin by market cap. XEM's current market cap is at $401.7 million, while the coin's price is at $0.044682, after a 1.37% drop in the last 24 hours.
However, this is not a particularly new thing for the coin, as it has been seeing drops for over a year now. The largest growth that the coin has seen in the past 12 months was in late April and early May last year, when its price stopped the drop from its all-time high at a support level at $0.24000. After that, the price surged and almost managed to double itself by going up to $0.43500. However, after this, another drop followed, and this time it broke the $0.2400 support.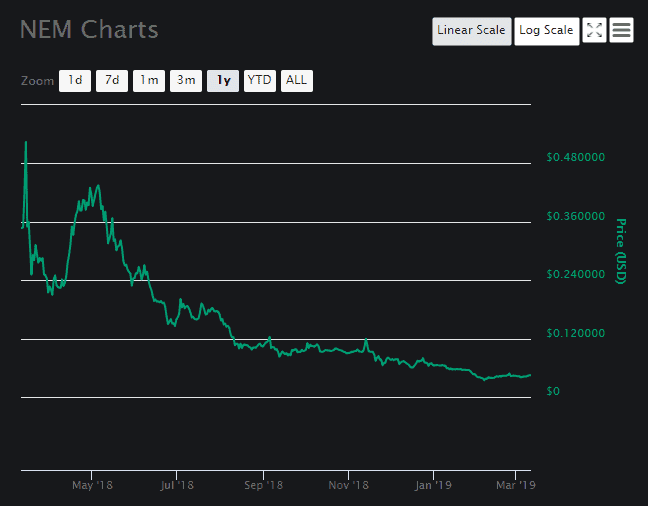 The drop continued until the coin's price was just above $0.1200. It briefly remained between this support and $0.2400, which has become a resistance. However, this support did not hold for long either, and XEM eventually broke it in mid-August. This has been its larger resistance level since then, one which the coin attempted to breach time after time until mid-November.
This was when the BCH hard fork caused the second market crash, and NEM was affected just like any other coin. As a result, its price started spiraling down, breaching one support after another, and turning them into resistances. Its price finally stopped the drop as the bears started showing signs of weakness in late December. XEM's $0.0600 support level managed to stop the coin from dropping any further, and it even found strength for a temporary growth, which led to an attempt to breach the resistance at $0.0800 on December 24th.
However, the attempt was unsuccessful, and the resistance did not give in. XEM price dropped back to $0.0600 support, which is where it was as the year ended.
NEM sinks deeper in 2019
As 2019 came, NEM was managing to balance right above the $0.0600 support level, although it finally broke it on January 10th. On this occasion, the support turned into a resistance, and it seems like NEM changed its mind right after the support broke. It remained close to this new resistance until the end of January when the bearish grip returned.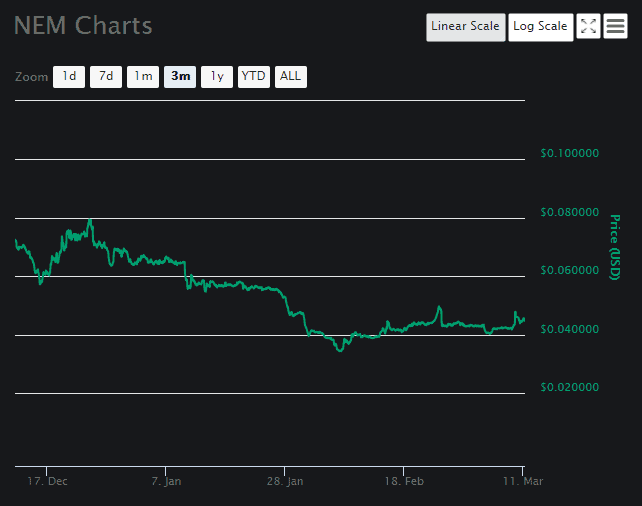 This was when NEM reached its all-time low, at the price of $0.034329. The drop happened on February 6th, after the coin broke the support at $0.0400. It soon surged from this low point, and it breached this newly-formed resistance, sitting right above it ever since.
In the last month, XEM was showing some positive activity, although on a really small scale. Its attempts at growth faced a lot of difficulties, and smaller resistances formed to prevent the coin from going up. However, until February 25th, NEM managed to break several of them, at levels $0.04200, $0.04500, as well as $0.04800. Feb. 25th stopped its growth and brought it down to the support at $0.04200, which is where the coin spent the rest of February — apart from a sharp drop that was soon nullified by another small surge — and a portion of March.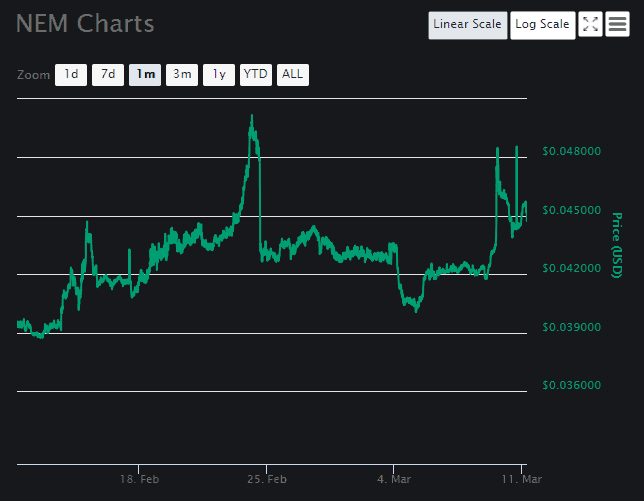 During this last weekend, on March 9th and 10th, the coin was once again surging sharply, trying to breach $0.04800 resistance on both days. However, both attempts were unsuccessful, and the coin is currently recovering at its support at $0.04500.
In following days, XEM will likely make a few more attempts at breaching this major resistance, unless the bearish trend continues, in which case further drops are possible as well. The stronger the bearish grip, the further the drop. In other words, it is equally possible that NEM will see new growth or a new all-time low in the following days.