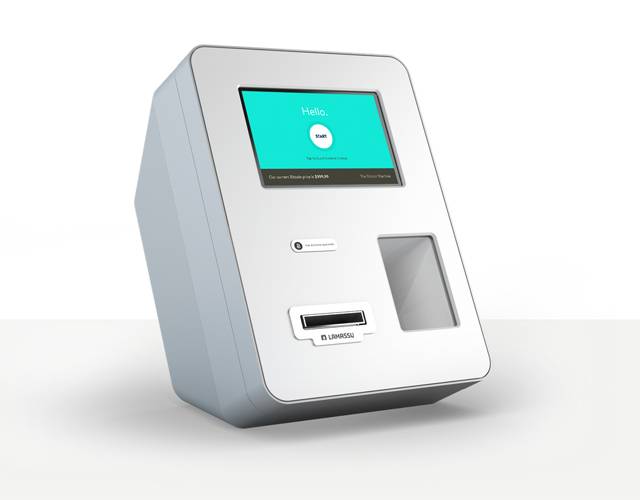 NEW YORK (InsideBitcoins) — New York City got its first Bitcoin ATM today with an installation at FLAT 128, a "luxury lifestyle store" in the West Village. The Lamassu-manufactured machine, which costs $6,500 and can take up to 8 weeks for delivery, while being called a ATM, is actually a BTM (Bitcoin Teller Machine).
"It is different from an ATM in that you put cash in and it performs a currency conversion and sends Bitcoin to your phone. You cannot put in a debit card or receive cash out of the machine," Matt Russell, head of marketing at PYC Bitcoin, the operator of the machine, told Inside Bitcoins.
Zach Harvey, the founder of Lamassu, told the New York Post that they plan to release software in the future that would allow for the exchange of cryptocurrency to cash.
PYC Bitcoin and Liz Dubois, founder of FLAT128, first started working together only about a month ago to bring the machine into her shop, Russell told InsideBitcoins, after he helped get her set up to accept bitcoin. "After I joined PYC Bitcoin, it made sense to bring a BTM to her shop so customers that weren't aware could easily obtain it and immediately spend it," Russell said.
To help encourage people to use bitcoin, FLAT128 is offering 10% off on all purchases that are made with bitcoin. Therefore, it's easy for a user to go in with cash, see the BTM, and save money on the purchase.
Dubois has only had a few transactions with bitcoin since first accepting it last month, but Russell said, "We are confident that having the BTM in her shop will not only increase the awareness of Bitcoin, but also help boost foot traffic and sales for FLAT128."
But the goal is also for Dubois to increase awareness in the international community. Russell explained that because FLAT128 specializes in goods from the UK, accepting bitcoin was a natural fit.
"I had a conversation with her on cutting down fees associated with processing payments made with credit cards," Russell added. Many businesses are turning to bitcoin for this same reason.
For the BTM, though, there is a fee attached to it. "We apply a small fee above the current market value of Bitcoin," Russell said. "It [the amount] will vary. We are testing the reaction to our machine now and can tweak it based on customer feedback."
It seems that FLAT128 has beaten out bubble tea shop Just Sweet in the East Village, who earlier this year was reported to be in line for the first New York City ATM.
Written by Jacob Cohen Donnelly
---