Maker (MKR) has been among the largest coins in the crypto market for a while now, and while it is not among the top ten largest cryptocurrencies by market cap, it is certainly large enough to claim the 16th spot on the list. Considering the fact that there are over 2,100 active cryptos on the market at the moment, this is quite an achievement.
Maker during the crypto winter
Maker's market cap currently sits at $657.44 million, while the coin has a rather large price, currently being at $657.44. It is no coincidence that the coin's market cap is so similar to its price, and the reason behind it is that Maker has a limited supply of exactly 1 million MKR coins.
Another thing that those looking to buy Maker should know is that the coin is on the rise, and it has been for most of 2019 so far. This allowed it to reach the heights it experienced before the November 2018 market crash.
Before that, Maker saw drops throughout 2018, as did most other cryptocurrencies. The year was very difficult and not crypto-friendly due to the bearish market which made the so-called 'crypto winter' last for over a year.
As a result, Maker, which is a relatively new coin which was launched shortly before cryptos hit their all-time highs, surged as soon as it was launched. Its price went from $0 in August 2017 to $1,617 in January 2018, only to start dropping after that. The drops led to the breaking of multiple large supports, including the ones at $1,600, $1,200, and even $800, which happened in mid-March 2018.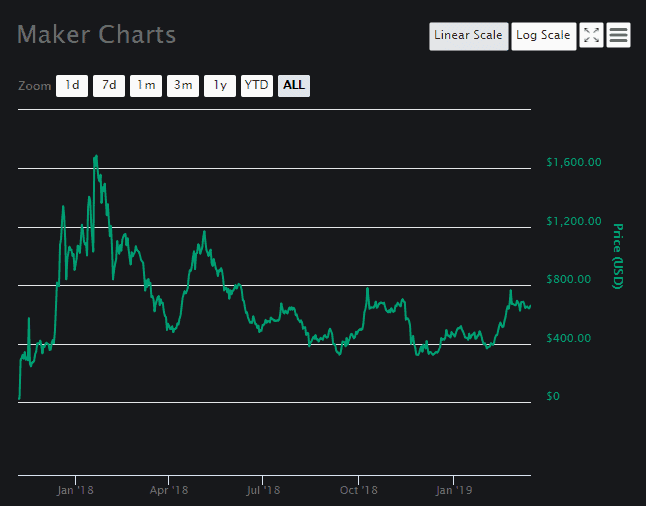 After that, the coin reached its strongest support yet, at $400. In early May, the coin left the support far below it, surging once again towards $1,200 mark, and almost reaching it. However, the
bull run
ended before it could do it, and the coin started dropping once more. While the $800 support level softened the fall, MKR was soon back where it started — just above $400.
Many suspected that this was Maker's bottom, and they were mostly right, with the coin breaking this support level only on a handful of occasions, but never for a long period, and it never went far below this level. In October 2018, MKR made another attempt at growth, once again reaching the resistance level at $800, but it did not manage to breach it. Instead, it spent a month — from mid-October to mid-November — around a minor support level at $650.
However, that is when the second market crash came after BCH hard fork led to hash wars. Maker dropped down to $400, leading to one of the instances when it broke this support and turned it into a resistance for a whole month. But, as mentioned, the coin never strayed far from it, and it managed to make this resistance into a support once again on December 20th.
Maker grows in 2019
As 2018 ended and 2019 arrived, Maker started gaining new momentum, making several attempts at growth after it felt that the bear market is losing strength. Its price mostly fluctuated between $400 and $500 during January. However, bears increased their grip around January 28th, forcing Maker to once again drop down to $400, and briefly drop below it.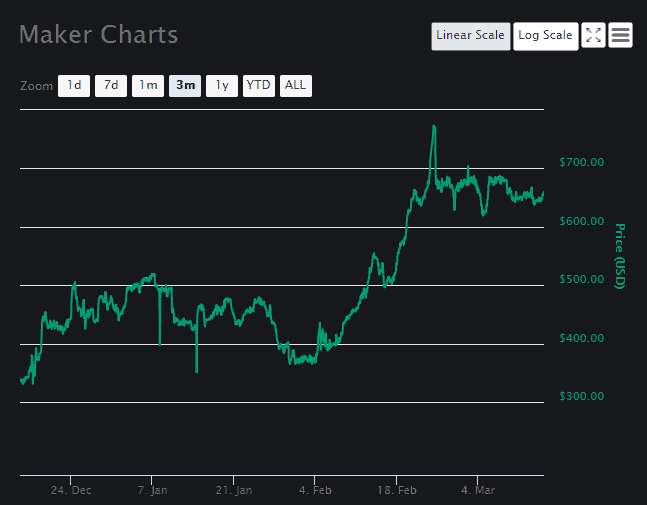 The coin quickly returned, however, as a series of bull runs in February started arriving, and MKR took this opportunity to grow seriously, reaching the old prices, previously seen before the November market crash. The coin broke a resistance at $500 with no issues, as well as the one at $600. It even managed to break the one at $700 and come close to reaching the next major level at $800. However, the sudden withdrawal of bulls brought it back down, and the coin has been fluctuating between $600 and $700 ever since.
In the following days, the price of the coin will surely take any opportunity at the growth that presents itself. This is why investors looking to buy Maker should consider doing it now, while the price is still relatively low. The coin's willingness to grow will undoubtedly drive it further up in the following weeks and months unless the bear market suddenly returns at full strength, which is not likely to happen at this point.