Last Updated on
The Lighting Network's (LN) recent update has been tweeted about left and right. With this interest, a Lightning Network compatible app called Tippin.me is seeing success alongside it.
Bringing In The People
Created only a couple of months ago, founder Sergio Abril says he developed Tippin for users to take advantage of LN micropayments without having to set up a node. In fact, Abril has been bringing in more than 200 users every day, with a total of 14,100 members as of yesterday.
"Tippin.me makes Lightning Network easier," reads the website. It does so "by giving you a simple web custodial wallet to receive and manage Bitcoins through Lightning Network. Join now to start receiving tips and micro-payments right away, just sharing a link."
While Tippin is still in beta, future plans include more functionality within the Bitcoin wallet, merchant integration, and more. Of course, the project has to take off before this can happen.
The reason this app has taken off on Twitter is because its use case is for this social media app. Users simply install the Tippin extension via the Firefox or Chrome web browsers. From there, they can register their Twitter account within the network and log in. Tips are made via QR codes, which users access via an integrated tip button within the Twitter browser. Of course, you need a Bitcoin Lightning wallet as well, and to buy some Bitcoin to tip with. You can then transfer your tips into a wallet from the app dashboard.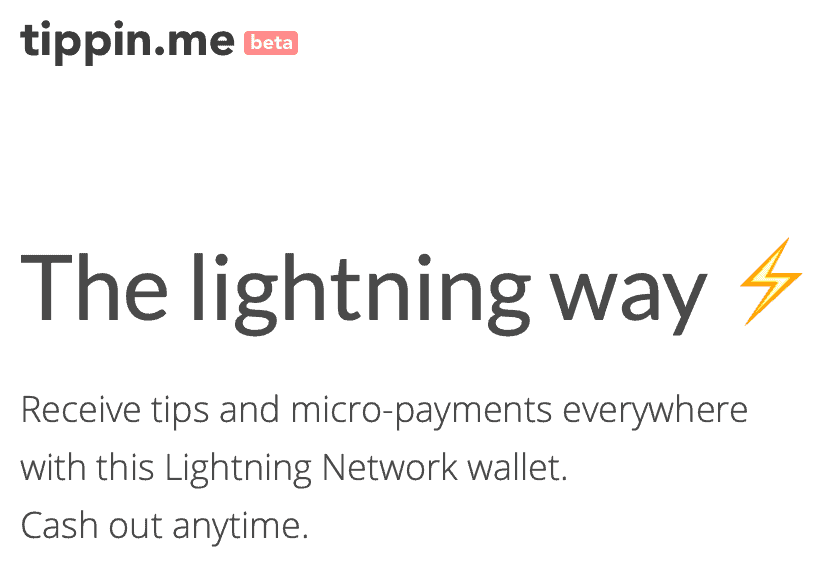 Sharing The Love
Bitcoin Magazine spoke to Abril, who shared some insight on the app development process:
"I realized that micro payments could be huge with Lightning Network, but there were still some obstacles that made tipping hard. You needed to be online to get a tip, you needed to generate an invoice every time. It needed to be easier, it needed to be way simpler, and certainly something more appealing. And that's how Tippin started."
Users have made 16,500 tips and created over 195,000 invoices since the application was launched. Also, Jack Dorsey, CEO of Twitter brought in 35,000 people via his Tweet regarding Tippin.
"I hope to have a viable gold product within weeks … The truth is that the Lightning Network is still in Beta as well," concludes Abril. "That's one of the reasons I decided to hold on and stay in this phase (If Lightning Network can fail, so [can] Tippin, which is built on top of Lightning Network… So I didn't want to risk). Luckily, LN (Lightning Network) is maturing very fast, and the system I'm building is really solid already, so things could change soon!"