JP Morgan stock price is once again seeing a correction barely held by its top support levels. The JPM price has had several larger price drops in 2019 already, following some even larger price drops in 2018, and even in the second half of December 2018.
On the occasion, JP Morgan's stock price sank to as little as $92, breaking one support after another in almost a single week. However, this support level managed to hold it, and the price even surged for one last time before the year ended, managing to break several resistances, but finally being stopped by the one at $98. Finally, 2018 ended with JPM price being at $97.62.
JPM Price grows back up
In 2019, however, JPM price started seeing more action, and within those first few days, the stock price breached the $98 resistance level, only to drop down immediately and brake the newly-formed support on the same level. However, that was not the end of it either, as the price broke this level one final time, managing to surge above $100 in the process.
While the $100 resistance was a tough one, JPM managed to break it and remain close near it for the first half of January, finally managing to start growing on January 11th. However, the growth was far from a sharp surge, and it took the JPM price several days until it breached the next resistance level at $102.
Breaching this level slowed down the price growth, but it did not stop it, and the stock price even managed to go past $104 resistance. It also managed to remain above this level for several days, before seeing the first correction. This one was a small one, and it brought the stock price close to $102 level. This was followed by another steady growth which allowed JPM price to break through the $104 level barrier once again on January 29th.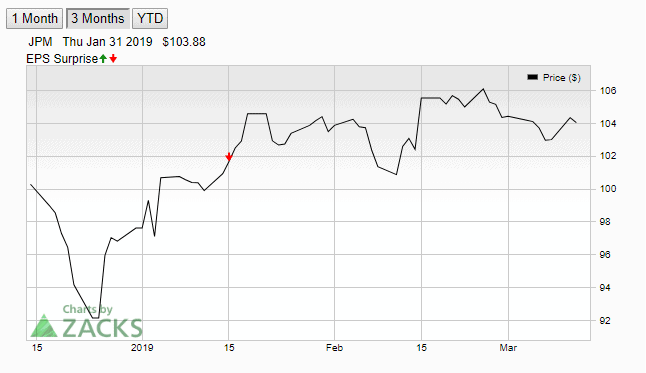 For about a week, the price remained around $104, spending an equal amount of time above the mark and below it. However, that is when another, stronger correction hit, around February 5th, taking the price of JP Morgan stock past several supports, back to $101. This was followed by just as sharp a surge, which allowed JPM price to not only get back to the levels it has seen prior to the loss but to even exceed them.
The stock price continued to grow until stopped by a strong resistance level at $106, which it reached on February 15th. The resistance held almost until the end of February, although the stock price started losing value again on February 25th, albeit slowly. The drop was stopped by a $104 support on February 27th, and the support held until March 5th.
This was when yet another drop took place, taking the JPM price below $104, and seeing it return above this level only a few days later. At the time of writing, JP Morgan's stock price is just above this support, currently being at $104.39. Meanwhile, the bank's market cap is at $357.06 billion.
In the future, it can be expected that the price might keep following its pattern, with slight drops, followed by stronger surges, followed by short periods of stability. While there will be corrections and dormant periods, it is likely that JPM price will continue to grow slowly over the year, unless some disruptive event brings the price down.