At iBuildApp Network, we're gunning for a better way to build and share mobile apps. Mobile app developers, along with every internet user, should own their own data and not have to worry about it being controlled by middlemen.
With the help of browsers and the Ethereum Network, mobile app creation will become completely decentralized and placed in the hands of the users. A more open internet is coming, so iBuildApp Networkis looking to join the charge for an environment where privacy matters and centralized controls are no longer existent.
That's why we're pleased to announce the iBuildApp Network, the next step our organization is taking in order to help in the movement towards mobile app development without restrictions. In short, a network like this allows the users to govern themselves, with no interference from anyone outside of the network trying to profit.
The iBuildapp token (IBA) distribution is being completed as two different events:
The Token Presale — The event begins August 31 and goes for only 3 weeks.
The Token Sale — This starts September 25 and continues for 21 days (or within 48 hours of the first ceiling of $4 Million being reached.
Although the regular Token Sale gives users more time to acquire tokens, the Presale has specific advantages when it comes to getting the most for your money.
All Presale buyers receive a 50% discount on tokens purchased during this period. The max cap for the token presale is set at $3.5 million.
How Does The iBuildApp Network Function?
The iBuildApp Network is a place where you're one of the following roles:
● Developer
● Publisher
● Advertiser
● User
iBuildapp Network partnered with iBuildApp to bring their powerful do-it-yourself mobile app development system to blockchain community. It's so easy that even a complete beginner can generate an app that looks professional. The app builder becomes part of the iBuildApp Network as the area where developers connect their dApps with mobile. The one catch is that you must have JavaScript knowledge to connect with the network.
Next, the iBuildApp Market lets developers sell their content (anything from mobile apps to audio or video) to businesses and regular people around the world.
Then, the iBuildApp adNetwork comes into play as a way to clear the way for better mobile app monetization.
The iBuildApp Market is where much of the action occurs, seeing as how it's a decentralized environment built on Ethereum.
Overall, the tools on the iBuildApp Network have what developers need to construct, publish and monetize their apps in a more developer-friendly environment.
Where Do the IBA Tokens Come In?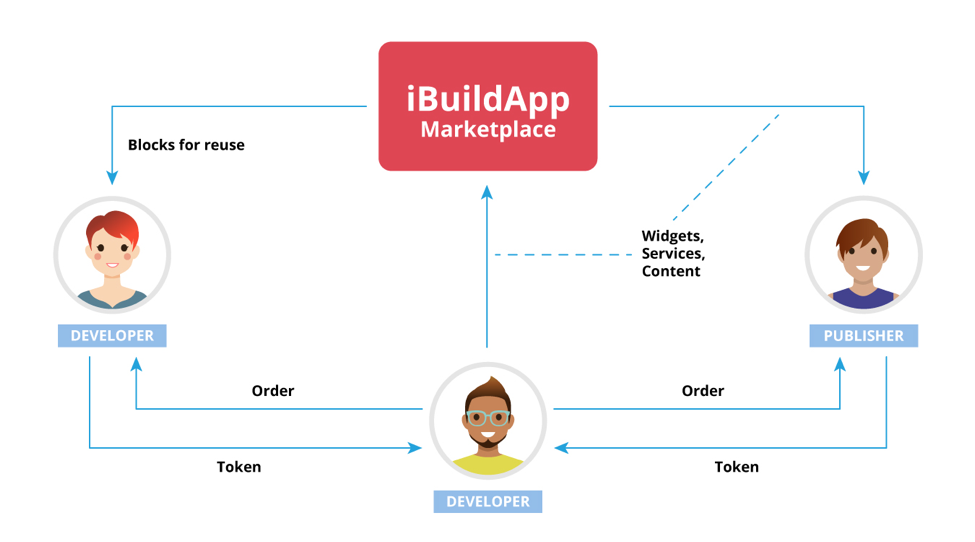 When buying tokens during the iBuildApp presale or regular sale, you stock up on currency that's highly valuable in the iBuildApp marketplace and adNetwork. Developers receive tokens as payment when they release new apps, plugins or widgets.
Developers can choose between one-time fees or subscriptions, and licensing payments can be established for things like service usage and bandwidth usage.
Both app publishers and developers get their own profiles with IBA wallets to accept and send payments.
And What About the iBuildApp adNetwork?
Another aspect of the iBuildApp network involves monetization. In the past, advertising on sites and mobile apps brought along fraud and a lack of security.
The iBuildApp adNetwork strives to eliminate all of that by creating a decentralized ecosystem to connect businesses directly with customers.
Customers in the network have full control over the advertising content they want to see. In addition, the advertising opportunities are all verified in the network, making it more profitable for advertisers and secure for the app sellers.
In short, everyone gets the verifications they need:
● Consumers verify which ads they'd like to see.
● App publishers verify that their apps aren't being used for ads without their consent.
● Advertisers verify that there money is going into reputable traffic sources with real customers who want to see their ads.
Download the iBuildApp Network Whitepaper Draft
This whitepaper is an ongoing process with ideas changing regularly. It's not a technical whitepaper, but rather a place to compile research and bring a better understanding of the iBuildapp Network to the masses.
We are extremely grateful for the support iBuildapp continues to receive as it moves forward with the iBuildApp Network. We're excited to reward those who decide to buy during the presale. Not to mention, it's rather thrilling as we move forward to a more decentralized, efficient version of the mobile app development process.