Intel Corporation's stock price is currently performing rather well, being on its way to break one of its largest resistance levels. At the time of writing, INTC price is approaching the $55 mark, making the price rather close to its highest point in the last 12 months. The highest that Intel's stock price had been in the last year was $57, which the price reached in June 2018.
However, this level proved to be a major resistance which INTC price did not manage to break. Instead, it experienced multiple drops after reaching this mark, and while its supports were able to soften the drop and briefly provide a series of minor recoveries, the price ultimately kept dropping further and further down.

It finally reached the lowest point in the past 12 months in late October 2018, being barely above $43. However, it did not remain there for long, and by the start of November, INTC price surged back up, mostly trapped between the price of $47 and $49 for the entirety of November.
It then had another sharp drop in late December, when it almost reached a new lowest price, although another recovery prevented it from doing so. This recovery brought it to the resistance level at $47 once again, although the INTC price did not breach this resistance again in 2018.
Intel stock price on the rise in 2019
As soon as 2019 started, on the very first day of the year, Intel stock price sank once more, with the bearish wave once again trying to take it down. However, the price managed to stop the drop even earlier than before, before even reaching the $44 mark. The drop was sharp, but it was quickly turned back into a surge, that not only brought the stock price back to $47 resistance, but it even managed to breach this level and turn it into strong support.
Now that INTC price found steady support to act as a bottom, it needed to breach the next big resistance, at $49. It struggled with this for most of January, making several attempts to breach this level. It even managed to form yet another support at $48, although the $49 resistance would not fall. One attempt to breach it in the second half of January caused a strong correction.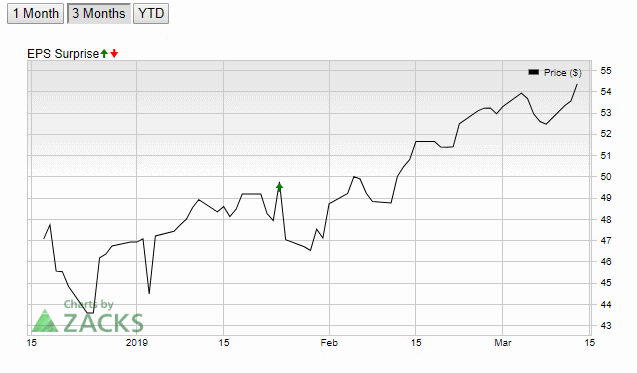 The correction broke the $48 support, and even the one at $47, albeit very briefly and the price did not drop particularly low. However, by the end of January, Intel stock price was back at $49, making its last attempt to breach this level, and actually succeeding in doing it.
Then came February, where INTC price mostly made significant progress on its way up, sometimes experiencing slight corrections. However, they never lasted for long, and INTC would be back to attempts at growth as soon as possible. The stock price made a lot of progress in February, as it managed to breach multiple resistance levels, such as $50, $51, $52, and even $53. The growth continued gradually, finally reaching another major resistance at $54.
The INTC price experienced a slight correction upon reaching this level for the first time in early March, although it managed to breach it during its second attempt on March 12th. At the time of writing, INTC is experiencing another of its smaller corrections, currently being valued at $53.44. However, this is undoubtedly only a temporary drop, and the company's stock price will continue its surge further up, potentially breaching even more resistances, such as the one at $57. That is the biggest one yet, and doing so will allow INTC to make a new all-time high.