If you're an insider within the cryptocurrency industry, then the news of the case between Bitfinex and the Office of New York's Attorney General (NYAG) should be boring to you by now. There's an update every week and the case gets interesting every day. In a statement sent to the New York Supreme Court, Letitia James, New York's Attorney General, outlined her belief that the company transferred up to from its Tether (USDT) $850 million reserves to cover up the fact that it had lost pretty much the same amount in an unreported hack or through the carelessness of Crypto Capital, it's Panama-based payment processor.
Bitfinex immediately denied the allegations, and with that denial came a wave of filings and rebuttals that have led us all to this point. A case with an entity such as this has been met with uncertainty as regards whether any of the companies in question will be able to pull through and weather the storm.
However, it seems that they're both fine.
USDT: Rising market cap and increased adoption
Bitfinex and Tether (USDT) are actually doing pretty well despite their scuffle with the regulators. The currency has also enjoyed a semblance of growth since the turn of the year. So far, Tether has managed to maintain its position as the 8th largest cryptocurrency in the world and the biggest stablecoin.
Despite the emergence of other stablecoins like Circle's USDC and Paxos Coin, Tether still controls a lion share of the market. A recent study from crypto research firm Diar revealed that Tether's trading volumes this year has exceeded $1.3 trillion, which is $200 million than it traded in 2018.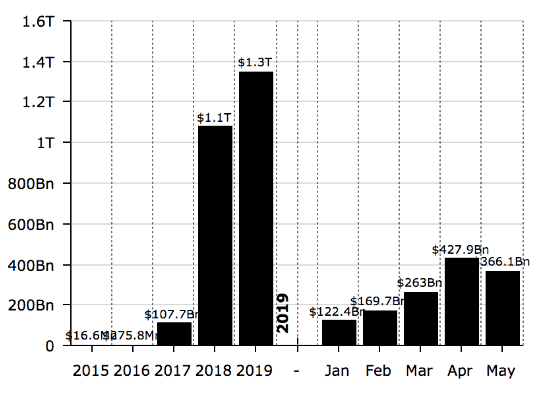 USDT tokens have seen increased adoption, with the latest being their integration into the TRON blockchain. Its daily trading volumes have been on the rise as well, increasing from $12 billion to over $21 billion as at press time. If that wasn't proof enough, a recent report from British blockchain data analysis firm CryptoCompare revealed that USDT remains the most popular stablecoin by a large mile. The report revealed that for April 2019, the BTC-USDT trading pair amounted for a staggering 97.9 percent of Bitcoin-to-stablecoin trading, while BTC-USDT trading accounted for 78.8 percent of total trading volume across both fiat and stablecoin for the month.
Bitfinex Volumes are up 114%
Bitfinex is also cruising despite the controversy with NY regulators. The CryptoCompare report revealed that Bitfinex is the third largest fiat-to-crypto exchange, recording a total monthly volume of $6.7 billion. In a market with names such as Kraken and Coinbase, his is surely no small feat. The Dollar purchase price on the exchange is also higher than those of other exchanges, meaning that the exchange's trading ecosystem is filled with traders, and such a competitive environment has led to a Dollar surge.
Whether this is related to the exchange's decision to open professional trading to everyone or not, it can only mean one thing; things are looking up for Bitfinex, and even a case from the ONYAG isn't enough to stop the exchange's hot streak.