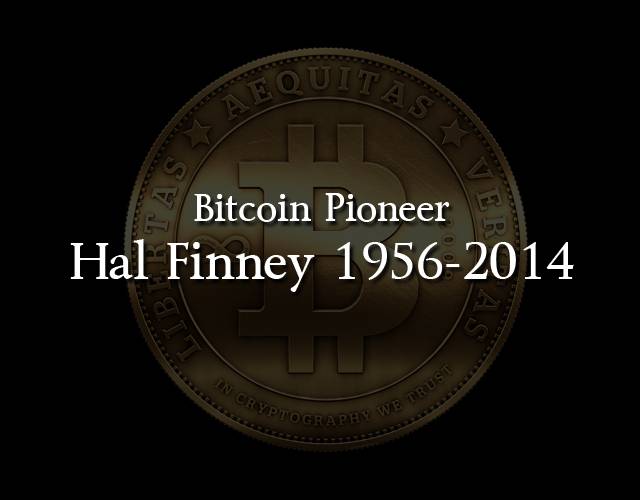 NEW YORK (InsideBitcoins) — With Bitcoin only 6 years old it's sometimes hard to believe that it has already created luminaries and the crypto currency world lost one of its greats today when Hal Finney lost his battle with Amyotrophic Lateral Sclerosis (ALS), a degenerative neurological condition.
Though Bitcoin was conceptualised in 2008 by Satoshi Nakamoto, a mysterious figure whose identity remains unknown, it was Hal Finney who took the plunge into the world of cryptocurrency by becoming the recipient of the world's very first bitcoin in early 2009.
Finney's long career began during a hectic period in the development of wider applications of computer technology, graduating from California Institute of Technology in 1979 and quickly gaining a reputation as the lead programmer of several classic videogames during what has become known as the 'Atari Age' of programming.
But it was his later work in cryptography which allowed him to truly make his mark in the world. Well known on the Cypherpunks list serve, a forum for those who see cryptography as an agency of social and political change, his list of achievements included the running of two remailers —  a technology that allows you to send email without revealing your identity, and creation of the world's first reusable proof of work system–  which helps prevent denial of service attacks and spam.
For many, his involvement in the embryonic stages of bitcoin demonstrated Finney's unparalleled, almost prescient instinct for the potential non linear uses of cryptography and it was this home grown insight that allowed him to perceive the potential of Bitcoin before anyone else in the world.
Where other members of the cryptography community prevaricated, Finney acted, not only receiving the world's first bitcoin but later becoming actively involved in the process of bitcoin mining. Bitcoins that were worth pennies at the time Finney was mining them eventually soared to the $100 mark — allowing him to cash them in in order to pay for medical bills. Speculation Finney and  Satoshi Nakamoto were in fact one and the same has long been a feature of gossip and intense debate amongst those in the know, but since no hard evidence exists, Finney, ever cryptic, has evidently decided to take any such secrets to the grave with him.
After being admitted to hospital in Arizona on Tuesday his ventilator was removed and he was pronounced dead at 9 a.m. local time on 28 August. His death comes at a time where the future of Bitcoin faces a confused barrage of regulatory restriction all over the world and both his insight and wisdom will be sorely missed by the entire cyrptocurrency community.
Perhaps better known for the programs he created than for the name he went by, at just 58 years old at the time of his death, Finney's legacy is nevertheless assured; a long proponent of extended life programs Finney's body has been cryo-preserved in the hopes that one day he will return and bring with him a vision of a future where the reigns of financial capital rests in the hands of people and not governments.
Written by Ian Jackson
---