Last Updated on
LONDON (InsideBitcoins) — With Bitcoin's fate in Europe remaining uncertain one British company, Netagio, a digital currency broker that has been at the forefront of innovation since its inception in 2013, seems to be moving full steam ahead in its embracing of what it sees as one of the 21st century's most interesting and exciting investment opportunities. Last month the company announced the U.K.'s first, and for that matter, only bitcoin exchange which allows users to trade gold, GBP and bitcoins on a single peer to peer network.
Inside Bitcoins spoke to Simon Hamblin, the CEO of Netagio, and asked him about his vision for the company's and Bitcoin's future.
Before assuming the top job at Netagio, Hamblin helped deliver the highly successful technology platform behind ASOS.com, the internationally renowned fashion website.
Seeking a new challenge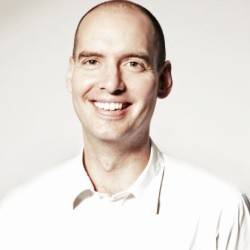 "At ASOS, as you can imagine, the technology was incredibly important and I was very proud to have been involved throughout one of the organisation's most exciting periods of growth, but after seven and a half years I needed a new challenge," Hamblin said.
"I decided to see if I could find another smaller, fast growth company.  I didn't have to look too far, because that's when Gold Money found me and I was very interested in getting involved with financial products sold and distributed using technology platforms.  The Gold Money founders were also very interested in digital currency products, which couldn't be more technologically-based, and the rest — as they say — is history.  In April this year, Gold Money spun Netagio out to stand on its own two feet as a separate entity and in July we launched the gold, Bitcoin, Sterling exchange."
The Netagio vision certainly is bold. Not only do they provide a single trading platform but they also offer secure physical storage for the gold itself. Now trading in 114 countries, this all-in-one strategy is what Hamblin thinks will drive the success of his company.
"My vision for Netagio is to become the Number 1 exchange, where retail and institutional investors can buy, sell, use, and store and invest in Bitcoins and to offer the best platform on which to trade one of the world's oldest asset classes with one of the newest."
By which he means gold and Bitcoin respectively and he remains unequivocal over the advantages of offering both within the structure of the exchange.
A single trading platform for gold and bitcoin
"It does depend on your investment strategy but there are many inherent advantages," he added. "Firstly, the 'Bitcoin' entry level is very attractive on Netagio.  We're seeing a great deal of interest from customers and investors who are keen to get started, to understand more about how Bitcoins work and to get involved, confident that their investments will be secure but also that they have the potential to offset their risk against another asset quickly.  Without incurring lots of transaction fees, customers can easily move between assets because it's all done on a single platform from a single account.   Also, as a gold investor, our transaction fees are very low, so similar advantages apply if you want to invest in gold and then trade some of the value off against Bitcoin or even sell up for GBP, again confident that the assets are fully secured. "
Netagio provides offline storage of bitcoin which is audited to ISAEA standards by an independent accounting firm.
"When we launched Netagio, we looked at some of the more progressive alternative exchange business models.  Many of the newer, alternative equities exchanges have been successful in building market share and liquidity by introducing a 'maker-taker' pricing model.  Overall, our pricing model is based on a transaction fee of 0.5% on the value of the transaction.   So if you are buying Bitcoins or gold you are 'taking' liquidity from the order book and our fees are 0.5%.   In addition, we appreciate the value of rewarding investors and customers who are putting up liquidity or 'making' markets (i.e. selling Bitcoins and/or gold on Netagio's order books), and as such we reward them by rebating 0.1% per transaction."
Placing a priority on security
Hamblin is adamant about placing a priority on security.
"Security underpins everything we stand for and is integral to the service we offer customers and investors, so much so that we don't even charge for it.   If you hold Bitcoins with Netagio, we hold the largest possible proportion offline in our cold storage facility, ensuring that we have sufficient funds online to meet your transaction requirements.  These Bitcoins are stored in multiple secure locations around Europe and we operate a fully encrypted backup facility."
The security of the precious metal is no different. "All our customer's gold is stored in highly secure vaults with comprehensive insurance in place," Hamblin adds.
Aiming to provide secure investments and favourable returns would certainly seem like a winning ticket. And yet even though the future of Bitcoin in Europe is enduring a period of flux, Hamblin remains upbeat about the rising storm on the horizon.
More of the Inside Bitcoins exclusive interview with Hamblin tomorrow.
Ian Jackson is an Inside Bitcoins correspondent based in the U.K.