NEW YORK (InsideBitcoins) — What makes bitcoin so innovative and compelling is also what could bring the entire network to its knees. Mining bitcoin is the only way for new bitcoin to be added to the network, but this mining process also enables transactions to be fulfilled. The problem: centralization. There are only a handful of major players, with the rest of bitcoin being mined by tiny operations. However, as bitcoin becomes more difficult to mine, those smaller operations are likely to disappear with the big miners continuing on.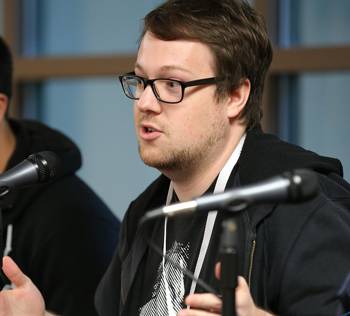 "Centralization of mining is a really big issue and makes bitcoin much easier to attack as a network and will become much more a problem when the next halving occurs in 2016 for bit rewards," Jackson Palmer, dogecoin creator, said Tuesday at the Future of Money & Technology Summit in San Francisco. "The problem is that, as your profitability layer becomes less and less profitable, so does the incentive to secure the network."
During the event, Palmer explained that dogecoin, the fifth-largest cryptocurrency by market capitalization, had a similar problem that was mitigated by basing the profitability of dogecoin on litecoin by using a technique called merge mining: when a user mines for a litecoin, they are also mining for a dogecoin.
"As long as litecoin mining remains profitabile, we will benefit from their hash rate, so the network stays secure. If that goes away, we're in the same situation as bitcoin."
What happens when centralization occurs?
The magic number is 51%. If any one entity controls 51% of the entire mining ecosystem, they will have an effective monopoly on the industry.
"These people are not securing the network out of the kindness of their heart, they're there to make money."
"If one of those people [big mining groups] disappears and you take away a quarter of the hash power from the network, it really just takes collusion between two of them — or one of them — to successfully undermine the entire network," Palmer added.
[Read Also: Bitcoin Core Developer Greg Maxwell Has 'Ethical Concerns' with Altcoins]
While this might not occur, giving that much power to a small group of individuals is dangerous for the network. One of the things they could do is say, "We will only verify our own transactions." Were that to occur, it would effectively destroy the bitcoin network.
A doomsday scenario, tempered by an optimistic outlook
"These people are not securing the network out of the kindness of their heart, they're there to make money," Palmer said.
While this isn't likely to happen in the near-term, when the next bitcoin halving occurs at the end of 2016, the amount of bitcoin mined per block will go from 25 to 12.5 per block.
"As it becomes more and more expensive [to mine], these people who have these million-dollar mining funds — as soon as it becomes unprofitable, will move to something else."
However, Palmer wasn't all doomsday. He gave credit to the bitcoin ecosystem and the potential evolution of the network. One option he suggested was moving away from proof-of-work as a means of transaction verification. While Palmer spent most of the time talking about this, the entire panel optimistically agreed that the network would be able to handle problems iteratively as they occurred.