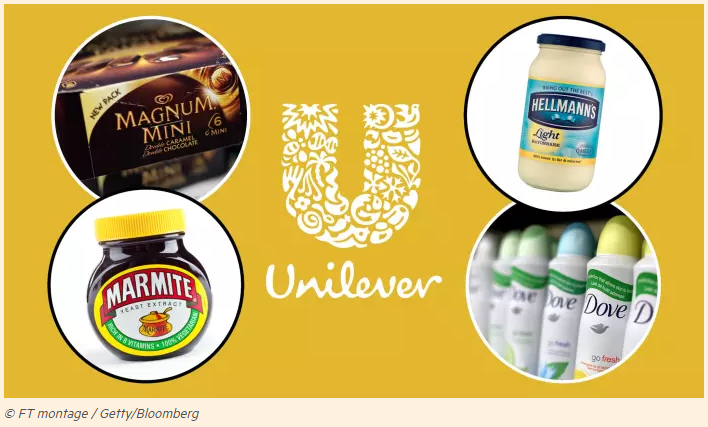 This
story
was shared from
this site
Unilever bids to show its resilience. FT Opening Quote, with commentary by Matthew Vincent, is your early Square Mile briefing. You can sign up for the full newsletter here.
Unilever – or, to use its new name, Unileverageduptobuybacksharesandpacifyshortterminvestors – had already indicated its new strategy ahead of today's trading update. And, as its new name suggests, it basically involves doing what a private equity bidder might do, in order to deter a private equity bidder. But performing well in difficult markets would not do any harm, either. And that is what the group seems to have done in the last quarter.
This morning, Unilever warned that market conditions for consumer goods companies remain challenging, with sales volumes – generally – turning negative and growth down to around 2 per cent. Its markets in Europe and North America declined in the first quarter, while Brazil was still adversely affected by its economic crisis.
Against this, Unileveraged managed underlying sales growth of 2.9 per cent, against a strong comparator last year. Its refreshment, home care and personal care divisions grew ahead of their respective markets, while sales in foods were flat. Total revenue grew by 6.1 per cent to €13.3bn boosted by a positive currency impact of 2.4 per cent. Excluding the spreads business, which Unilveraged plans to sell, underlying sales growth was 3.4 per cent with volumes up 0.3 per cent.
In comparison, revenue growth in the first half of last year was much stronger, at 4.7 per cent.
Chief executive Paul Polman said:
The first quarter shows growth once more ahead of our markets. This reflects our continued investment in both innovations and brand support, and reconfirms the strength of our long term sustainable compounding growth model. The change programme 'Connected for Growth' which we started implementing in the autumn
---