USDCHF Price Analysis – 18th April
USDCHF has enjoyed a month of rising price action but now faces strong resistance. It may be time for a cool-off period, with a retrace back to 0.095 likely if resistance cannot be broken through in the long-term. While we are seeing some positive price movement, the average volume level cannot guarantee a continuation of the bullish movement upwards.
USD/CHF Market
Key Levels:
Support levels: 0.99, 0.97, 0.95
Resistance levels: 1.015, 1.017, 1.025
USDCHF short-term trend: Edging Bullish
As USDCHF is tackling the first 1.03 resistance, we may see some short-term positive price movement until the 1.015 resistance is touched. Previously USDCHF faced trouble breaking through the 1.025 resistance zone in November 2018 and March 2019 – but it has currently surpassed that level which brings short-term confidence. If you would like to play it safe, my Forex signal recommendation would be to set short/sell orders at the 1.015 level – it may prove risky to take a long position at this time due to the amount of resistance levels. In contrast, if the 1.0175 region was to be broken, a long position could be seen as profitable as the 1.025 level would be the next target.

USDCHF 4hr chart
USDCHF long-term trend: Bearish
USDCHF is approaching a very big resistance level at 1.015 which will be difficult to break through. While we may experience a short-term increase in price, the lack of volume indicates that the price may first retrace to the 0.99 diagonal support level – and possibly falling further. My Forex signal recommendation would be to scatter several short positions from the 1.035-1.05 level with a stop loss at 1.018. Remember, the higher the leverage you use, the more risk you are taking – so if you are a beginner keep to low leverage.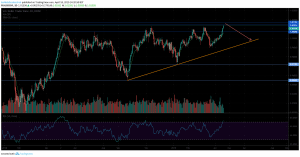 USDCHF 1d chart