Ethereum price has been on a sharp rise recently, starting on February 17th after a week of maintaining a fragile balance. During the past week, the ETH price attempted to breach the $120 mark several times, although most of them resulted in a correction as soon as the breach was made.
At the time of writing, the ETH price is at $148.05. However, the coin still struggles to fully breach the $150 resistance which acts as the major roadblock, while it previously managed to breach the resistance at $139-$140 which is when the selling pressure emerged. In case of a price drop, the major supports are placed at $141, $140, and $136, with the main support being at $138.
If the price suddenly takes a turn, it is believed that the $138 and $136 supports might prevent major losses. However, if the price breaks the supports, it might continue declining towards $130, or possibly even lower. If the supports hold, the Ethereum price might start growing anew from $138, or maybe even from $145.
While the bearish market still has some level of influence over Ethereum, it appears that traders aim to revive the bullish bets while anticipating a strong, positive reaction. This is expected to come due to larger volumes as Fidelity approaches the launch of its institutional platform, scheduled to go live next month.
On the other hand, the growth may be slowing down as traders remain reserved while they are waiting for indicators regarding the price's further behavior, particularly around the $150 resistance. In addition, the potential delay of the platform's launch might inspire additional corrections, and potentially push the anticipated rally for several weeks, or maybe even months.
The crypto market makes a recovery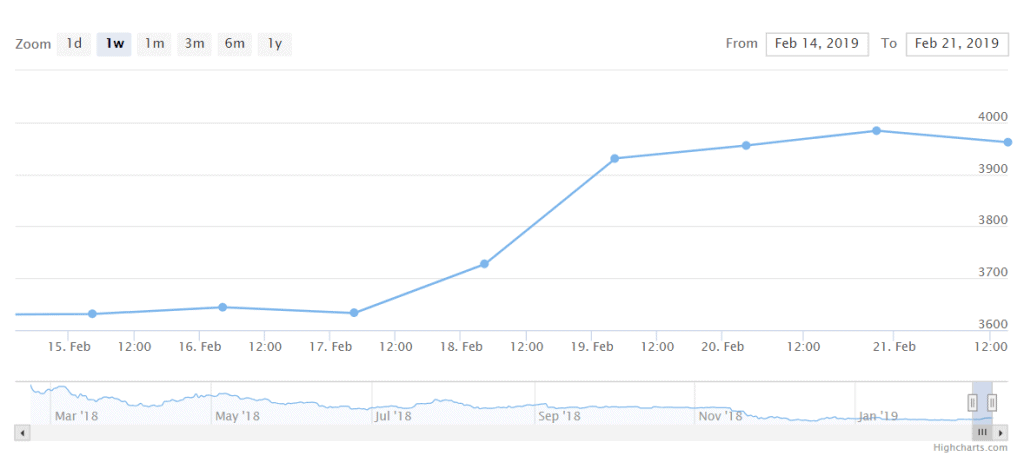 The rest of the crypto market is currently seeing gains, with XRP and TRX being the only exception among the top ten largest coins by market cap. Binance Coin (BNB) is experiencing the largest gains at the moment, with its price growing by 14.45%, followed by EOS with a 7.87% growth.
As for Bitcoin, the coin is seeing only minor growth, despite the fact that it is currently at $3,982.67. However, the crypto market, in general, is seemingly recovering, with the total market cap exceeding $135.5 billion.