Ethereum (ETH) is once again trading in the red, after trying to bypass one if its larger resistances for about a week. The coin has seen a lot of activity in 2019, and while it appears to be seeking growth, or at least stability, it currently does not have enough energy to reach either.
ETH ended the previous year with a price of $133.60, which is a significant improvement considering how much ETH price has dropped only a few weeks before that. Mid-December 2018 is actually a time when the bear market started showing first signs of exhaustion, and multiple coins started growing in the last two weeks of December.
The growth was not particularly high, but it lasted for about three weeks, giving investors hope and inspiring them to buy Ethereum once again.
Around January 10th, however, things changed once again. Ethereum managed to breach some of its major resistances in the previous few weeks, managing even to reach the one at $160. As far as anyone was concerned, the crypto winter was over, and the coins started rising again. However, this was not the case, and bears were still present. They made their move on January 10th, knocking ETH price down by nearly $40, forcing it from $160 to $122 in a single day.
The price was briefly held by the support level at $120, but before long, the support broke, and ETH sank below it like it did in December. The coin then spent around ten days fluctuating between $105 and $108, all the while struggling to grow.
That is when February 8th came and started a series of smaller bull runs which allowed numerous coins to leave their bottoms and surge once again. Not all coins were affected equally, of course, but Ethereum did receive several significant boosts. The first one allowed it to breach the $120 resistance and turn it into its strongest support once again. The second one allowed the coin to climb up to its new resistance at $150. After spending about a week at it, ETH was ready to grow with the next bull run.
Bears keeping ETH from growing
When it came, it not only took the coin up to its major resistance at $160, but it even allowed it to breach it. However, the surge was ended abruptly by the withdrawal of the bulls, and bears re-emerged, bringing ETH down. Its drop was softened by a smaller resistance at $140, but it was not strong enough to prevent the coin from breaking it.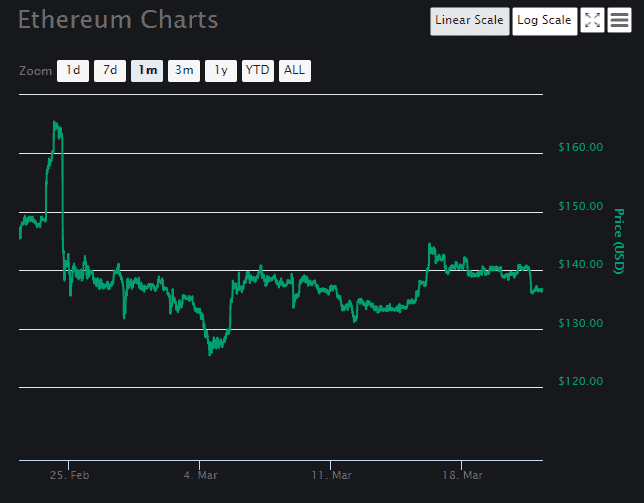 However, ETH remained close below this level for a while, trying to break it. The bearish impact did not last for long, but it did cause some damage. Over the course of the following week, ETH started slowly separating from its resistance and heading to a minor support at $130. However, on March 5th, another small bull run returned it to the resistance. The process repeated once more, with ETH slowly separating over the course of a week, only for a support to force it back up.
The coin spent around three weeks fluctuating between $130 and $140, from February 25th until March 16th. On that day, it broke the resistance at $140, but it did not go far. In fact, it remained quite close to it and even broke it on several occasions. At the time of writing, the bear impact took the price below this level once again, and ETH currently holds the price of $136.86. The drop was not large, and it is unlikely that it will cause any real damage to ETH price. However, incidents like this do prevent the coin from growing, and investors from retrieving their confidence in the coin's price.