The crypto market is currently going through quite an eventful period, with the coins' prices switching from surges and drops every other day. After seeing correction for several days, the market is once again trading in the green, at least when it comes to most coins.
This also includes Ethereum Classic (ETC), which is currently ranked as the 18th largest coin, with a market cap of $467 million. In the last 24 hours, ETC price has grown by 1.03%, and it sits at $4.30 at the time of writing. However, ETC is not a coin that often experiences large fluctuations, and it has been relatively stable in the last 12 months, at least when compared to other cryptocurrencies.
For example, after dropping in January 2018, ETC continued to gradually lose value until it reached one of its strongest supports, at $13. After that, it had another strong surge in May 2018, when it exceeded $24 on May 7th. However, after this bull run was over, ETC dropped back down, with the support at $13 once again softening its fall.
During the summer, ETC price has mostly been trapped between $13 and $20, allowing those who wanted to buy Ethereum Classic coins to know what to expect when it comes to its price. However, this did not last for much longer, and ETC broke this support in mid-August, dropping to the next big support at $10. Meanwhile, the support at $13 turned into a resistance level, acting as a new barrier that kept the coin's price between these two levels for a while.
In September, ETC did not venture far from its $10 support, with the bears holding it close to this level, occasionally forcing it to break the support. This also finally happened in early October, and $10 started acting as a resistance. However, ETC once again managed to stay quite close to the barrier, trying to breach it time after time, until November 14th.
This was when the BCH hard fork occurred, and another market crash followed. ETC did not manage to resist it, and while some of its supports did soften the fall, the coin sank anyway.
Its drop finally ended on November 26th, and the coin seemingly found its bottom, right above the support at $4. However, it still managed to drop below this level on several occasions, although it never dropped particularly far down, and it always returned back up. This was its strongest support in the last five months, and it still holds it to this day.
Ethereum Classic ended the previous year with a small surge, one that allowed it to briefly breach the $5 resistance, although this was also only temporary.
Ethereum Classic mostly stable in 2019
In 2019, ETC has seen several sharp changes, followed by longer periods of stability. For example, the coin breached the $5 resistance on December 23rd, and it mostly stayed right above it, fluctuating between $5 and $5.40 for several weeks. Fluctuations were getting smaller over time, until the coin broke the resistance on January 10th.
Its drop was stopped by a smaller support level at $4.30, and ETC fluctuations became even smaller, allowing the coin to remain at this level from January 10th to January 27th. This was when the price dropped again, breaking the $4 support, although the coin's price remained just below the mark until February 8th. On this day, it slightly surged, just enough to break the $4 resistance and turn it into support again.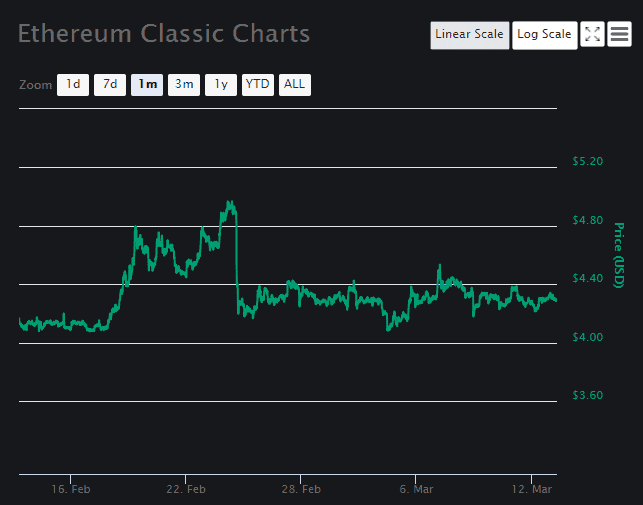 There were barely any fluctuations until February 17th, when another surge allowed ETC to reach $4.60, and even $5.00 briefly, on February 24th. After that, the bears returned, bringing the coin's price back down to the old minor support at $4.30. A few more minor bull runs and drops which occurred in March barely affected ETC at all, and the coin remained between $4.30 and $4.40, where it seems comfortable enough even now. It is likely that ETC will remain here, unless it gets pulled by a bull run or a large drop affecting the entire market, making it one of the most stable non-stable coins out there.