LONDON (InsideBitcoins) — Estonia, a small country in the Baltic, bordered by Latvia, the Baltic Sea, the Gulf of Finland and Russia, it  is one of the least populous countries in the Eurozone; there are more people living in central London than there are in the whole of Estonia.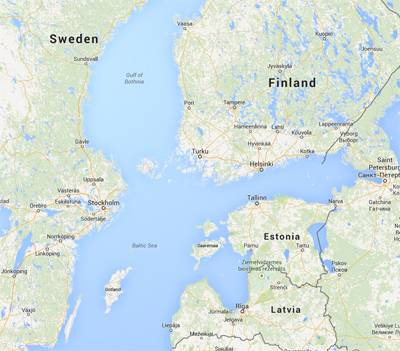 Bitcoin, it would seem is none too welcome in these parts. BTC.EE recently closed its doors under suspicion of money laundering, despite the extremely low level of trade it was conducting; transactions in the currency too are subject to VAT, which is set at 20% on each and every transfer.
Estonia is well known as a tech savvy country, it has favourable tax policies aimed at start-ups, it is fully integrated into the EU and a member of the Eurozone since 2011 — the country has even declared access to the Internet to be a basic human right and just last year Finnish silver investor and Bitcoin entrepreneur Risto Pietilä purchased a castle in Estonia with the intention of making it into a centre for bitcoin innovation.
How did things go so wrong?
The trouble seems to have begun back in January, as Bloomberg  reported, when the Estonian Central bank urged consumers to steer clear of Bitcoin and similar virtual currencies, warning such software could prove to be little more than a "Ponzi scheme." The negative imagery was further compounded when Mihkel Nommela, head of the Estonian central bank's payment and settlement systems department described bitcoin as a "'problematic scheme' where all risks are assumed by the user, who has no one to turn to for help."
In March, the Estonian Tax authority published on its website its position on bitcoin, which needs to be put in context before it can be properly digested. The relevant EU directive, COUNCIL DIRECTIVE 2006/112/EC which, as the name suggests dates back to 2006, is a legally binding tax law that covers the whole of the EU and in particular attempts to make VAT rulings of member states homogenous.
The problem lies in that key date, 2006 — well before the advent of bitcoin — meaning that no provision was made for it whatsoever. What was included, as is so often the case with these things, was a 'get-out clause' in this case directive 35 which stated that a common list of exemptions should be drawn up. With bitcoin not on this list, it is therefore open to individual members to interpret the law until such time as the EU as a whole can arrive at a collective decision.
Thus the findings of the Estonian Tax Authority differ greatly from the position of other member states in one key point: bitcoin does not in their eyes meet the criteria for exemption and thus a VAT rate of 20% on the turnover from the transaction is fully consistent with directive 112/EC.
A matter for the EU as a whole
And whilst it is still possible for enthusiasts in Estonia to use their bitcoin, they do so at a much higher rate than neighbouring countries with borders, and thanks to the relatively small size of Estonia, often only a few dozen kilometres away. The temptation to jump ship isn't hard to imagine.
The interpretation is of course an act of sovereignty within a country that has decided to pool sovereignty within the Eurozone itself. The final decision rests with the EU as a whole and a reversal seems increasingly likely. The time frame for this happening is less certain, European politics are slow, deliberately so in some cases, but there is little question that the clock is very definitely ticking on this one and when the alarm call finally goes off, one can hope that Estonia will rejoin the bitcoin community as a fully fledged member.
Ian Jackson is an Inside Bitcoins correspondent based in the U.K.
Feature photo credit: Toompia Castle in Tallin, Estonia by Claudio.Ar