Electroneum (ETN) was seen one of the coins with a bright future ahead of it back in 2018. However, this view of the coin did not reflect particularly well on its price, especially in the last several months.
ETN was always low-priced, and it never managed to go high in rank. While it has been among the top 100 cryptos for the most part of its existence, it never came close to the top 10 list, with the coin currently being ranked as 76th largest cryptocurrency by market cap. However, this can still be seen as an achievement, considering that the crypto market currently consists of over 2,100 coins.
ETN on a constant drop
As mentioned, Electroneum's price never saw a massive boost that would take it to large heights, and even its all-time high was only at $0.181387, which it managed to reach in the first half of January 2018. Since then, the coin has had a few sharp surges and drops, which ended in the second half of January of the previous year.
After that, ETN started seeing constant drops, which were sometimes softened by a few major support levels, such as the one at $0.120 and $0.0400. The first major surge after January came in February 2018, when the coin climbed from $0.048284 to the first major resistance at $0.08000. However, while it breached the resistance briefly, it continued to fall, this time even breaking the support at $0.0400.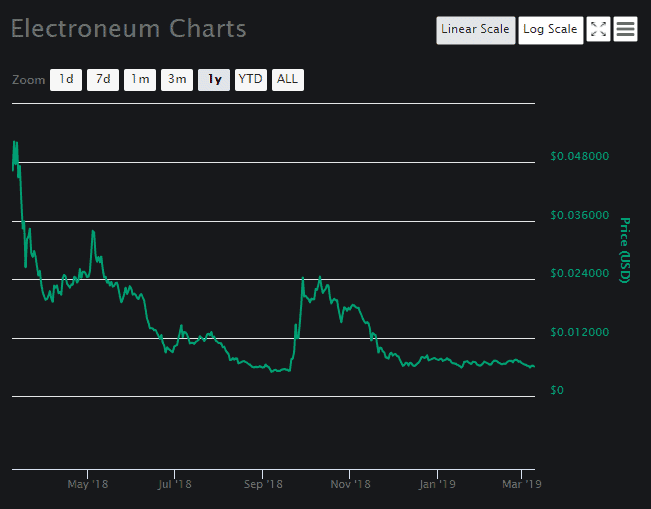 Its drop was once again stopped by support at $0.0200, which managed to hold until mid-June. At this point, the ETN price dropped below $0.01200, making it very profitable for those who were looking to buy Electroneum. This level then started acting as a resistance, while the coin relied on a new support at $0.005000. It remained close to this support until the second half of September when it unexpectedly surged to break several resistances but was stopped after reaching the $0.02400 mark.
Electroneum price attempted to breach this price multiple times until early-November, and many thought it has a chance to surge past it. However, it started dropping once again, until stopped by a support at $0.0064000. It remained just above this support until the end of the year.
ETN did not fare much better in 2019 so far
In the last three months, ETN was relatively stable, with its price constantly remaining between the support at $0.006400 and a resistance level at $0.008000. In January 2019, the coin was attempting to breach this resistance, with its price mostly closer to the upper level than the bottom one. However, this changed in late January, when it dropped closer to the support.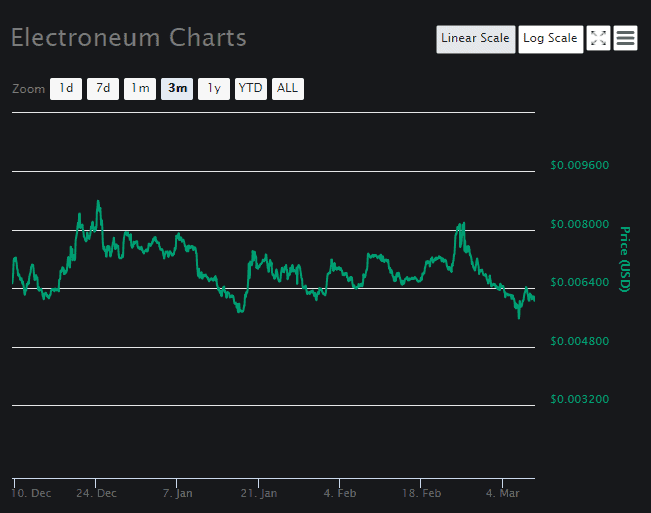 While it attempted to move away from it several times, it always came crashing down, until the bull run in mid-February allowed the coin to go up to its resistance once more. However, come February 24th, ETN price sank one more time, and the bears were particularly strong against this coin. It managed to break its support level and drop down to $0.005477, albeit briefly.
Its price started growing again on March 6th, breaching a minor resistance at $0.006000 on March 7th, which has since become its new support. In the last two days, the coin was trapped between this support and another minor resistance at $0.006300.
Considering its behavior lately, it is unlikely that ETN will stray far from these levels, even if it does manage to go beyond the resistance. It is likely that the coin has found its bottom, although another wave of bears might bring it even further down. It is not the best choice for those looking to buy cryptocurrency, although its future is unknown, and there is a small possibility that HODLing it might pay off someday. At the very least, it is extremely cheap to buy, with its current price being only $0.006085.