A Singapore-based crypto exchange, DragonEx, was hacked on March 24th, reported the company in its Telegram channel yesterday.
A Damaging Account
The message, which claims that, fortunately, "part of the assets were retrieved back," reveals the exchange's next steps:
"On March 24th, DragonEx has encountered attacks from hackers, our users' crypto assets and Platform crypto assets were transferred and stolen. Part of the assets were retrieved back, and we will do our best to retrieve back the rest of stolen assets. Several Judicial administrations were informed about this cyber crime case including Estonia, Thailand, Singapore, HongKong etc. and we're assisting policemen to do investigation. All platform services will be closed and the accurate assets loss recovery situation will be announced in a week. For the loss caused to our users, DragonEx will take the responsibility no matter what."
Joanne Long, an Admin within the Telegram channel, made public the addresses in which these stolen assets went. Of course, the expected currencies like Bitcoin (BTC) and Ethereum (ETH) had been hit, but lesser famous assets like Cardano (ADA) and Neo (NEO) were taken as well, among many others.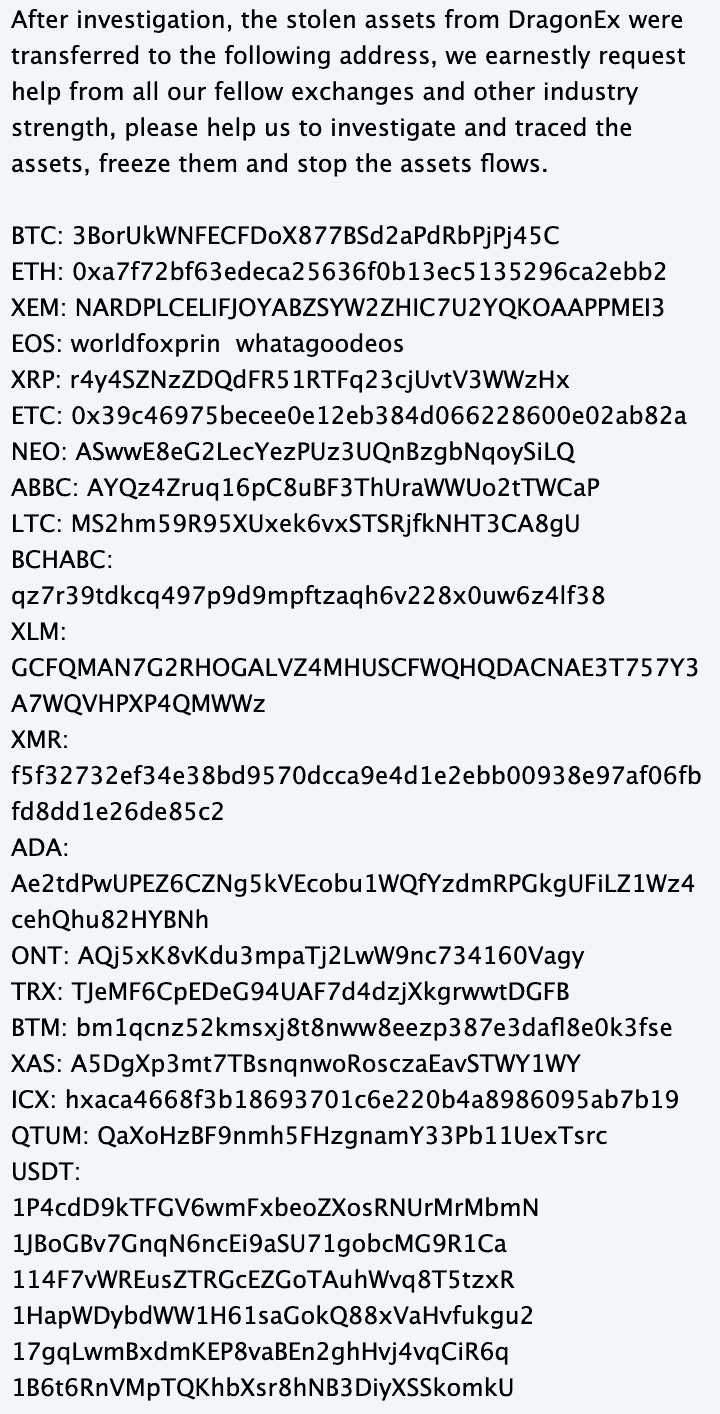 It seems that attackers took twenty different currencies from users wallets. Long also asks that "fellow exchanges and other industry strength" help in freezing these assets and tracking down the associated addresses.
Public Assistance
The speaking community seems willing to assist, stating that DragonEx team members are some of the best. One community member states:
"I have had the pleasure of dealing with dragonex officials and they are the nicest, most professional I've encountered and I have no doubt they will take care of their users"
Others are happy that the exchange is even being open about this information: